Veal Stew with Onions and Mushrooms
Cookbook
Published by Knopf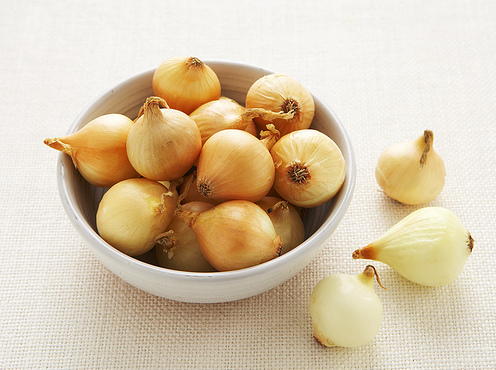 This image courtesy of Joseph DeLeo
Blanquette de veau, a much-loved stew in France, is veal simmered in a lightly seasoned white stock. It is served in a sauce velouté made from the veal cooking stock and enriched with cream and egg yolks. A blanquette is certainly not difficult to make, and except for the cream and egg yolk liaison at the end, which takes less than 10 minutes, all of it may be cooked in advance. However, as it is supposed to be a lovely and delicate dish, it should really not be attempted unless you can find veal of good quality and of the palest pink color. Serve it with noodles or rice, or boiled or mashed potatoes. No other vegetables are needed with the mushrooms and onions, but you could include green peas, artichoke hearts, or baked cucumbers. A red Bordeaux-Médoc or chilled rose wine would go well.
For6 people
Cooking Methodslow cooking, stewing
OccasionBuffet, Formal Dinner Party
Dietary Considerationpeanut free, soy free, tree nut free
Equipmentbaking/gratin dish
Taste and Texturecreamy, herby, juicy, meaty, rich, savory, spiced, umami
Ingredients
3 lbs veal stew meat cut into 2-ounce, 2-inch pieces (see Notes)
5 to 6 cups cold white stock or good canned chicken broth
1 large onion studded with 1 clove
1 large carrot, peeled and quartered
A medium herb bouquet and 2 celery stalks: 8 parsley stems (not the leaves), ½ bay leaf, ½ tsp thyme, and 2 medium celery stalks tied in cheesecloth
Salt
18 to 24 peeled white onions about 1 inch in diameter
½ cup of stock dipped from the simmering veal casserole
¼ tsp salt
1 Tb butter
4 Tb butter
5 Tb flour
3¼ cups of veal cooking stock
18 to 24 fresh mushroom caps about 1 inch in diameter, tossed with 1 Tb lemon juice
Salt and white pepper
1 to 2 Tb lemon juice
2 Tb cream or stock
3 egg yolks
½ cup whipping cream
2 Tb minced parsley
8-cup, heavy-bottomed, enameled saucepan
Wooden spoon
Wire whip
3- to 4-quart, fireproof, enameled casserole
6-cup mixing bowl
Instructions
Place the veal in the casserole and cover with cold water by 2 inches. Bring to the simmer and simmer 2 minutes. Drain the veal and wash it rapidly under cold water to remove all traces of scum. Wash out the casserole. Return the meat to the casserole.

Pour on stock or broth to cover the veal by ½ inch. Bring slowly to the simmer, and skim as necessary for several minutes. Add the vegetables and herb bouquet. Taste for seasoning and salt lightly if necessary. Cover partially and simmer very slowly for 1¼ to 1½ hours, or until the veal is tender when pierced with a fork. It should not be overcooked.

The onions:

While the blanquette is simmering, prepare the onions: Following directions for white-braised onions, pierce a cross in the root ends and simmer for 30 to 40 minutes in a small, covered saucepan with the veal stock, salt, and butter. Set them aside.

When the veal is tender, pour the contents of the casserole into a colander set over a bowl. Rinse out the casserole and return the meat to the casserole, removing any loose bones. Arrange the cooked onions over the meat.

Sauce velouté and mushrooms:

In the saucepan, melt the butter, add the flour, and stir over low heat until they foam together for 2 minutes. Off heat, pour in the veal stock, beating vigorously with a wire whip. Bring the sauce to the boil, stirring. Simmer for 10 minutes, frequently skimming off the film which rises to the surface. Fold in the mushroom caps and simmer 10 minutes more, skimming. Taste the sauce very carefully for seasoning, adding salt, pepper, and lemon juice to taste.

Pour the sauce and mushrooms over the veal. Film the top of the sauce with 2 spoonfuls of cream or stock to prevent a skin from forming. Set aside, partially covered.

May be done ahead to this point.

Cream and egg yolk enrichment:

About 10 to 15 minutes before serving, reheat slowly to the simmer, basting the veal with the sauce. Cover and simmer for 5 minutes. Remove from heat.

Blend the egg yolks and cream in the bowl with wire whip. Beat in by spoonfuls 1 cup of the hot sauce. Then pour the mixture into the casserole, tilting it and basting the veal and vegetables to blend the rest of the sauce with the egg yolk mixture.

Set over moderate heat, gently shaking the casserole until sauce has thickened lightly, but do not let it come to the simmer. (If not served at once, film the top of the sauce with a spoonful or two of stock, partially cover the casserole, and keep warm over hot but not simmering water for 10 to 15 minutes.)

Serve from the casserole or on a platter surrounded with rice, noodles, or potatoes. Decorate with parsley.

RECOMMENDED VEAL STEWING CUTS

Breast; Short Ribs; Shoulder and Shoulder Chops; Neck; Heel of Round or Shank; (Rump, Round, and Sirloin are less recommended but may be used in you wish)

TECHNICAL NOTE ON SCUM REMOVAL

As veal comes to the simmer it releases a tremendous amount of graybrown scum which must be removed by one means or another. American veal, probably because it is younger than most French veal, seems particularly scumproductive. You can skim continually while the veal simmers for the first 30 to 40 minutes. You can let it simmer for 10 minutes, then remove the veal and wash it rapidly in cold water, wash out the casserole, strain the stock through several thicknesses of damp cheesecloth, and continue with the recipe. Or you can adopt the following blanching process, which is the simplest. As long as all the scum is removed, it makes no difference which method you use; pick the one which best suits your predilections and prejudices.
1961, 1983, 2001 Alfred A. Knopf
YOUR RECENTLY VIEWED RECIPES
Free recipes, giveaways, exclusive partner offers, and more straight to your inbox!