Three Cheese and Spinach-Stuffed Portabella Mushrooms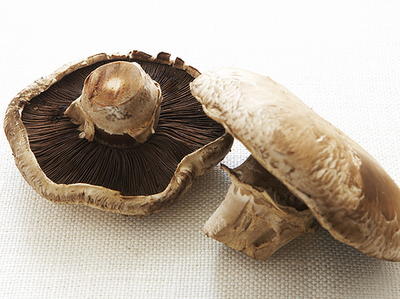 This image courtesy of Joseph DeLeo
Warm, savory stuffed mushrooms are one of those things people can't get enough of. And a large portabella makes a perfectly sized appetizer for one. But this filling is also great stuffed into button mushrooms for a platter of bite-size hors d'oeuvre. This recipe was created by Kimberley Cress, my former chef de cuisine at Mama Mia Trattoria, and is one of my most favorite starters.
NotesLove Notes

To remove the gills, pull the stem out, hold the cap in the palm of your hand, gill side up, and use a spoon to gently scrape them out and discard. If using button mushrooms, just pull off the stems and fill them.

This recipe will perfectly stuff six 6-inch mushrooms. If you can only find small, 4-inch portabellas, then use eight mushrooms instead of six.

To clean fresh spinach, first cut through the stems close to the leaves. Then fill a large bowl with cold water and swish the leaves around in it, scooping the spinach from the water with your hands. Set the spinach in a colander, discard the water, and repeat until the spinach is completely clean and there is no dirt in the bowl.

To save time buy "cello" spinach-bags of fresh, trimmed, cleaned spinach leaves. If serving raw, wash it before using.

Use stale bread to create breadcrumbs. If the bread is hard, break it into chunks and process in a food processor until the texture of sand, or use the grater attachment. For fully dry crumbs, which can be stored longer, spread them out on a large baking sheet and leave them out overnight or place in a 300°F oven for 10 minutes, stirring occasionally, until they feel dry and rough.

If the bread is soft, dry it in the oven first, then break it up before processing it, grating it, or sealing it in a plastic bag and crushing with a rolling pin until fine. Freeze breadcrumbs in a zip-top freezer bag for several months.

Hard cheeses, like Parmesan, should be finely grated shortly before use to best release their flavor and aroma and help them melt quickly and evenly. A rasp-style grater with small holes (I like the Microplane brand) is the most effective, plus it can double as a zester. If using hard cheeses as a garnish, shaving thin slices with a vegetable peeler is a nice alternative.

Cheese labeled Parmesan or Grana Padano is affordable and perfectly acceptable for most recipes. For dishes where Parmesan plays a key flavor role, such as fettuccine Alfredo, use Parmigiano-Reggiano because it has the most intense and complex flavor.

Unbaked mushrooms can be stuffed and refrigerated in an airtight container for up to 2 days. Allow an extra 10 minutes of baking time.


Serves6

OccasionFormal Dinner Party
Dietary Considerationegg-free, halal, kosher, peanut free, soy free, tree nut free, vegetarian
Ingredients
6 large (6-inch-diameter) portabella mushrooms, stems and gills removed (Love Note 1)
2 tablespoons extra-virgin olive oil, divided
¼ teaspoon kosher salt (divided)
¼ teaspoon freshly ground black pepper (divided)
1 large shallot, finely chopped (about 2 tablespoons)
1 clove garlic, finely chopped (about 1 teaspoon)
1 pound fresh spinach, stemmed and cleaned (Love Note 2)
1½ tablespoons dried bread-crumbs (Love Note 3)
2 cups shredded mozzarella cheese
½ cup grated Parmesan cheese (Love Note 4)
1/3 cup grated pecorino romano cheese
6 tablespoons Roasted Red Pepper Coulis
Instructions
Heat the oven to 350°F. Place the cleaned mushrooms on a baking sheet, gill side up. Brush with 1 tablespoon of the olive oil, sprinkle with 1/8 teaspoon salt and 1/8 teaspoon pepper, and bake for 6 minutes. Remove from the oven and set aside to cool on the baking sheet for at least 15 to 20 minutes.

Heat a large (12- to 14-inch) sauté pan over medium-high heat. Add the remaining tablespoon of olive oil. Add the shallots and the garlic and sauté, stirring, for a minute or so. Add a few handfuls of spinach, carefully turning with tongs or a spatula, and cook until wilted; add more spinach as room becomes available. Season with the remaining 1/8 teaspoon salt and 1/8 teaspoon pepper.

Drain the spinach in a fine-mesh strainer set in the sink, pressing on the spinach with your hands or a rubber spatula to ensure that all the liquid drains off. Set aside until cool enough to handle, and then finely chop.

In a medium mixing bowl, combine the chopped spinach, breadcrumbs, mozzarella, Parmesan, and pecorino romano. Taste and adjust the seasoning as necessary by adding more salt and pepper.

Divide the filling evenly among the baked and cooled mushrooms (about ¼ cup filling per mushroom; Love Note 5). Bake for about 10 minutes, or until the filling is hot and bubbly.

To serve, place 1 mushroom on each plate and drizzle 1 tablespoon Roasted Red Pepper Coulis around each mushroom.
2009 Lisa Schroeder
YOUR RECENTLY VIEWED RECIPES
Free recipes, giveaways, exclusive partner offers, and more straight to your inbox!