Tennessee Highball
Cookbook
Published by Agate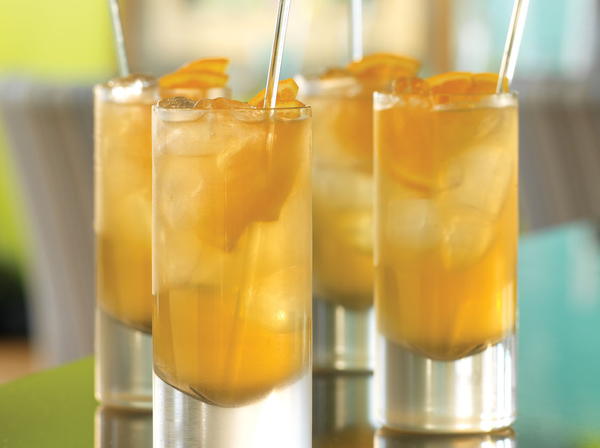 This image courtesy of Tim Turner
Every day we make it, we make it the best we can. --Jack Daniel This drink ultimately emerged from the search for a superlative way to showcase an exceptional spirit, Tennessee whiskey. The Tennessee Highball is best described as a cross between a Highball and a Sour, with the addition of orange bitters-a largely forgotten ingredient, regarded as a staple behind any well-stocked bar prior to Prohibition. Happily, it is making a comeback. The famed Jack Daniel's distillery of Lynchburg is recognized as the oldest registered distillery in the United States. Jack himself started producing his whiskey in 1866, and is known to have used the very same recipe of corn, rye, malted barley, yeast, and limestone-rich springwater that his namesake distillery uses today. While each purveyor's individual recipe, distillation, and aging practice serves to shape a whiskey's character, Tennessee whiskey is different from other American-made whiskeys because it's made with a technique known as the Lincoln County Process—every drop of Tennessee whiskey is mellowed through 10 feet of sugarmaple charcoal. A number of factors—including warehouse barrel placement, storage temperature, and even the character of a barrel's wood-grain-interact to make a few barrels exceptional in quality terms. Over time the Master Distiller eventually hand-selects barrels containing the absolute pinnacle product, otherwise known as highly coveted "single barrels." This whiskey is sure to yield a memorable cocktail.
NotesFresh Lemon Sour:

To make fresh lemon sour, simply mix two parts fresh, filtered (to remove the pulp and seeds) lemon juice with one part simple syrup. Ideally, lemon sour should be made the day you plan to use it, but it will keep refrigerated in a clean bottle for up to three days.

Highball Glass:

The Highball, a simple blend of spirit and mixer served over ice, is best served in this tall, narrow glass of 10 to 12 ounces (300-360 ml). This shape will help prolong the life of a drink with a carbonated mixer such as soda water or ginger ale. Choose a glass that feels good in your hand-and yes, it should ideally match the design of your Old Fashioned and Collins glasses.



Total Timeunder 15 minutes
Type of Dishalcoholic beverage, beverage, cocktails
Ingredients
2 oz (60 ml) Jack Daniel's Single Barrel Tennessee whiskey
2 oz (60 ml) fresh lemon sour (see Notes)
3 dashes Fee Brothers orange bitters
Chilled dry ginger ale
Instructions
In a mixing glass, add whiskey, fresh lemon sour, and orange bitters; shake with ice until well blended. Strain into an ice-filled Highball glass (see Notes), spritz with dry ginger ale, and garnish with freshly cut orange slices and a swizzle stick.
2010 Tony Abou-Ganim
YOUR RECENTLY VIEWED RECIPES
Free recipes, giveaways, exclusive partner offers, and more straight to your inbox!