Ten-Grain Bread
Cookbook
Published by Square One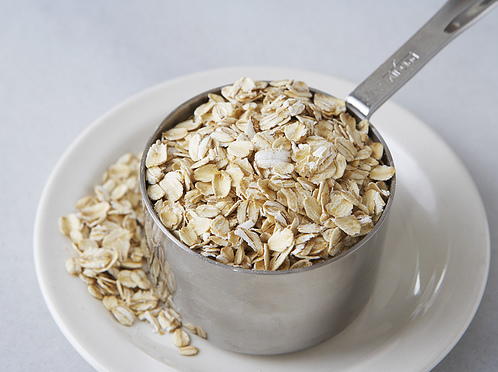 This image courtesy of Joseph DeLeo
If you love whole grain bread, this hearty loaf with its crunchy crust is sure to become one of your favorites. When preparing this recipe, it is easiest to use a ten-grain cereal, which you can find in most natural foods stores. I use Bob's Red Mill brand—it has wheat, corn, rye, triticale, oats and oat bran, soy, millet, barley, brown rice, and flaxseed. Of course, if you'd rather buy your own grains and grind them to a coarse, sand-like consistency, feel free.
2 large loaves
Type of Dishbread, yeast bread
Ingredients
2 tablespoons (2 packets) active dry yeast
3 cups lukewarm water
2 tablespoons honey
1 tablespoon plus 2 teaspoons kosher salt
4 tablespoons oil
1½ cups uncooked 10-grain cereal
¼ cup flaxseeds
1 cup unbleached white flour
5-6 cups whole wheat flour
1-2 tablespoons cornmeal for baking sheet
Flaxseeds to sprinkle on loaves
Instructions
Place the yeast, water, honey, salt, oil, cereal, and flaxseeds in a dishpan or large bowl and stir with a wooden spoon. Add the white flour, and beat with the spoon until well blended.

Add 3 cups of whole wheat flour, then squeeze the mixture with your hands until the flour disappears. If it is too wet to pick up, add more flour. As soon as you can handle the dough, sprinkle with a bit more flour and begin to knead directly in the bowl (or on a floured board), adding more flour as necessary. Knead for 10 minutes, or until the dough comes away from the sides of the bowl and your hands easily. (It will feel solid and somewhat less elastic than dough made from lighter bread mixtures.) Shape into a ball.

Spread a little oil on the bottom and sides of the bowl. Add the ball of dough, then turn it over, oiled side up. For this recipe, a slow rise is better than a quick one for good texture, so cover the bowl and set in a fairly cool spot for 40 to 60 minutes, or until the dough doubles in bulk. Lightly sprinkle a large baking sheet with cornmeal and set aside.

Punch down the risen dough, knead for 2 minutes, and form into a ball. Cut in half, then shape each half into a round loaf. Place the rounds on the prepared baking sheet, leaving enough space between them to allow for expansion. Let rise for 20 minutes.

Cut a ½-inch-deep cross on the top of each risen loaf. Brush or spray the loaves with cold water, sprinkle the tops with flaxseeds, and place in a preheated 500°F oven. Spray the oven walls with cold water to create steam. Reduce the oven temperature to 400°F, and bake for 40 minutes, spraying the loaves and oven walls with cold water every 10 minutes. The loaves are ready when they are very dark brown and hollow-sounding when rapped on the bottom with your knuckle. Cool on a wire rack before serving.
2007 Bernice Hunt
YOUR RECENTLY VIEWED RECIPES
Free recipes, giveaways, exclusive partner offers, and more straight to your inbox!