Taylor Bay Scallops with Uni & Mustard Oil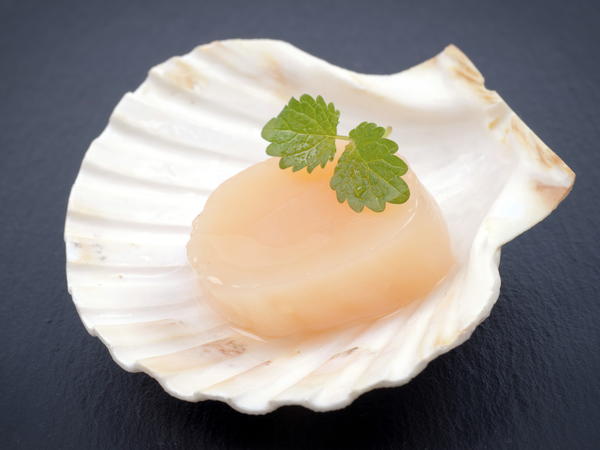 This image courtesy of Shutterstock
No dish encapsulates the theme of this book better than this one does. It's the result of inspiration from great ingredients (the sweetest, freshest bay scallops I've ever tasted) and trial-and-error experimentation during my first days as a head chef. Scallops are sweet, tomato water is sour, uni is salty, and mustard is bitter. When you slurp one of these back in one go, you see the result of balance and integration. At first it's chaos in the mouth. Slowly, the flavors flirt, mingle, and finally coalesce. They form an amalgam of flavor that isn't scallop, urchin, tomatoes, or mustard, but a whole greater than the sum of its parts.
NotesThere are four classifications of scallops that you should know: bay, sea, dry, and wet. Bay scallops are from (surprise!) bays in the North Atlantic and are small, sweet, and expensive. Sea scallops range in size from medium to colossal. Calico scallops, which have a tough texture, are tiny sea scallops often passed off as bays (don't be swindled!). The ultimate treat is scallops sold live in their shells. But if you can't get live, the first thing to know about shucked scallops is that they deteriorate rapidly. For this reason, most of the scallops marketed as "fresh" are soaked in chemical preservatives. Rinse these "wet" scallops thoroughly before cooking. When shopping for scallops to eat raw, stay away from "wet" scallops. Though the preservatives won't harm you, you'll definitely notice its flavor. Better fishmongers carry just-shucked, sashimi-grade "dry scallops.
4 portions
OccasionCocktail Party, Cooking for a date, Formal Dinner Party
Recipe Courseappetizer, hors d'oeuvre
Dietary Considerationegg-free, gluten-free, lactose-free, low calorie, low carb, low-fat, peanut free, soy free, tree nut free
Taste and Texturejuicy, rich, umami, winey
Ingredients
4 overripe tomatoes, coarsely chopped
1 teaspoon sea salt
2 teaspoons mirin
Pinch cayenne pepper
4 cranks freshly ground pepper in a mill
Crushed ice, for presentation
20 bay scallops in their shells, shucked, shells rinsed well and reserved, or 5 large "dry" sea scallops (see Notes) cut into quarters, plus
20 oyster, clam, or mussel shells
20 lobes of sea urchin (also "uni")
1 tablespoon mustard oil, or more to taste
Coarsely ground black mustard seed
Instructions
In a food processor, pulse tomatoes with sea salt until chunky. Line a strainer or coffeemaker basket with a coffee filter and transfer tomatoes to the coffee filter. Set strainer over a large nonreactive bowl or coffeemaker carafe. Refrigerate this contraption at least 12 hours: the tomatoes' intensely flavored, clear juices will filter into the bowl. To the tomato water, add mirin, cayenne pepper, and ground pepper.

Cover a dish with crushed ice. (If serving this as an appetizer, use dinner plates. A large serving tray or tiered platter would work well if these are to be served as hors d'oeuvres.) For an individual appetizer, arrange 5 shells in a ring on the ice. Place a scallop (or piece of scallop) and uni lobe side by side in each shell. Spoon seasoned tomato water into each shell to cover the shellfish, 1 ½ to 2 teaspoons per shell. Drizzle several drops of mustard oil over each, and garnish with a pinch of black mustard seed. Serve immediately.
2003 Spirit Media, LLC
YOUR RECENTLY VIEWED RECIPES
Free recipes, giveaways, exclusive partner offers, and more straight to your inbox!