Updated February 23, 2016
Cookbook
Published by Surrey Books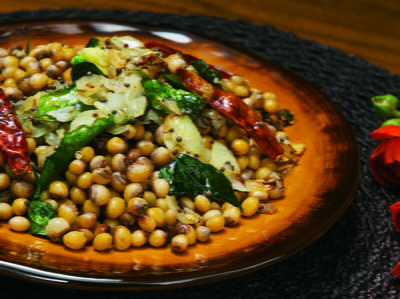 This image courtesy of Brave New Pictures, Inc.
I didn't grow up eating whole toor dal. In fact, my mother can't recall a time she's eaten this lentil in its whole form, either. It's more common in Western India. My experimentation, however, paid off with a fast, easy recipe that produces a wonderful, almost meaty accompaniment to a salad.
Slow Cooker Size: 5--quart

To make this dish in a 3½-quart slow cooker, halve all the ingredients and proceed with the recipe. A half recipe makes 5 cups (1.18 L).

Pigeon Peas:

This category encompasses all of the forms of toor dal (rcovcr, arhar, and tur). This lentil is used quite a bit in South and West India. When whole (sabut toor), the lentil is small, round, and tan in color. This form is used primarily in West India. When split and skinned (roor da!), it has a yellowish-beige color and is the primary base for sambhar, a spicy soup eaten in South India with savory crepes called dosas. It can be purchased dry or oily. The oily version is covered with vegetable oil to increase the shelf life of the lentils and to prevent contamination from insects. If you buy the oily variety, be sure to wash them thoroughly before using to get rid of that top layer of oil.

Curry Leaves:

If you haven't had the pleasure of trying curry leaves in your food, you really are missing out. These small, green leaves come from a tree native to India and Sri Lanka and are used predominantly in South Indian cooking. Typically, the leaves are roasted in oil and then added to a dish. Curry leaves are the essential ingredient in sambhar masala.

Can these recipes be made on the stovetop?

Absolutely. Just keep in mind that when cooking on the stove, you'll use a quarter more water because liquids evaporate. So, if a slow cooker recipe requires 4 cups of water, use 5 cups when making it on the stovetop. Also, though you can keep your pot at a low simmer on the stovetop, you still always want to keep an eye on it to prevent drying and burning. If food-especially beans and other legumes-starts to dry out, just add more water and continue to cook.

The rule in the land of slow cookers is usually never to open the lid while cooking for fear of losing critical heat and slowing down the cooking process. This may be true, but I have a tough time following the rules myself. Also, there are some dishes, such as Curried Spinach with Homemade Cheese (Palak Paneer), that need to be stirred during cooking. Know that the cooking times cited in my recipes reflect my inability to keep the lid shut, so to speak. Just do your best to limit peeking. A good rule-of-thumb is to add about 5 minutes of cooking time for every time you lift the lid.


Cooking Methodslow cooking
Dietary Considerationegg-free, gluten-free, halal, kosher, lactose-free, peanut free, soy free, tree nut free, vegan, vegetarian
Taste and Texturesavory, spiced, tart
Ingredients
3 cups (603 g) dried, whole toor dal (see Notes) with skin, cleaned and washed thoroughly
9 cups (2.13 L) water
2 tablespoons (30 mL) vegetable or canola oil
1 tablespoon (15 mL) black mustard seeds
10-15 fresh curry leaves (see Notes)
1 large yellow or red onion, peeled and coarsely chopped
1 (1-inch [2.5 cm]) piece ginger, peeled and grated
4 cloves garlic, peeled and minced or grated
4-6 whole green Thai, serrano, or cayenne chiles, stems removed, halved lengthwise
5-6 dried red chiles
1 teaspoon (5 mL) ground coriander
1 heaping tablespoon (20 mL) salt
Juice of 1 lemon
Instructions
Put the lentils and water in the slow cooker. Cook on high for 3 hours. After cooking, if there is too much water left, drain and discard the excess water. This should be a dry dish that can pass for a side salad.

Heat the oil in a frying pan over medium-high heat. Once it's hot, add the mustard seeds. Cover the pan until the seeds pop (this takes just a few minutes-make sure they don't burn). Add the curry leaves, onion, ginger, garlic, green chiles, red chiles, and coriander. Cook, stirring several times, until the onions are browned.

Add this mixture to the slow cooker along with the salt. Cook for another hour. Sprinkle with lemon juice. Enjoy with hot roti or noon or as a side salad.
2010 Anupy Singla
YOUR RECENTLY VIEWED RECIPES