Sweet Green Peas and Fresh Indian Cheese in a fragrant Tomato Sauce
Cookbook
Published by Clarkson Potter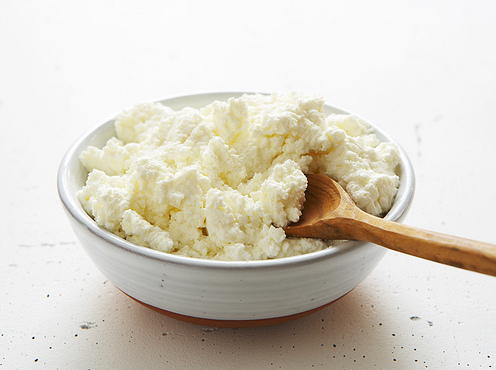 This image courtesy of Joseph DeLeo
You may be familiar with saag paneer, a standard in Indian restaurants in America. This dish is made with peas instead of spinach and the cubes of paneer (fresh Indian cheese) are cooked with the peas and a thin tomato sauce which has a beautifully light, silky texture (it's almost thin enough to be a soup). Because of the way the spices are cooked into the dish, it has an elegant and complex flavor. Serve with rice and Stir-Fried Cauliflower and Potato with Crunchy Bengali Spices.
Paneer is traditionally made by bringing whole milk to a boil and curdling it with lemon juice, vinegar; or yogurt. Then the whey is drained off and the curds are wrapped in cheesecloth and weighted to compress the cheese into a firm cake. I've simplified this process by starting with ricotta cheese instead of milk and then baking it to firm it into cheese.
NotesGaram Masala: The most important spice mixture used in northern Indian cuisine. It goes particularly well with onion-based sauces for meats and poultry but it is used to flavor many other dishes, including vegetables, chaots (snacks), dais (legumes), and raitas. Sometimes the spices are used whole and simply cooked into the dish. Or the spices are toasted and then ground together into a blend (as in the recipe below) and the mixture is stirred in at the end of cooking. Although garam masala is not as fiery hot as some Indian spice blends, black pepper, cloves, and cinnamon give it a different kind of heat that comes on slowly and lasts awhile. Since many of the recipes in this' book use garam masala, it's worthwhile to make a good quantity to have on hand. You can keep it for up to 3 or 4 months in an airtight container. This is my favorite blend:

1 cinnamon stick, broken into pieces

2 bay leaves

¼ cup cumin seeds

1/3 cup coriander seeds

1 rounded tablespoon green cardamom pods

1 rounded tablespoon black peppercorns

2 teaspoons whole cloves

1 whole dried red chile

1/8 teaspoon ground mace

Combine the cinnamon, bay leaves, cumin, coriander, cardamom, peppercorns, cloves, and red chile in a frying pan and toast over medium heat, stirring constantly, until the cumin turns uniformly brown, 4 to 5 minutes. Put into a spice grinder and grind to a powder. Stir in the mace and store in an airtight container.
Serves6
Cooking Methodbaking, sauteeing
OccasionCasual Dinner Party, Family Get-together
Dietary Considerationegg-free, gluten-free, halal, kosher, peanut free, soy free, tree nut free, vegetarian
Taste and Texturecreamy, hot & spicy, savory, spiced, sweet
Ingredients
1 pound whole-milk ricotta cheese
½ to 1 tablespoon canola oil
3 small garlic cloves
1 1/8 teaspoons cumin seeds
¼ cup canola oil
A 1½-inch piece cinnamon stick
6 green or 3 black cardamom pods
5 whole cloves
12 to 15 black peppercorns
4 whole dried red chiles
½ teaspoon coriander seeds
1 bay leaf
1½ medium red onions, chopped
2 teaspoons salt, or to taste
A 2-inch piece fresh ginger, peeled and minced
1½ teaspoons ground coriander
1 teaspoon ground cumin
½ teaspoon turmeric
¼ teaspoon cayenne pepper
1 pound tomatoes (about 3 medium), very finely chopped
2 tablespoons plain yogurt
2 cups water
1 pound frozen petite peas, unthawed
1/8 teaspoon garam masala (see Notes)
2 tablespoons chopped fresh cilantro
Instructions
For the paneer, preheat the oven to 450°F. Spread the ricotta evenly in a 9 x 5-inch bread pan and bake until the cheese is lightly browned on top and firm but not dry, about 40 minutes. Let cool (it will firm as it cools), then cut the paneer into 1- to 1½-inch squares. Reserve half and refrigerate or freeze the rest for another use.

Heat ½ tablespoon of the oil in a large nonstick pan over medium-high heat. Add as many squares of paneer as will comfortably fit and brown the squares on all sides. Drain the cheese on paper towels. Continue this way to brown all of the paneer, adding ½ tablespoon more oil as needed. Set the paneer aside.

For the sauce, combine the garlic and 1/8 teaspoon of the cumin seeds in a mortar and pestle or an electric spice grinder and grind to a paste.

Put the oil, cinnamon, cardamom, cloves, and peppercorns in a large, deep pot over medium-high heat. Cook, stirring, until the cinnamon stick unfurls, 1 to 2 minutes. Add the chiles, the remaining 1 teaspoon of the cumin seeds, the coriander seeds, and bay leaf and cook, stirring, until the seeds turn golden brown, about 1 minute.

Add the onions and salt and cook, stirring often, until the onions turn a uniform golden brown, 10 to 12 minutes. Keep a cup of water beside the stove as the onions cook. As the onions begin to stick, add water, about 1 teaspoon at a time, and scrape the bottom of the pan with the spoon to pull up the browned bits and keep the spices from burning. Do this as often as necessary (five or six times) until the onions are well browned.

Add the ginger and cook, stirring, 3 to 4 minutes, adding water as needed to keep the onions and spices from sticking. Stir 1 teaspoon of water into the garlic paste. When the ginger has cooked, add this garlic paste to the pot and cook until the water has evaporated, 1 to 2 minutes.

Add the ground coriander, cumin, turmeric, cayenne, and about 1 tablespoon water and cook until the mixture begins to dry out and stick to the bottom of the pan, about 1 minute. Add the tomatoes and cook until they begin to dissolve, 3 to 4 minutes. Then turn down the heat and cook until the tomatoes have completely melted into the sauce and the oil is starting to pool around the onions, 2 to 3 more minutes.

Whisk the yogurt until smooth in a small bowl. Stir in a spoonful of the hot sauce to temper the yogurt and then return the mixture to the pot. Add 2 cups of water and the peas. Cover, bring to a simmer, and cook until the peas have thawed, 4 to 5 minutes.

Fold in the paneer and sprinkle the garam masala and 1 tablespoon cilantro over the top. Cover and simmer very gently until the peas are softened and the cheese is warmed through, 3 to 5 more minutes. Taste for salt. Transfer to a serving bowl and sprinkle with the remaining cilantro. Serve hot.
2004 Suvir Saran and Stephanie Lyness
YOUR RECENTLY VIEWED RECIPES
Free recipes, giveaways, exclusive partner offers, and more straight to your inbox!