Sweet and Savory Rice Noodles 
Cookbook
Published by Sasquatch Books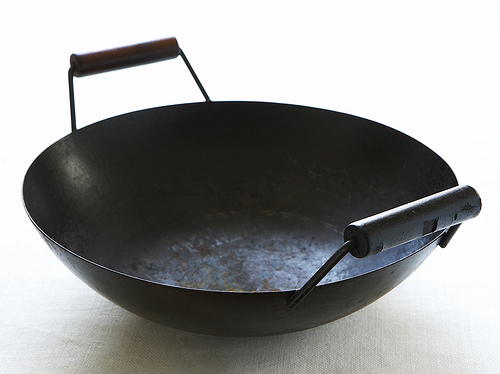 This image courtesy of Joseph DeLeo
When Churairat Huyakorn owned a Thai restaurant in Bremerton, Washington, pad see ew was one of her most popular dishes. She developed a system for standardizing every order: Per order, she would add 2 dashes fish sauce, 2 drops vinegar, etc. With easy-to-follow measurements, this dish is easy to make and tastes delicious— anyone can give it a whirl. Ideally, purchase fresh rice sheets (available in Asian markets) so you can cut them to the desired width. If not, the precut ones will do (they are usually about ¾-inch wide). As a last resort, dried rice sticks work as well. Have all the ingredients ready before you start cooking as things move very quickly once you get going.
Notes
Grandma Says: Use the widest noodles possible; they will break easily if they're not big enough. If you have a strong fire, the noodles won't break.
Indonesian sweet soy sauce (kecap manis) has the addition of palm sugar so it is a thick, syrupy elixir reminiscent of smoke and honey. It is used in marinades, stir-fries, and stews, as well as a dipping sauce at the table. Cap Bango is my favorite brand, but ABC is cheaper and more widely available.
Making sweet soy sauce: Mix 1 tablespoon water, 1 tablespoon regular soy sauce and 3 tablespoons brown sugar together in a small bowl. Microwave on medium for 20 to 30 seconds. Stir to mix. The flavor is similar but the consistency will be thinner than store-bought. Makes ¼ cup.
Makes2 servings
Cooking Methodstir-frying
Total Timeunder 30 minutes
Recipe Coursemain course, side dish
Dietary Considerationlactose-free, peanut free, tree nut free
Ingredients
1 pound fresh rice sheets, or 7 ounces large dried rice sticks
8 ounces pork shoulder (chicken, beef, and shrimp work as well)
8 ounces Chinese broccoli
Boiling water
¼ cup vegetable oil, plus more as needed
3 cloves garlic, minced (1 tablespoon)
1½ tablespoons fish sauce, divided, plus more for serving
2 eggs
2 tablespoons sweet soy sauce (see Notes)
1 tablespoon oyster sauce
1 tablespoon sugar
1½ tablespoons distilled white vinegar, plus more for serving
Ground white pepper
Crushed dried red chilies for serving
Instructions
Cut the fresh rice sheets into 2-inch-wide strands and separate them. (If using dried rice sticks, soak them in hot water for 6 to 8 minutes. You want them soft and pliable but not falling apart. Tip into a colander over the sink, rinse under cold running water, and drain.) Set aside.

Handle the pork partially frozen so that it is easier to cut (if it's fresh, place in the freezer for about 30 minutes). Cut the pork along the grain into 1½-inch-thick strips. Then, with your knife at an angle almost parallel to the cutting surface, slice the meat diagonally across the grain into 1/8-inch-thick slices.

Separate the Chinese broccoli into leaf and stem pieces. Cut the stems into 2-inch pieces and halve the thicker ones lengthwise as they take longer to cook. In a heatproof bowl, soak the broccoli in boiling water until wilted but not fully cooked, about 30 seconds. Rinse under cold running water and drain.

Preheat a large wok or skillet over very high heat for about 30 seconds. Swirl in the oil and heat until smoking. Add the meat followed by the garlic and ½ tablespoon of the fish sauce to flavor the meat. Stir and cook until the meat is no longer pink, about 1 minute. Push the meat to one side and crack in the eggs. Let the eggs cook undisturbed until the whites start to turn opaque, about 15 seconds, then stir to mix with the meat. Push the meat and egg mixture up one side of the wok.

Toss in the noodles and spread them across the bottom of the wok to make as much contact with the hot surface as possible. That's how you get the nice charred noodle bits and the unmistakable burnt flavor peculiar to foods fried in a searing hot wok. Add more oil if the noodles stick to the wok. Mix the noodles with the meat and eggs and stir everything swiftly around the wok.

Add the remaining fish sauce, the sweet soy sauce, oyster sauce, and sugar. Sliding your spatula to the bottom of the wok, turn and toss all the ingredients to coat evenly with the seasonings. Add the Chinese broccoli and vinegar and toss with a couple more flourishes until well mixed and the broccoli is cooked through but the stems are still crunchy, 1 to 2 minutes. Taste and adjust seasonings if desired.

Divide the noodles between 2 plates and sprinkle with white pepper. Serve with fish sauce, vinegar, and crushed chilies on the side.

To make more servings, rinse the wok with hot water (no soap required) and give it a quick scrub just to remove the brown bits stuck to the bottom. Wipe with a paper towel and set the wok back over the heat to dry completely before carrying on.

Variation: For a vegetarian version, skip the meat and add firm tofu, or just make it with the eggs. One difference: Add the eggs first, then the garlic to prevent it from burning in the ultra-hot wok. Pat's Notes: Dark sweet soy sauce gives the noodles color, while fish sauce and oyster sauce season the dish.
2009, 2011 Patricia Tanumihardja
YOUR RECENTLY VIEWED RECIPES
Free recipes, giveaways, exclusive partner offers, and more straight to your inbox!