Stuffed Pizza with Chard and Dill
Cookbook
Published by Norton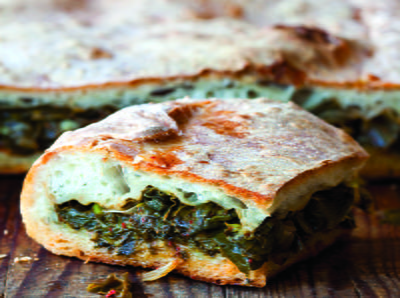 This image courtesy of Sarah Remington
Borage and dill grew wild around my hometown of Verbicaro in spring, so local cooks would gather these aromatic herbs to fill a pitta, the Calabrian version of stuffed pizza. If they couldn't find borage, they would use chard from their garden. You don't often see fresh dill in Italian recipes, but it is traditional in this one. Curiously, the greens are not cooked first. They are chopped and mixed with scallions or spring onions and wilted with salt, as if for sauerkraut. The 30-minute salting draws out moisture so that the filling won't be soggy. Let the pitta cool before slicing so the crusty bread will absorb the flavorful juices from the greens. If you cut it too soon—a big temptation—the juices will run out. Although pitta is traditionally made with a chunk of bread dough, I usually make mine with a pizza dough that contains yeast and olive oil. 
NotesSuggested Wine: Conti Zecca "Nero," Salento Rosso, Apulia A rich, earth-driven Negroamaro to complement the earthiness of chard

Alternate Wine: Chianti Classico

Calabrian Sweet Paprika (Pepe Rosso):

This mild seasoning adds sweetness and rich color to many Calabrian dishes, especially in the Cosentino, the region where I was raised. 

To Make Calabrian Sweet Paprika, you need long, sweet Italian peppers, such as the variety that seed catalogs call "Sweet Italian." Farmers' markets are the best source for these elongated peppers, which have a more intense flavor and thinner walls than the square-shaped bell pepper. For pepe rosso, they should be fully ripe and red all over.

Spread these ripe peppers in a single layer on a large sheet of cardboard. Place them outdoors in a warm, well-ventilated area where they are not exposed to direct sun. You can put them on a table in the shade of a tree or under an awning, or even indoors by a warm window or in an airy garage. My mother makes a ristra with a heavy needle threaded with kitchen twine, stringing the peppers together through their stems. Then she hangs the ristra from a hook in a warm but shady spot.

Leave the peppers undisturbed until they are fully dry, which may take one to two months. They should feel leathery and almost crisp. In Calabria, the weather in late summer and early fall remains hot enough that the peppers dry thoroughly outdoors. If you live in a warm climate, you may also be able to dry them completely outdoors. More likely, the weather will turn cool before the peppers are fully dry. If you do not have several hours a day at 70°F (21°C) or warmer, you will need to complete the drying inside, either in a dehydrator or in a warm, well-ventilated area. My mother places hers on top of the refrigerator.

To complete the drying indoors, remove the pepper stems and seeds and open the peppers flat. If your dehydrator has a thermostat, set it at 115°F(46°C). Keep the peppers in the dehydrator until they are completely dry to the touch and leathery, about 10 hours, depending on how dry they were initially. Alternatively, put the flattened peppers on a tray and keep them in a warm area, such as above the refigerator, until they are completely dry to the touch and leathery.

Let cool completely, then store in heavy-duty freezer bags in a pantry or in the freezer until you want to grind some for pepe rosso. They will keep for up to a year.

Preheat the oven to the lowest possible setting, preferably around 140°F (60°C) but no higher than 160°F (70°C). Put the dried peppers on a baking sheet in the oven for 4 hours, then turn the oven off and let the peppers remain in the oven overnight, or for about 12 hours. They will be crisp and crunchy.

Remove them from the oven and transfer them to a blender. Do not let the peppers rest long at room temperature before grinding them or they may absorb moisture and lose some crispness. Blend as fine as possible. Transfer the ground pepper to a clean glass jar, and keep in a cool, dark place, or in the freezer. It will last for up to a year.
Recipe CourseMain Course, Side Dish
Dietary ConsiderationEgg-free, Halal, Kosher, Lactose-free, Peanut Free, Soy Free, Tree Nut Free, Vegan, Vegetarian
Ingredients
4¼ cups (1 pound 4 ounces/600 grams) unbleached all-purpose flour, plus more as needed
1 tablespoon plus 1 teaspoon kosher salt
1½ cups (375 milliliters) warm water (105°F to 110°F/45°C)
1 teaspoon active dry yeast
3 tablespoons extra virgin olive oil, plus more oil for coating the bowl
1 bunch (about 1 pound/450 grams) Swiss chard, leaves separated from ribs
1 bunch scallions
3 tablespoons kosher salt
3 tablespoons minced fresh dill
1 tablespoon Calabrian paprika (see Notes) or Spanish sweet paprika
¼ to ½ teaspoon ground hot red pepper or hot red pepper flakes
2½ tablespoons extra virgin olive oil
Instructions
For the Dough: Put the flour and salt in a large bowl and stir to distribute the salt well. Put the warm water in a small bowl and sprinkle the yeast over it. Let stand for 2 minutes to soften, then whisk with a fork to blend. Make a well in the center of the flour and put the dissolved yeast and the olive oil in the well. Begin incorporating flour from the sides with one hand. When you have incorporated all the flour and the dough cleans the sides of the bowl, which should only take about a minute, switch to a one-handed kneading motion, securing the bowl with the other hand. The dough will be moist and a little sticky at this point but resist adding additional flour. By kneading it in the bowl instead of on a work surface, you should be able to avoid adding flour. When the dough is no longer sticky, after about 5 minutes, turn it out onto a work surface. Knead with both hands until the dough is smooth and soft, about 5 minutes longer, dusting with flour only as needed to prevent sticking.

For the First Rise: Transfer the dough to a clean bowl lightly coated with olive oil and turn the dough to coat it with the oil. Cover the bowl tightly with plastic wrap. Let rise in the warmest place in your kitchen until it doubles in volume, 1½ to 2 hours.

For the Second Rise: Turn the dough out onto a lightly floured surface and shape it into a ball. Dust the ball lightly with flour and place it on a clean kitchen towel. Cover loosely with another clean kitchen towel. Let rise again in the warmest place in your kitchen until it doubles in volume, about 1½ hours.

For the Filling: If the chard ribs are more than 1 inch (2½ centimeters) wide, halve them lengthwise, then cut crosswise into ¼-inch (6-millimeter) pieces. Cut the leaves lengthwise into 4-inch-wide (5-centimeter-wide) ribbons, then stack the ribbons and cut crosswise into about ½-inch (12-millimeter) pieces. Leaving the scallions whole, slit the white part in half lengthwise, or quarter lengthwise if large, then cut the scallions-white and green parts-crosswise into ¾-inch (18-millimeter) pieces. In a large bowl, combine the chard ribs and leaves, the scallions, and the salt. Toss well with your hands to distribute the salt evenly. Let stand for at least 30 minutes to wilt the greens, or up to an hour.

Drain the greens to remove accumulated liquid, then rinse them repeatedly to remove excess salt. Taste to make sure they are no longer too salty. Working in batches, squeeze the greens between your hands to remove all excess liquid, then transfer them to a bowl. Add the dill, paprika, hot pepper to taste, and olive oil and mix well with your hands.

Preheat the oven to 475°F (250°C). Lightly oil a heavy 12- by 18-inch (30- by 43- centimeter) baking sheet. Place the risen dough on the baking sheet and gently press and pat it until it covers the baking sheet and is evenly thick everywhere

With a short side of the baking sheet nearest you, cover the bottom half of the dough with the filling, spreading the filling evenly but leaving a 1-inch (2½-centimeter) border. Lift the exposed half of the dough over the filling to enclose it and press the edges together to seal. You should have a rectangle approximately 8½ by 12 inches (22 by 30 centimeters). If you feel an air bubble under the surface, pierce the dough in one or two places with a skewer and press to vent the air.

Bake for 20 minutes, then rotate the pan in the oven and lower the oven temperature to 400°F (200°C). Continue baking until the pitta is golden brown on top and bottom, about 10 minutes longer. Transfer to a rack and let cool for at least an hour before slicing.
2010 Rosetta Costantino and Janet Fletcher
YOUR RECENTLY VIEWED RECIPES
Free recipes, giveaways, exclusive partner offers, and more straight to your inbox!