Stuffed Fried Bulgur Wheat
Cookbook
Published by Harvard Common Press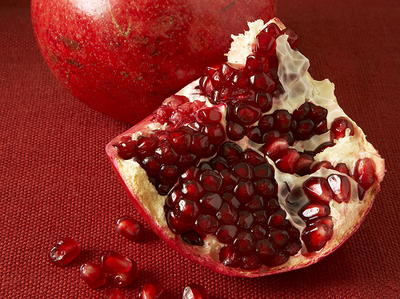 This image courtesy of Joseph DeLeo
Kubbeh, or kibbeh, is the noun based on the Arabic verb "to form into a ball or circular shape." Kibbeh nabilseeyah is bulgur wheat fashioned into a torpedo shape, stuffed, and then fried in oil; it is one of the hardest Syrian appetizers to prepare. Its reputation for difficulty is so widespread that it makes even the best cooks irrationally nervous! A special appetizer for a gala occasion, these "torpedoes" require time and patience. But when you're rewarded with blissful sighs as each guest bites through the crisp, cumin-scented crust into the aromatic filling, you'll be glad you went the extra mile. To add an authentic touch, serve with fresh lemon wedges; the juice should be squeezed onto each bite until the torpedo disappears. Add pomegranate seeds to the meat mixture and you'll pass as a native. Follow the same basic guidelines below when stuffing and frying the dough for all three variations.
You can also make an easier and healthier version of the kibbeh in an 8-inch square baking pan. Press half of the dough into the bottom of the pan. Spread the filling over the dough, then place the remaining dough on top. Bake in a preheated 350°F oven until the top is brown and crispy, 20 to 30 minutes. Cut into diamonds and eat hot.

If you have leftover meat filling once you have stuffed all of the meat-filled torpedoes, refrigerate it and use it as a delicious sandwich filling in warm pita bread for lunch the next day.

If you have leftover bulgur dough, you can make what the Syrians call eras. Form the dough into small pancakes and deep-fry them. They are delicious served with a wedge of lemon and can be put out on the same platter as the kibbeh nabilseeyah.


Serves20 (3½ to 4 dozen kibbeh)
Cooking Methodfrying, sauteeing
OccasionCocktail Party, Formal Dinner Party
Recipe Courseantipasto/mezze, hot appetizer
Dietary Considerationegg-free, halal, kosher, lactose-free, peanut free, soy free, vegetarian
Taste and Texturecrisp, crunchy, meaty, rich, savory, spiced
Type of Dishcanape/crostini
Ingredients
3 tablespoons vegetable oil (2 tablespoons if using pomegranate seeds)
1 cup finely chopped yellow onions
1 pound ground chuck
½ teaspoon ground allspice
¼ teaspoon ground cinnamon
½ teaspoon salt
Several grindings of black pepper
¼ cup pine nuts or seeds from 1 pomegranate
¼ cup vegetable oil
1 cup finely chopped yellow onions
1 pound ground turkey
¼ teaspoon paprika
½ teaspoon salt
¼ teaspoon freshly ground black pepper
2 tablespoons water
¼ cup pine nuts
3 medium-size white potatoes (about 2 pounds; any kind)
¼ cup vegetable oil
1 cup finely chopped yellow onions
3 cups finely chopped spinach
½ teaspoon ground coriander
2½ teaspoons salt
Several grindings of black pepper
3 cups fine-grain bulgur wheat (you must use fine-grain and not anything coarser or the dough will turn to mush)
1½ cups unbleached all-purpose flour
3 to 4 tablespoons vegetable oil
1 tablespoon salt
1 tablespoon ground cumin
2 teaspoons paprika
5 tablespoons cold water
1 to 2 cups vegetable oil
Lemon wedges
Instructions
If preparing the potato-spinach filling, rinse unwashed leaves thoroughly in cold water to get out all of the dirt (you may want to rinse 2 to 3 times). Dry well in a salad spinner or use paper towels to squeeze out excess water. Chop finely, discarding the stems. Set aside.

If preparing the beef or turkey filling, heat 2 (for the beef filling) or 3 (for the turkey filling) tablespoons of the oil in a large skillet and cook the onions, stirring, over medium heat until golden and soft, 3 to 4 minutes. Add the ground beef or turkey and stir constantly with a fork until the meat loses its red or pink color, about 10 minutes. Cover and cook for 5 additional minutes. Add the spices, salt, pepper, and water (for the turkey filling) and mix well. Continue to cook over medium heat for 15 to 20 minutes, mashing with a fork. Remove from the heat. If using pine nuts, heat the remaining 1 tablespoon oil in a small skillet over medium heat. Add the pine nuts and brown, shaking the skillet a few times, 1½ to 2 minutes. Remove when just beginning to turn brown (be careful not to burn, as they will cook quickly). Add the pine nuts or pomegranate seeds to the meat mixture and mix gently. Set aside.

If preparing the potato-spinach filling, peel the potatoes (they're easier to peel if you don't wash them). Bring a large pot of water to a boil. Add the peeled potatoes and continue to boil until very soft, 35 to 40 minutes (test with a fork after 30 minutes). Drain well. Place the boiled potatoes and 2 tablespoons of the oil in a large bowl and press with a large masher or fork into soft and smooth mashed potatoes. Set aside. Heat the remaining oil in a large skillet and cook the onions, stirring, over medium heat until golden and soft, 3 to 4 minutes. Add the spinach, one handful at a time, and toss to coat with the onions and oil. When all of spinach has been added and mixed, cover and let steam over low heat until the spinach is cooked down and wet in texture, about 10 minutes. Add the coriander, salt, and pepper and mix again. Remove from the heat and transfer to the bowl with the mashed potatoes. Mix well with a wooden spoon. Set aside.

Prepare the bulgur dough. Place the bulgur in a large fine-mesh strainer and rinse under cold running water. Place the rinsed bulgur in a large bowl. Add the flour, oil, salt, cumin, and paprika and mix well by squeezing the mixture with your hands to distribute the spices evenly. Add the water and knead the bulgur by hand to form a dough-like consistency.

Shape the kibbeh. Keep a dish of cold water at hand as you work. Wet your palm and place a small amount of the dough, about the size of a golf ball, in it. Roll it into the shape of a 3-inch-long torpedo or sausage.

Holding the dough in one hand, make an indentation (with the index finger of your opposite hand) in one end of the torpedo to create a tube, open on only one end. Remember to keep your palm and fingers moist with cold water as you work, diligently smoothing out any cracks or holes that occur along the way.

Stuff each shell with 1 to 2 teaspoons of the filling of your choice. Gently seal the open end of the torpedo by pinching it closed. Set on a large platter or baking sheet and continue to shape and fill all the torpedoes in the same fashion. (May be frozen at this point between layers of wax paper in a tightly sealed plastic container. When ready to serve, deep-fry without defrosting. Will keep in the freezer for up to 6 weeks.)

In a small saucepan, heat 1 to 2 cups of oil (there should be enough oil to completely submerge a torpedo) over high heat until very hot, about 3 minutes. Deep-fry 2 to 3 torpedoes at a time until they are brown and crisp, but not black. Use a spoon to gently turn each one so that the shell fries evenly.

Using a slotted spoon, transfer each fried torpedo to a plate covered with 2 sheets of paper towels to absorb the excess oil. Repeat with the remaining torpedoes

Serve the torpedoes immediately or hold in a warm oven until they're all done. Serve on a platter with lemon wedges.
2002 Jennifer Felicia Abadi
YOUR RECENTLY VIEWED RECIPES
Free recipes, giveaways, exclusive partner offers, and more straight to your inbox!