Strawberry Rhubarb Rugelach with Oatmeal Streusel
Cookbook
Published by Ten Speed Press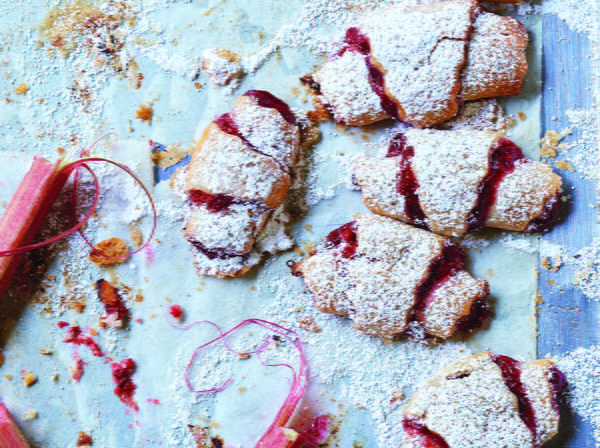 This image courtesy of Dan Goldberg
WHEN SPRING ARRIVES (EVENTUALLY) in Chicago, I am first in line for rhubarb.?I use rhubarb to make fruit consommés and sorbets. But it is nearly always at its best with strawberries--its soul mate, which come into season later. This recipe is a fruit crisp disguised as rugelach. I slather cream cheese dough with the strawberry rhubarb preserves and then dust it with streusel for crunch. The results are crisp, gooey, sweet, and tart, tasting purely of spring.
NotesVANILLA SUGAR

Scrape the seeds out of a vanilla pod and rub them into 1 cup granulated sugar. Let the pod dry out overnight. The next day, grind the seeds, pod, and sugar together. Sift before using.


Makes48 rugelach
OccasionFamily Get-together
Recipe CourseDessert, Snack
Dietary ConsiderationHalal, Kosher, Peanut Free, Soy Free, Tree Nut Free, Vegetarian
Five Ingredients or LessYes
Taste and TextureButtery, Fruity, Sweet
Type of DishCookie, Dessert
Ingredients
2 cups finely diced rhubarb (approximately 2 large stalks)
1 pound washed, hulled, and dried strawberries, finely diced
3?4 cup granulated sugar
1 tablespoon freshly squeezed orange juice
1 recipe Classic Cream Cheese Dough (see below), divided in half and chilled
2 cups Oatmeal Streusel (see below)
1 extra-large egg white, lightly beaten
1?4 cup vanilla sugar (see Notes) or granulated sugar
1 cup (8 ounces) unsalted butter, at room temperature
8 ounces cream cheese, at room temperature
1?3 cup plus 1 tablespoon granulated sugar
1 teaspoon pure vanilla extract
2 cups unbleached all-purpose flour
1 teaspoon kosher salt?
1 teaspoon sea salt flakes
3?4 cup (6 ounces) cold, unsalted butter, cubed
3?4 cup firmly packed light brown sugar
1 1?4 cups unbleached all-purpose flour
3?4 cup old-fashioned oats
1 teaspoon kosher salt
1 vanilla bean, split lengthwise, seeds only
Instructions
Wipe the rhubarb clean before dicing, especially if using field rhubarb, which ?I prefer. Field rhubarb has a grassier, earthier flavor than hothouse rhubarb.? It is pinkish green (not red) in color. When working with strawberries, wash them and let them dry out on a towel-lined pan before cooking them. The quantity used in the recipe is 1 pound of hulled strawberries. Start with 18 ounces of strawberries to ensure you have 1 pound after you hull them. For the preserves, dice the rhubarb and strawberries into small cubes (approximately 1?4 inch) so they cook down evenly and spread smoothly onto the cream cheese dough.

Combine the rhubarb, strawberries, granulated sugar, and orange juice in a bowl and let macerate for at least? 4 hours at room temperature or cover and refrigerate overnight.

In a high-sided, heavy pot, heat the fruit mixture over medium-high heat until the juices start to boil and foam. Lower the heat to medium-low and cook, stirring occasionally to prevent the bottom from scorching, until most of the liquid has evaporated and the rhubarb has broken down completely, approximately 30 minutes. You will have close to ?2 cups. Transfer to a storage container and refrigerate until completely chilled, at least 2 hours.

In the bowl of a stand mixer fitted with the paddle attachment, mix the butter on medium speed for 5 to 10 seconds. Add the cream cheese and mix on medium speed to combine, 10 to 15 seconds. Add the sugar and beat on medium speed until aerated, approximately 3 minutes. Scrape the sides and bottom of the bowl with a rubber spatula to bring the batter together.

On medium speed, add the vanilla, mixing briefly until incorporated. Scrape the sides and bottom of the bowl with a rubber spatula to bring the batter together.

In a bowl, whisk together the flour and salts.

Add the flour mixture all at once and mix on low speed until the dough just comes together but still looks shaggy, approximately 30 seconds. Do not overmix. Remove the bowl from the stand mixer. With a plastic bench scraper, bring the dough completely together by hand.

Stretch two sheets of plastic wrap on a work surface. Divide the dough in half (each half will weigh around 14 1?2 ounces) and place a half on each piece of plastic. Pat the dough into rectangles, wrap tightly, and refrigerate until chilled throughout, at least 2 hours or up to 1 week.

To Make the Streusel: In a food processor, pulse together the butter, sugar, flour, oats, salt, and vanilla bean seeds until it forms a fine meal, and the butter is evenly incorporated.

Do not overprocess. Transfer to a storage container and chill completely, approximately 1 hour. Or freeze and use within 1 month.

Put a sheet of parchment paper the same dimensions as a half sheet (13 by 18-inch) pan on the work surface and dust lightly with flour. Unwrap one dough half and place on top.

Using a rolling pin and a pastry roller, roll the dough half into a rectangle, leaving a 1-inch border from the edge of the parchment paper. The dough should be just shy of 1?4 inch thick. If the edges become uneven, push a bench scraper against the sides to straighten them out. To keep the dough from sticking to the parchment paper, periodically dust the top lightly with flour, cover with another piece of parchment paper, and, sand- wiching the dough between both sheets of parchment paper, flip the dough and paper over. Peel off the top layer of parchment paper and continue to roll. Repeat with the second dough half. Stack both sheets of dough on top of each other and refrigerate until chilled, approximately 30 minutes.

Heat the oven to 350°F. Line a few half sheet pans with parchment paper and lightly coat with nonstick cooking spray.

Invert the sheets of dough onto the work surface and peel off the top sheet?of parchment paper. For each sheet of dough, spread 3?4 cup of strawberry rhubarb preserves in a thin, even layer across the surface. Sprinkle approximately 1?2 cup of streusel per sheet over the preserves. Trim the edges. Using a dough cutter or a pizza cutter, divide the sheet in half lengthwise into two long strips. Working with one strip at a time and moving crosswise, cut out triangles with flat tips, with each base approximately 1 1?2 inches wide and each tip approximately 1?4 inch wide. Shoot for 12 triangles per strip.

Using an offset spatula, separate a triangle away from the rest of the dough. Starting from the base, roll the dough?up like a crescent roll. Place tip-side down on the prepared sheet pan and repeat with the remaining triangles, spacing them on the pans 1 inch apart. Brush the tops with the egg white and sprinkle with the vanilla sugar. Sprinkle the tops generously with the remaining? 1 cup streusel.

Bake one pan at a time for 15 minutes. Rotate the pan and bake for another? 8 to 10 minutes, or until the streusel is golden brown. Let the cookies cool on the sheet pan for 1 to 2 minutes (do not wait too long or the preserves will stick to the parchment paper). Using an offset spatula, transfer the cookies to a wire rack to cool completely. Repeat with the remaining dough.

Rugelach can be stored in an airtight container at room temperature for up to 5 days. Rolled, unbaked rugelach can be refrigerated for up to 1 week.
2015 Mindy Segal
YOUR RECENTLY VIEWED RECIPES
Free recipes, giveaways, exclusive partner offers, and more straight to your inbox!