Steamed Rice-Lentil Cakes with a Coconut-Pigeon Pea Sauce
Updated February 23, 2016
Cookbook
Published by Workman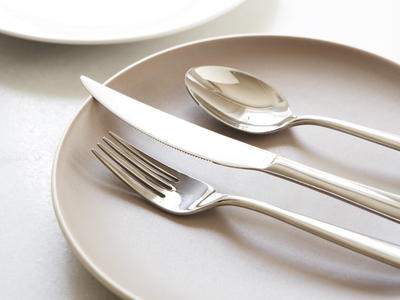 If you have ever visited a South Indian home, or a restaurant that features dishes from that area, chances are that you have sampled these fluffy, pillow-soft, steamed rice-lentil cakes, the color of pure snow. It's not difficult to make these airy delights. What you need is a pound of patience, an ounce of the right ingredients, and a dash of kitchen accoutrements. With my method, I seem to have found the right mix to create feathery-soft magic without the usual wait for the batter to ferment. And no, I haven't sold my soul to the dark side to achieve these results. A little alchemy goes a long way, that's all.
Rava rice—sometimes labeled idli rava—is available in any store that sells Indian groceries. It is a combination of parboiled and uncooked long-grain rice that is ground either coarse or fine—hence the name rava (Cream of Wheat) rice. (The coarser grind works just as well; the idlis will just differ in texture.) This convenience product lets you shortcut the soaking and grinding required in the traditional recipe (as mentioned in the tip below).

The Eno "salt" is the cheater's way to create carbon dioxide without having to let the idli batter ferment. In India the batter is often a combination of soaked skinned split black lentils and parboiled (converted rice). We soak and grind the rice separately from the lentils because rice takes a lot longer than lentils to grind to a paste. In this country, I have had better results using equal proportions of parboiled and uncooked long-grain rice (1 cup each) and ½ cup lentils, with enough water to make a pancake-type batter. To ferment the batter naturally, place it in a large bowl, cover, and leave it in a warm place until it has risen, smells yeasty, and has bubbles forming on the surface. I usually cover the bowl and stick it in a turned-off oven with the pilot light lit (if it's a gas oven) or the oven light on. With the door shut, the conditions in there are warm and humid, perfect for the fermentation to occur. Depending on the conditions, the process can take anywhere from 8 to 24 hours.

If you don't have any Eno in your pantry, you can ferment the batter as described in the above tip.

The Pigeon Peas with Pumpkin and Coconut is a cinch to make and can even be made a day or two in advance. It can also be frozen for up to a month.

Idlis, in either batter form or steam-cooked, have a relatively long shelf life in the refrigerator (up to 10 days). They can also be frozen for up to 2 months. To thaw frozen steamed idlis, I usually re-steam them in a steamer basket (5 to 10 minutes until piping hot and soft) or cover them with a wet paper towel and microwave them on high power for 3 to 5 minutes.


OccasionBuffet, Casual Dinner Party
Dietary Considerationvegetarian
Taste and Texturelight, savory, spiced
Ingredients
½ cup skinned split black lentils (cream-colored in this form, urad dal), picked over for stones
3 cups fine rava rice (see Notes)
½ cup plain yogurt, whisked
1 tablespoon coarse kosher or sea salt
2 teaspoons Eno salt (see Notes)
Vegetable cooking spray
Boiling water
Instructions
Place the lentils in a medium-size bowl. Fill the bowl halfway with water and rinse the lentils by rubbing them between your fingertips. The water will become cloudy. Drain this water. Repeat three or four times, until the water remains relatively clear; drain. Now fill the bowl halfway with warm water and let it sit at room temperature, covered, until the lentils have softened, at least 30 minutes (you can let them soak longer, but no longer than 4 hours).

Drain the lentils. Pour ½ cup water into a blender jar, add the lentils, and puree, scraping the inside of the jar as needed, until the mixture is smooth and paste-like. Transfer the thick batter to the same medium-size bowl. Pour about 1 cup water into the blender jar and run the blender to wash out any remnants of batter; add this to the batter in the bowl. Stir another 1 cup water into the batter, and add the rice, yogurt, and salt. Whisk thoroughly to create a homogenous, if gritty, blend. Stir in the Eno, which will instantly aerate the batter, making it bubble and appear fermented.

If you don't have an idli pan, you will need to create one: Set a standard muffin tin (with cups 2 to 3 inches wide and 1 to 1½ inches deep) in a larger flameproof baking pan. Lightly spray the muffin cups with cooking spray. Fill the cups three-quarters full with the idli batter. Pour boiling water into the baking pan so it reaches halfway up the sides of the muffin tin. Cover the entire baking pan tightly with aluminum foil, and set it on a burner over medium heat. Steam for 20 to 25 minutes, or until a toothpick or knife stuck in an idli comes clean. Remove the muffin tin from the hot water bath and allow it to cool for at least 5 minutes. Then slide the idlis out, giving them a nudge with a butter knife. Repeat with the remaining batter.

If you do own an idli pan, spray the individual concave disks with cooking spray and fill them three-quarters full with batter. Stack them (there are usually 4 plates with 4 concave-shaped discs on each plate) around the idli stand, placing the small metal rods between the plates to separate them; set the device in a large stockpot filled with hot water to a depth of about ½ inch. Cover, and steam over medium-high heat until a toothpick or knife stuck in an idli comes out clean, 20 to 25 minutes. Remove the idli stand from the stockpot and allow it to cool for at least 5 minutes. Then slide the idlis out, giving them a nudge with a butter knife. Repeat with the remaining batter.

Serve the idlis in individual serving bowls, with the pigeon pea stew ladled on top.
2008 Raghavan Iyer
YOUR RECENTLY VIEWED RECIPES