Steakhouse-Style Sear-Roasted Strip Steak
Cookbook
Published by W.W. Norton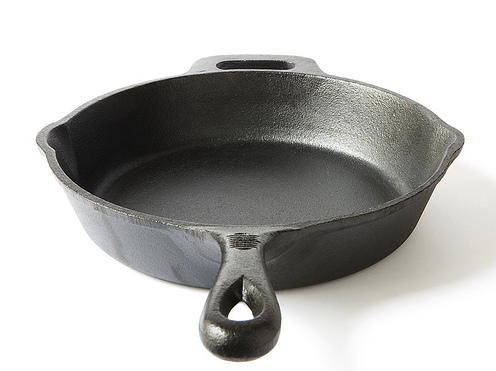 This image courtesy of Joseph DeLeo
There's something almost mythological about the experience of a good steakhouse steak, and I like to think it's more than just nostalgia. To me, a real steakhouse steak is thick, handsomely caramelized on the outside, with a meaty pink interior. You can replicate that steakhouse goodness at home by following a few tips and using one "secret" ingredient. To start, you need to season the steak very generously with salt and pepper. (And if you have ignored my calls for kosher salt so far, stop now; this is no place for table salt. Same goes for pepper; it must be freshly ground.) The seasonings go on right before sear-roasting, not sooner, because you want that contrast of the well-seasoned exterior and the pure beefy interior. The cooking method is a combination of a high-heat sear on the stove and then a finish in the oven for even cooking throughout. And that secret ingredient? Butter. A good smear of it just before the steak goes in the oven. The butter bastes the meat and mingles deliciously with the steak juices. Use anywhere from ½ to 1 tablespoon butter per steak, adding more if you're feeling luxurious, less if more restrained, but please don't skip it. The best cut for sear-roasting is a boneless strip steak (also called New York strip or top loin) because of its elongated and compact shape. Plus it delivers the perfect combination of tender and meaty, and superb flavor. This might be a good time to splurge on a really good steak, maybe even one that's dry-aged or graded prime or both. To serve steak in true over-the-top steakhouse fashion, plate one steak per person and be sure to have sharp steak knives on the table. For a more modest meal, divide the steaks in two. If you're up for it, make homemade steak sauce, but be careful—it's addictive. Or smear each steak with a little blue cheese and chive butter. Serve the steak with some creamed spinach and smashed potatoes, and the only thing missing will be the red leather banquettes and dim lighting. I am the first to admit that I can be a bit of a snob when it comes to what I eat, and until recently I considered bottled steak sauce a desecration of a perfectly good piece of meat. I just couldn't get past the list of ingredients (especially ones like caramel color and xanthan gum). Trouble is, many of my best friends (including my husband) adore a dark, syrupy, sweet-tart sauce alongside a juicy steak. For me, the only reasonable solution was to develop a homemade version, and this one has a brightness and zing that I think surpasses the bottled ones. Now that I have such a delicious steak sauce, I've become a convert and love the way the tingly, complex flavors of the sauce taste on a beefy forkful of steak. The sauce is best made ahead and left to cool before serving. It keeps, covered and refrigerated, for several weeks. 
NotesMethod: Combination sear and moderate heat

Wine: Strip steak and Cabernet Sauvignon is a classic combination, Look for good bottlings from California's Napa and Alexander Valleys or Washington State.

Plan Ahead: The raisins and zest for the steak sauce need to soak for at least 4 hours.

Tamarind:

In the Western kitchen, we rely on vinegar and lemon (or lime) juice as our primary sour flavoring, but cooks from India to Iran and Southeast Asia to Latin America rely instead on the somewhat more exotic fruit from the tamarind tree. The tree bears 3- to 4-inch, chalky brown, curved pods that contain a dark, sticky, tarlike edible pulp. To the uninitiated, the sweet-tart taste of tamarind can be shocking, even exhilarating. In some parts of West Africa and Southeast Asia, tamarind is eaten straight up as a fruit, but more often it is processed into a pulp and used to flavor everything from thirst-quenching cold drinks to soups, stews, and sauces with its uniquely concentrated sweet sourness.

Three forms of tamarind are available: whole pods, tamarind pulp, and tamarind concentrate. The best of these for cooking is the pulp (the pods require too much work, are hard to find, and are often too sweet, and the concentrate lacks the brightness of flavor of the pulp). Look for pulp in 8-ounce plastic-wrapped blocks at Asian markets or well-stocked supermarkets. Well wrapped, a block will keep in the refrigerator for about a year. To use, you need to reconstitute the pulp and extract all the juice. First tear off a small hunk and soak it in just enough warm water to cover, working it with your fingertips every 5 minutes or so until well softened and dissolved. Then strain it, pushing on the solids to extract all the juice.

If you can't find tamarind pulp, you may substitute 1 tablespoon of tamarind concentrate for a t-inch ball of pulp. Alternatively, you can substitute tart cherry juice concentrate (available at health food stores), again using 1 tablespoon per 1-inch chunk of pulp.


Serves2 to 4
Total Timeunder 30 minutes
OccasionCasual Dinner Party, Cooking for a date, Family Get-together
Dietary Considerationegg-free, gluten-free, peanut free, soy free, tree nut free
Ingredients
Two 12- to 14-ounce New York strip steaks, 1 to 1½ inches thick
Kosher salt and freshly ground black pepper
2 tablespoons peanut oil, grapeseed oil, or other neutral-flavored vegetable oil
1 to 2 tablespoons unsalted butter, softened
2 strips orange zest, removed with a vegetable peeler (about 2 inches by ½ inch each)
1 strip grapefruit zest, removed with a vegetable peeler (about 3 inches by ½ inch)
¼ cup raisins
2 tablespoons gin or room-temperature water
1/8 teaspoon crushed red pepper flakes
One walnut-sized ball of tamarind pulp, or 1 tablespoon tamarind or tart cherry juice concentrate
1 tablespoon extra-virgin olive oil or vegetable oil
¼ cup finely chopped onions
Kosher salt
1 garlic clove minced
¼ teaspoon ground cloves
1/8 teaspoon ground allspice
1/8 teaspoon ground cinnamon
2 tablespoons tomato paste
1 tablespoon sugar
½ cup fresh grapefruit juice (from 1 small grapefruit), preferably pink
1/3 cup fresh orange juice (from 1 small orange)
¼ cup red wine vinegar
Instructions
Heat the oven: Position a rack near the center of the oven and heat to 375 degrees (350 degrees convection). Let the steaks sit at room temperature while the oven heats.

Heat the skillet: Place a large cast-iron or black metal skillet (a 12-inch skillet will hold two steaks nicely) over medium heat and heat the skillet while you season the steaks.

Season the steaks: Sprinkle each steak aggressively all over with salt and pepper, turning the steak and pressing all sides down onto the seasonings that fall onto the work surface. You want the entire surface to be seasoned. If you prefer to measure, use ½ to ¾ teaspoon salt and ¾ to 1 teaspoon pepper per steak.

Sear the steaks: Once the pan is hot, increase the heat to high and add the oil to the pan, tilting to coat. When the oil begins to shimmer, after about 30 seconds, place the steaks side by side in the skillet. Let them sear without disturbing; nudging the steaks will interfere with the browning. After 2 minutes, lift the edge of one of the steaks to check whether it's well seared. If so, immediately flip both steaks and smear the tops with butter, dividing it equally. (If the steak isn't browned yet, continue to sear for another 45 seconds and check again.)

Roast: Immediately transfer the skillet to the oven. After 6 minutes, start checking for doneness either by touching the meat (the steak firms up as it cooks) or by taking the internal temperature with an instant-read thermometer. Baste the steaks with pan juices each time you open the oven, and check again every 2 minutes until the steaks are done to your liking. Depending on what degree of doneness you're after and how often you open the oven to check on them, expect them to roast for 6 to 10 minutes, or until they reach 115 to 120 degrees internal temperature for rare, 120 to 125 degrees for medium-rare, and 125 to 130 degrees for medium.

Rest and Serve: Immediately transfer the steaks to a cutting board-preferably one with a trough-to rest for 5 to 10 minutes. Serve on individual plates if serving 1 per person, or cut in half to share. Pour the pan drippings and any juices from the cutting board over the top of the steaks and serve.

Soak the citrus zest and raisins: Tear the orange and grapefruit zests into a few pieces each. Combine the zest, raisins, gin or water, and red pepper flakes in a small bowl. Cover tightly and let sit for 4 to 6 hours.

Soak the Tamarind Pulp: If using, put the tamarind ball in a small bowl, add ¼ cup warm water, and use your fingers to help dissolve some of it. Set aside to soften for 5 minutes. Work the tamarind with your fingers to dissolve more of the pulp. Let sit for another 5 minutes, then work again with your fingers to dissolve more pulp. Strain through a fine sieve into a small bowl, pressing on the solids. Set the tamarind juice aside and discard the solids.

Sauté the Aromatics: Heat the oil in a small saucepan over medium heat. Add the onions, season with a pinch of salt, and sauté until translucent, about 5 minutes. Increase the heat to medium-high, add the garlic, cloves, allspice, and cinnamon, and sauté until fragrant, another minute or so. Stir in the tomato paste and sugar and cook, stirring frequently, until the bottom of the pan begins to darken, about 1 minute. Add the soaked raisins and zest, stir, and simmer briefly until almost evaporated, about 15 seconds.

Add the Liquid and Simmer: Add the grapefruit juice, orange juice, vinegar, and reserved tamarind juice (or tamarind or tart cherry juice concentrate, if using). Stir to combine, and adjust the heat so the sauce simmers steadily but doesn't boil violently. Continue simmering until the sauce is shiny and reduced by about one third, 15 to 20 minutes.

Strain and Cool: Pour the sauce through a fine-mesh strainer, pushing firmly on the solids to extract as much liquid as you can. Cool to room temperature and taste for salt. Transfer to a clean jar, cover, and refrigerate for up to 3 weeks.
2011 Molly Stevens
YOUR RECENTLY VIEWED RECIPES
Free recipes, giveaways, exclusive partner offers, and more straight to your inbox!