Spring Paella
Cookbook
Published by Chronicle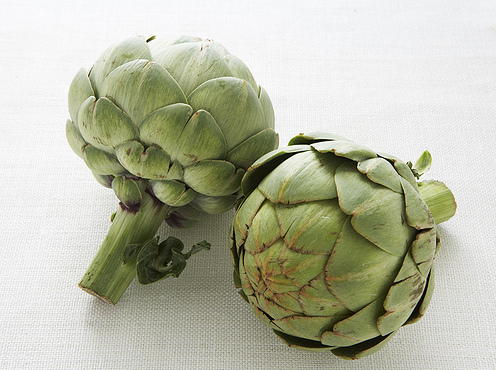 This image courtesy of Joseph DeLeo
This paella is a sibling of the Paella valenciana from the huertas, the irrigated orchards and fields around Valencia. In spring they are bursting with fresh vegetables as well as snails.  If snails aren't in season a sprig of rosemary can be substituted.
NotesSnails: If using live snails, clean the shells well and put in a medium saucepan. Add 1 quartered tomato, 1 quartered onion, 1 teaspoon sweet or bittersweet pimentón, 1 sprig fresh rosemary; and 1 small handful fresh mint. Cover with abundant cold water and slowly bring to a boil. Reduce the heat to low and simmer for 1 hour. Drain the snails, rinse, and set aside.

If using preserved snails, rinse, put in a medium saucepan, cover with abundant water, and boil for 3 to 4 minutes. Drain, rinse, and set aside.

Saffron Threads Preparation: Saffron is a defining element of paella. It brings its characteristic warm and fresh aroma, and, significantly, tints the rice a delicate golden color. It is the world's most expensive spice. Cultivation is a delicate process, collecting is difficult, and it takes some 70,000 flowers to yield a pound of saffron. Introduced into Spain around A.D. 900 by Arab traders, it was cultivated in Spain by A.D. 960. (The Spanish word for saffron, azafrán, comes from the Arabic za'faran.) Saffron is largely grown in the central La Mancha region, whose extreme conditions-hot summers, cold winters-are ideal for giving strength to the color and pungency to the aroma. La Mancha is a registered denominación de origen; look for the "D.O. Azafrán de la Mancha" label. Buy only threads and not powder, which may have been adulterated.

To draw out saffron's full culinary potential, the threads need to be slightly toasted and crumbled before they are added to a rice dish. Toast the threads in a small dry skillet over low heat for a few minutes until they turn a shade darker. Remove them immediately, and then either crumble them in a small piece of paper or pound them in a mortar. If using a mortar, be sure to swirl a bit of water around inside after pounding to get every last bit of saffron dust.

Most restaurants, and many home cooks, use a powdered colorante (usually a mix of cornstarch, salt, and yellow dye) to give their paella the dish's characteristic golden color. Though eschewed by purists, colorante does not carry a heavy stigma in Spain and its use is not generally looked down upon around most tables. Colorante gives the rice an artificially bright yellow tone. Do not try to make a paella yellower by simply adding more saffron. Too much saffron can give the rice a bitter, almost medicinal flavor. Two pinches of good-quality threads-20 to 30 total-is enough for a paella for 6.

To Grate Tomatoes:. Simply cut the tomato in half crosswise, and run a finger through the seed cavity, scraping most of the seeds out. Then, cupping the tomato in your hand, slowly grate on a box grater. The skin will gradually peel back as the flesh is grated away, leaving only a flattened skin in your palm. (Discard the skin.) This technique doesn't waste precious pulp. In winter when good, flavorful fresh tomatoes are hard to find, canned whole tomatoes can be used. Strain them, reserving the liquid (to add later to the cooking sofrito), and finely chop.
Serves6
OccasionCasual Dinner Party
Dietary Considerationegg-free, lactose-free, low cholesterol, low saturated fat, peanut free, soy free, tree nut free
Taste and Texturegarlicky, savory
Ingredients
¼ cup extra virgin olive oil
½ green bell pepper, cored, seeded, and cut into 1-inch-square pieces
6 ounces green beans, ends trimmed and cut into 1-inch-long pieces
6 medium artichokes, trimmed, tough parts of leaves removed, cut into eighths, and choke scraped out
4 tender garlic shoots, root ends trimmed, outer layers peeled away, and only the last inch used
2 scallions (white and green parts), ends trimmed and roughly chopped
2 garlic cloves, finely chopped
4 ripe medium tomatoes peeled, seeded, and finely chopped or coarsely grated (see Notes)
Salt
8 cups Vegetable Stock  or Chicken Stock 
1 teaspoon sweet pimenton
2 pinches saffron threads (about 20 total), lightly toasted and ground (see Notes)
3 cups short or medium grain rice
½ pound live or preserved snails, cooked (See Notes) 
1 pound asparagus, bottoms trimmed
½ cup shelled fresh peas
Instructions
Prepare the sofrito. In a 16-to 18-inch paella pan, heat the oil over medium heat. Add the bell pepper, green beans, artichokes, tender garlic, and scallions and cook, stirring frequently, until they begin to brown and soften, 5 to 10 minutes.

Add the garlic cloves, tomatoes, and 2 pinches of salt and cook, stirring from time to time, over medium-low heat until the tomato has darkened to a deeper shade of red and the sofrito is pasty, 10 to 15 minutes.

Add 1 cup of the stock, bring to a simmer, and continue simmering until the liquid has evaporated, about 10 minutes.

When the liquid has evaporated in the sofrito, sprinkle in the pimentón and saffron, letting the flavors meld for a few seconds while stirring constantly.

Add the remaining 7 cups of stock, increase the heat, and bring to a boil. Check for salt and adjust the seasoning as needed.

Sprinkle in the rice. With a wooden spoon, probe the pan to make sure the rice is evenly distributed. Do not stir again. Cook, uncovered, for 5 minutes over high heat.

Distribute the snails, asparagus, and peas evenly around the pan. Cook for another 5 minutes over high heat, then reduce the heat to low and cook for an additional 8 minutes, or until the liquid is absorbed and the rice is al punto, with just a bite to it.

Remove the paella from the heat, cover with paper towels, and let rest for 5 minutes before serving.
2006 Jeff Koehler
YOUR RECENTLY VIEWED RECIPES
Free recipes, giveaways, exclusive partner offers, and more straight to your inbox!