Spiced Peas and "Paneer"
Cookbook
Published by Surrey Books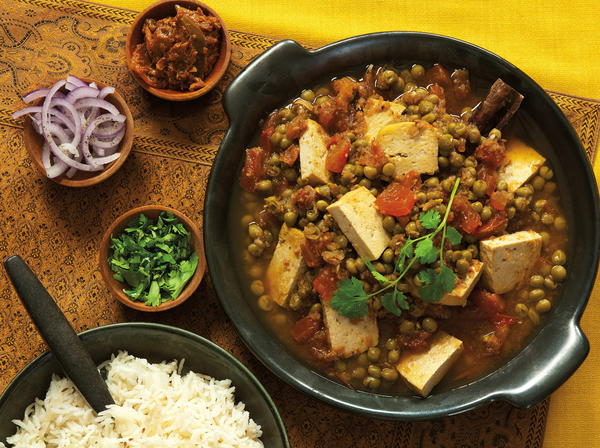 This image courtesy of Brave New Pictures, Inc.
My mother and mother-in-law both make a great Mattar Paneer. In fact, theirs are so good that I'd rather not disappoint my husband with my own version when it comes to his favorite dish. With this recipe, I finally got close enough to the experts in my family. Even with the tofu substitution, it's delicious—baking the tofu first makes all the difference in the world.
NotesBaked Tofu:

1. Set an oven rack at the highest position, preheat your oven to 350°F (180°C), and lightly oil a baking sheet.

2. Sprinkle garam masala over one side of the tofu strips.

3. Place the tofu with the unseasoned side down on the baking sheet. Spray lightly with oil. Bake for 15 minutes. Flip the tofu slices, season them with the remaining garam masala, and spray lightly again with oil. Bake for another 15 minutes. Remove the pan from oven, let the tofu cool for 5 minutes, and cut it into cubes. Use the baked tofu immediately or store it for up to 1 week in an airtight container in the refrigerator for use later. You can also freeze it for up to 2 months.

Masala:

By definition, a masala is simply a blend. Remember that movie Mississippi Masala? It was about an Indian girl dating an African-American guy-a mix of cultures. Get it now? There are dozens upon dozens of masalas out there, so a cook can grab the appropriate one for his or her dish instead of adding each individual ingredient. These spice blends differ by type and amount of individual spices. The blends can be purchased, but they are just as easy to make at home. Try it, and you might be pleasantly surprised. Chai masala is the standard blend of cardamom, cloves, and cinnamon that gives Indian tea its unique flavor and warm smell. Chaat masala, which is uniquely tart and highly addictive, flavors many street foods called chaat. Its key ingredients include mango powder and black salt. Sprinkle a little over fresh veggies along with some lemon juice, and you'll see just how addictive it is for adults and kids alike. Chana masala includes pomegranate seeds, fenugreek, and mustard seeds, among other spices, which combine to give this blend its unique tartness. It's traditionally cooked with chickpeas but can be used in virtually any dish. Chutney powder is a tart, reddish-pink powder sprinkled over fresh dosas in South Indian cooking. Because it's used so infrequently, I did not include a recipe in my book. It can be found at any Indian grocery store. Garam masala is synonymous with North Indian cooking. This spice blend includes cumin, coriander seeds, and cassia leaves, among other ingredients. It's a classic way to quickly cook up a standard North Indian curry. Rasam masala (powder), used to flavor the classic South Indian soup by the same name, combines lentils and curry leaves with spices to get its unique flavor. Sambhar masala, a delicious and fiery combination of lentils, curry leaves, spices, and whole red chiles, flavors South Indian sambhar stew but can be used in other soups and lentil dishes as well as sprinkled over popcorn.


7 cups (1.66 L)
Cooking Methodbaking, sauteeing
OccasionFamily Get-together
Dietary Considerationegg-free, gluten-free, halal, kosher, lactose-free, peanut free, tree nut free, vegan, vegetarian
Taste and Texturesavory, spiced, umami
Ingredients
2 tablespoons oil
1 heaping teaspoon cumin seeds
1 teaspoon turmeric powder
1 (2-inch [5-cm]) cinnamon stick
1 black cardamom pod
1 large yellow or red onion, peeled and minced (2 cups [300 g])
1 (2-inch [5-cm]) piece ginger root, peeled and grated or minced
6-8 cloves garlic, peeled and grated or minced
2 medium tomatoes, peeled and diced (3 cups [480 g))
3 tablespoons (45 mL) tomato paste
2-4 green Thai, serrano, or cayenne chiles, stems removed, chopped
3 cups (711 mL) water, divided
1 heaping teaspoon garam masala (see Notes)
1 heaping teaspoon ground coriander
1 teaspoon red chile powder or cayenne
2 teaspoons coarse sea salt
1 pound (454 g) fresh or 1 (16-ounce [454-g]) bag frozen peas
1 (14-ounce [397-g]) package extra-firm organic tofu, baked and cubed (see Notes)
2 tablespoons chopped fresh cilantro, for garnish
Instructions
In a large, heavy pan, heat the oil over medium-high heat.

Add the cumin, turmeric, cinnamon, and cardamom and cook until the seeds sizzle, about 30 seconds.

Add the onion and cook until browned, about 3 minutes, stirring occasionally.

Add the ginger root and garlic. Cook for another minute, stirring to avoid sticking.

Add the tomatoes, tomato paste, chiles, 1 cup of the water, garam masala, coriander, red chile powder, and salt and bring to a boil. Reduce the heat and simmer uncovered for 10 minutes.

Remove and discard the cinnamon stick and cardamom. Blend the mixture, either using an immersion blender or by transferring it to a blender or food processor. (This step is not necessary, but it adds smoothness to your final dish.)

Add the peas, baked tofu cubes, and remaining 2 cups (474 ml.) water. Bring to a boil, reduce to a simmer, and cook for 10 minutes, uncovered.

Garnish with the cilantro. Serve with brown or white basmati rice, roti, or noon.
2012 Anupy Singla
YOUR RECENTLY VIEWED RECIPES
Free recipes, giveaways, exclusive partner offers, and more straight to your inbox!