Spiced Crumbles with Peas
Cookbook
Published by Surrey Books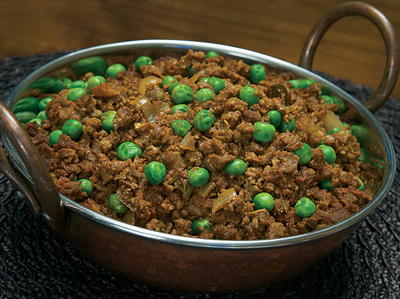 This image courtesy of Brave New Pictures, Inc.
This dish may be called mock keema, but there's nothing to laugh about here. It is absolutely incredible and a great way for vegetarians to enjoy the amazing taste and consistency of traditional keema, which is made with lamb. I tried this recipe a few different ways, and found it can be made with either non-meat, non-soy alternatives such as Quorn or meatless soy crumbles such as those made by Boca or Morningstar (I prefer the Boca soy crumbles). Use the ones that come in bags in the freezer section of most grocery stores. The only complaint I've heard about this dish is that it's not greasy enough. Traditional keema is made more delicious by the fatty oil the meat gives off while cooking. It's classic comfort food-kind of like eating New York-style thin-crust pizza with oil dripping off each slice. Feel free to add a little more oil in the end if you need it. If you've never had vegetarian crumbles, this is a great introduction.
Slow cooker size: 5-quart

To make this dish in a 3½-quart slow cooker, halve all the ingredients and proceed with the recipe. A half recipe makes 6 cups (1.42 L).

Can these recipes be made on the stovetop?

Absolutely. Just keep in mind that when cooking on the stove, you'll use a quarter more water because liquids evaporate. So, if a slow cooker recipe requires 4 cups of water, use 5 cups when making it on the stovetop. Also, though you can keep your pot at a low simmer on the stovetop, you still always want to keep an eye on it to prevent drying and burning. If food-especially beans and other legumes-starts to dry out, just add more water and continue to cook.

The rule in the land of slow cookers is usually never to open the lid while cooking for fear of losing critical heat and slowing down the cooking process. This may be true, but I have a tough time following the rules myself. Also, there are some dishes, such as Curried Spinach with Homemade Cheese (Palak Paneer), that need to be stirred during cooking. Know that the cooking times cited in my recipes reflect my inability to keep the lid shut, so to speak. Just do your best to limit peeking. A good rule-of-thumb is to add about 5 minutes of cooking time for every time you lift the lid.

Garam Masala:

This spice mix is one of the most common in North India. It includes coriander, cumin, cloves, cardamom, black pepper, cinnamon, and nutmeg. You can purchase the spices already ground or buy a packet of all of the above combined but left whole for you to grind later. If you grind them yourself, remember to balance the amount of each spice used. And be careful, as the whole cinnamon can be a little challenging to grind all the way down. Don't be intimidated to go this route though-I've done it and the results are wonderful. In most dishes, the garam masala is sprinkled over the food toward the end of cooking, but I prefer to put it in at the beginning along with the other spices.


12 cups (2.84 L)
Cooking Methodslow cooking
OccasionCasual Dinner Party, Family Get-together
Recipe Coursehors d'oeuvre
Dietary Considerationegg-free, lactose-free, peanut free, tree nut free, vegan, vegetarian
Taste and Texturemeaty, savory, spiced, umami
Ingredients
4 (12-ounce [340 g]) bags meatless grounds (such as those made by Quorn, Boca, and Morningstar)
½ cup (100 g) vegetable or canola oil
1 yellow or red onion, peeled and finely chopped
1 (4-inch [10 cm]) piece ginger, peeled and cubed
16 cloves garlic, peeled
4-6 green Thai, serrano, or cayenne chiles, stems removed
1 (6-ounce [260 g]) can tomato puree
2 cups (473 mL) boiling water
¼ teaspoon (1 mL) cardamom seeds or 3-4 green cardamom pods, lightly crushed
6 fresh or dry Indian or regular bay leaves
4 tablespoons (50 g) ground cumin
4 tablespoons (50 g) ground coriander
2 heaping tablespoons (40 mL) red chile powder
2 tablespoons (30 mL) salt
2 teaspoons (10 mL) turmeric powder
2 teaspoons (10 mL) garam masala (see Notes)
½ cup (100 g) chopped fresh cilantro
2 cups (402 g) fresh or frozen peas
Instructions
If the grounds are frozen, defrost completely.

Turn the slow cooker to high. Put the defrosted crumbles, oil, and onion in the slow cooker and mix well. Allow to heat while you prep other ingredients.

In a food processor, grind the ginger, garlic, and green chiles. Add this mixture to the slow cooker.

Put the tomato puree into a bowl and add the boiling water. Carefully whisk until the paste dissolves. Add this mixture to the slow cooker along with the crushed cardamom seeds or pods, bay leaves, cumin, coriander, red chile powder, salt, turmeric, and garam masala. Mix well.

Cook on high for 3 hours.

Add the cilantro and peas. If the peas are fresh, cook them in boiling water for about 3 minutes before adding. You can add frozen peas without boiling them, but let the dish sit for about 10 minutes before serving to warm them up. Eat over basmati or brown rice with chopped, fresh onions on top. If you need a more comfort, drizzle a little more oil over the top.

James, one of my most loyal taste testers, suggests taking large button mushrooms, cutting away the stems, and stuffing them with mock keema. Sprinkle some spicy cheese over the top and bake the stuffed mushrooms in the oven at 375 degrees for about 15 minutes. You can also use this "meat" in tacos.
2010 Anupy Singla
YOUR RECENTLY VIEWED RECIPES