Spiced Chayote and Peas
Cookbook
Published by Sasquatch Books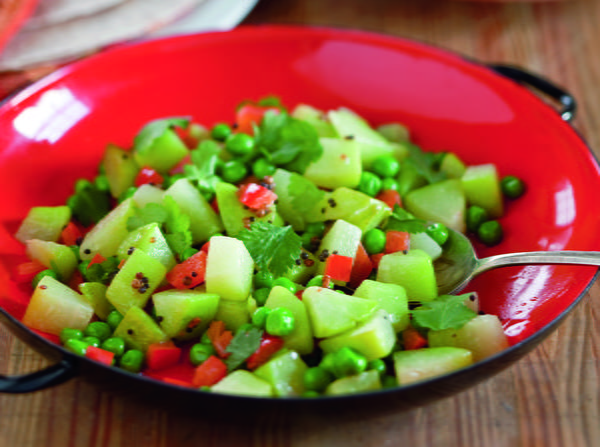 This image courtesy of Laura Ferroni
The original version of this Bengali recipe uses white pumpkin (Benincasa hispida) that is cultivated extensively in India. It's hard to find in the United States so Grandma Niloufer Gupta (see Notes) uses chayote, a gourdlike fruit, instead. Niloufer insists that ground spices cannot take the place of whole spices in this recipe. Besides, whole spices are not hard to find, she says, and many specialty markets have fresh, good-quality spices that are superior even to those at South Asian markets here. In the end, this simple dish is a knockout—the lightly spiced chayote blooms with flavor, the peas add a touch of sweetness to every bite, and subtle notes of coriander hum in the background. 
NotesCilantro changes its flavor when it comes into contact with steel, so pick the leaves off the stems, don't chop them.

If you can find black mustard seeds to use in this recipe, decrease the initial cooking time as they are often finer and burn quickly.

Profile of a Grandma:

Niloufer Gupta Born in Bombay (now Mumbai) and raised in Calcutta (now Kolkata) in a conservative Shia Khoja Muslim family, Niloufer Gupta led a different life from many women of her generation. When Niloufer lost her father at age twelve, she and her mother moved back in with her mother's family where she was "indulged" she says. Greatly influenced by the British, her uncles and aunts were entrepreneurs as well as professionals. They spoke both English and Hindustani at home and while most Muslim children started learning to read Arabic at age seven to recite the Koran, Niloufer only started at thirteen.In a society where girls are trained to be good housewives, Niloufer's upbringing was just the opposite. "I wasn't allowed to go into the kitchen or to do anything that involved fire." (In those days, cooking was done over coal fires.) Nonetheless, nothing could stop the culinary instincts her late father had instilled in her. "I have fond memories of my father making a tomato soup and putting sherry into it," she remembers. A teenaged Niloufer decided she wanted to be a typical Indian girl and began taking domestic science classes in high school.

After attending Saint Xavier's College in Bombay, Niloufer enrolled at the Inner Temple (one of the four Inns of Court) to become a barrister- at-law and also joined the London School of Economics and Political Science at the University of London to study international relations and economics. During the long summer vacations, she augmented her culinary education by taking classes at the London branch of the famous Le Cordon Bleu. "I wanted to prove to my family I could be a professional earning a living on my own and also hold my own in the world of Western cuisine," she says.

London was also where Niloufer met her husband-to-be, Abhijit. However, sparks didn't fly until they returned to Bombay.

Niloufer defied convention yet again. She was twenty-seven when she married, considered fairly late for an Indian woman. Not only was Abhijit the same age as she was (brides were normally paired with men who were at least seven years older), it was also a love match. To take things even further, she was Muslim and he was Hindu. Without a doubt, the religious difference caused quite an uproar among their families, but both sides eventually came around.

Over the next ten years, Niloufer and Abhijit had three children. As a working mother, Niloufer often came home at nine o'clock on weekday evenings, so she left meal preparations to their cook. When weekends and special occasions rolled around, Niloufer took over the kitchen. With her diverse culinary background, Niloufer drew inspiration from a multicultural pantry, cooking everything from French, to Bengali, to Eurasian and Muslim dishes. Her young daughters, Aaliyah and Rabia, took on the roles of sous chefs, chopping, stirring, and adding ingredients to the pot.

Aaliyah remembers these occasions fondly and often recreates her favorite dishes including Spicy Lamb Casserole. Cooking this dish brings back memories of family dinners and the love that goes into food preparation, she says. "I have an intuitive sense of how it should taste, so in some sense, making this recipe is a nostalgic and evocative process."
Now, at seventy-two, Niloufer divides her time between their home in Bangalore; Delhi, where their son and his family live; Mumbai, where their second daughter lives; and Seattle, where Aaliyah lives with her husband and twin sons. Whenever Niloufer visits her children and grandchildren, her cooking skills are very much in demand. Her grandchildren have their standard orders—prawns with potatoes, beef with coconut sauce, and Spicy Lamb Casserole are top items on the menu. And Niloufer is always happy to oblige.
Makes4 to 6 servings as part of a multicourse family-style meal

OccasionCasual Dinner Party
Dietary Considerationegg-free, gluten-free, halal, kosher, peanut free, soy free, tree nut free, vegetarian
Taste and Texturesavory, spiced, sweet
Ingredients
1 pound (about 2) chayotes
¼ cup vegetable oil
1 teaspoon golden mustard seeds
1 teaspoon salt
½ teaspoon sugar
¼ cup (½ stick) butter
1 teaspoon coriander seeds
¼ teaspoon fenugreek seeds
2 small red bell peppers, diced (1½ cups)
1 ounce cilantro, leaves picked off (¼ cup) and stems chopped (2 tablespoons)
1 cup frozen peas, thawed
Instructions
Peel the chayotes with a vegetable peeler and cut into quarters. Core and cut each quarter lengthwise in half. Chop crosswise into ½-inch-thick chunks.

In a large wok or skillet, heat the oil over medium-low heat until it becomes runny and starts to shimmer. Drop in a mustard seed; if it floats and starts to sputter, the oil is ready. Stir in the rest of the mustard seeds and cook until they are light brown and fragrant, 1 to 2 minutes. Toss in the chayote and stir constantly for 3 minutes. Add the salt and sugar and cook, stirring occasionally, for another 3 minutes. Add the butter, coriander, and fenugreek. Cover and simmer for 5 minutes, or until the chayote is almost cooked through. Add the bell peppers, cover, and cook until they release their juices, about 1 minute. Add the cilantro stems and peas and stir.

Simmer until the peas are heated through and the chayote is tender and cooked to your liking (bite into a piece to test), about 3 minutes. Don't simmer the peas for too long or they will overcook and turn dirty green. Taste and add more salt or sugar if desired. Transfer to a serving platter. Garnish with cilantro leaves and let the dish sit for at least 5 minutes to allow the flavors to meld before serving. Enjoy this dish with whole-wheat tortillas available at Latin markets or specialty markets.
2009, 2011 Patricia Tanumihardja
YOUR RECENTLY VIEWED RECIPES
Free recipes, giveaways, exclusive partner offers, and more straight to your inbox!