Soft-Shell Crab BLT Sandwiches
Cookbook
Published by William Morrow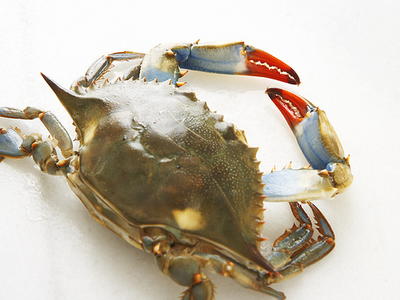 There have been studies that prove that the crunchy sound of eating crisp food stimulates the appetite. Surely, along with the fresh, briny flavor, this is the attraction of the soft-shell crab, one of the true glories of summer eating. The best way to enjoy the crabs is to play up their crackly edible shell with a batter coating.
Soft-shell crabs are very perishable, and it is best to clean them at home. But not everyone cares to deal with live crabs, even if their claws are not sharp. If you have the fish vendor clean them for you, refrigerate them immediately (bring a cooler with you to the store), and cook the crabs within 8 hours after purchase. To clean the crabs yourself, use kitchen scissors to snip off the area on the front of the body that contains the eyes and mouth. Turn the crab over and lift up the flap covering the gills on one side of the crab. Snip away the gills, and repeat on the other side.


Makes4 sandwiches
OccasionFamily Get-together
Taste and Texturecreamy, crisp, herby, salty, savory, smoky
Ingredients
½ cup mayonnaise
2 teaspoons chopped fresh chives
1 teaspoon chopped fresh tarragon
6 slices thick-sliced bacon
2 large eggs
½ cup all-purpose flour
2 tablespoons cornstarch
¼ teaspoon salt
1/8 teaspoon freshly ground black pepper
4 soft-shell crabs, cleaned (see Note)
1/3 cup vegetable oil
4 soft sandwich buns, toasted
2 ripe tomatoes, cut into 8 thin slices
4 leaves green lettuce
Instructions
Mix the mayonnaise, chives, and tarragon in a small bowl. Cover and refrigerate until ready to use.

Cook the bacon in a large skillet over medium heat until browned and crisp, about 8 minutes. Transfer to paper towels to drain. Cut each strip in half to make 12 pieces total. Pour out and reserve the bacon fat. Wipe the skillet clean with paper towels.

Line a baking sheet with wax paper. Whisk the eggs in a shallow dish. Mix the flour, cornstarch, salt, and pepper in a second dish. Dip each crab in the eggs, then in the flour to coat completely. Transfer to the baking sheet and refrigerate for 15 to 30 minutes to set the crust.

Heat the oil and reserved bacon fat in a large skillet over medium-high heat until the oil shimmers. Carefully add the crabs to the skillet. (The crabs could splatter, so be careful.) Cook until the undersides are golden brown, about 3 minutes. Using a thin slotted metal spatula, turn the crabs and cook to brown the other sides, about 3 minutes more. Using the spatula, transfer the crabs to paper towels to drain briefly.

Spread the buns with the herb mayonnaise. Top each bottom bun half with a crab, 3 bacon slices, 2 tomato slices, and a lettuce leaf, then the top bun half. Cut each sandwich in half and serve immediately.
2008 Rick Rodgers
YOUR RECENTLY VIEWED RECIPES