Soft and Sharp Involtini
Cookbook
Published by Hyperion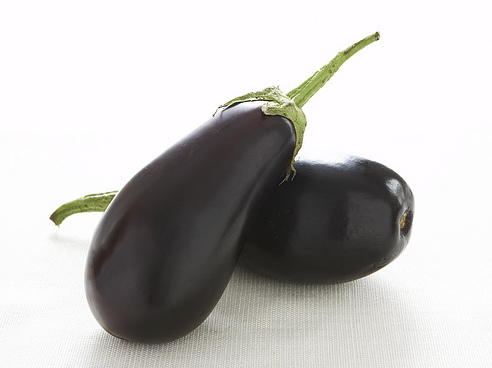 This image courtesy of Joseph DeLeo
I often make a southern Italian dish of involtini: eggplant, sliced thinly, lightly fried and cooled, and then wrapped around a mixture of basil, pine nuts, bread crumbs, garlic, provolone and Parmesan, bound with egg, then baked in tomato sauce dotted with mozzarella. It's fiddly, but not difficult, and perfect for those times when you have the desire for a bit of slow pottering about in the kitchen. It also happens, as does this version, to be an incredibly useful standby for vile meat eaters like me who want to have something for vegetarians at a dinner party or whatever. I've still called this involtini, although in truth there is nothing Italian about its component parts. The flavors are more Greek in nature: sharp feta, which perfectly offsets the soft sweetness of the eggplant; and oregano, which is, dried and aromatic, the herb of the Greek islands. It also occurred to me that using a dried herb made this a useful, year-round regular. In fact, it was my vegetarian option at my Christmas lunch last year. I tend to do this in stages: the tomato sauce and eggplant one day; the stuffing, wrapping and baking the next. And I love it at room temperature the next day, too.
NotesOven proof baking dish, approx. 2-quart capacity.
Serves4 as a main course; 12 rolls
OccasionCasual Dinner Party, Family Get-together
Dietary Considerationvegetarian
Taste and Texturecheesy, savory, sharp
Ingredients
1 onion
1 clove garlic
Half a teaspoon dried oregano
2 tablespoons olive oil
40 ounces (approx. 5 cups) canned chopped tomatoes
2 teaspoons sugar
Salt and pepper to taste
2 tablespoons extra-virgin olive oil
4 eggplant (4 to 5 pounds total)
Olive oil for painting the eggplant (have plenty on hand)
Scant 1/2 cup bulgur wheat
1 teaspoon dried oregano
1 1/2 cups boiling water
Scant 1/4 cup shelled pistachios, roughly chopped
7 ounces feta cheese, crumbled
1 clove garlic, minced
1 fat or 2 thin scallions, finely sliced
2 tablespoons capers (drained of brine)
1 egg
A pinch of cinnamon
3 ounces feta cheese, crumbled
Drizzle of olive oil
Fat pinch of dried oregano
Instructions
Peel and roughly chop the onion and press on the garlic with the flat of a knife to loosen the skin. Remove it and then sling onion, garlic and dried oregano into a food processor and blitz to a pulp. Cook in a deep, generous-sized pan (with a lid) in the 2 tablespoons of olive oil, over a medium to low heat, until softened—about 7 minutes. Add the tomatoes and the sugar, stir well, cover and turn down the heat, and let cook for about 20 minutes, checking often to see that the sauce is not bubbling too vociferously (and therefore sticking or drying out, or indeed both). Taste for seasoning, add salt and pepper or maybe a pinch more sugar if you feel it needs it, then stir again, add the extra-virgin olive oil, and take off the heat but keep the cover on. Leave till you need it.

Cut the eggplant in thinnish slices lengthwise and chuck away the two skin-covered edges: you need to be able to roll the eggplant lengths up later and so you need the full extent. It may sound wasteful, but I'm happy if I get 4–5 good slices per eggplant. Put some oil into a bowl and using a pastry brush, paint each slice generously with the oil. Then cook them on a hot griddle until bronzed, striped without and tender within. Or you can just fry the eggplant slices in a pan filled to about half an inch depth of olive oil. In either case, remove the cooked slices to sheets of paper towel to absorb excess oil. Cook all the eggplant slices this way and then, when cool, you can either begin the stuffing and rolling, or set them aside until you want to. If I'm doing this in advance, I line a dish with baking parchment, arrange a layer of eggplant slices on top, then cover with parchment, then another layer of eggplant and so on, until I've packed them all away. Cover with a layer of parchment and leave till needed.

I tend to stuff the eggplant shortly before cooking them. Measure the bulgur wheat into a bowl, add the dried oregano, pour over the water and cover with a plate. Leave to steep for 30 minutes. Meanwhile, preheat the oven to 375°F, and oil your oven-proof dish lightly.

When the bulgur wheat has had its time, pour it into a large sieve and press down to remove excess water. Leave for a few minutes till it's cooled a little and then decant to a large bowl. Add about two-thirds of the chopped pistachios (you just need to leave some for sprinkling when serving), the crumbled feta, minced garlic, scallions and capers. Stir to mix, but don't be too heavy-handed about it: a few goes with a fork should be enough to combine everything. Beat the egg with the cinnamon and fork this in, too. I find it easier after that's done just to weigh in with my hands, squeezing everything together so you've got a cohesive, nubbly stuffing in front of you.

Get out the eggplant and, one by one, place them in front of you, stalk end at the top, bulbous bottom nearest you. Add a dollop of stuffing at the bottom, roll up lengthwise away from you and put each fat little bundle in the oiled dish as you go. When they're all sitting there snuggly, pour over the tomato sauce, scatter over the crumbled feta for the topping, drizzle with oil, sprinkle over a little dried oregano and cook for 30 minutes. Remove from the oven and let stand at least 15 minutes before serving: this shouldn't be piping hot. Scatter with the remaining pistachios before bringing it to the table.
2002 Nigella Lawson
YOUR RECENTLY VIEWED RECIPES
Free recipes, giveaways, exclusive partner offers, and more straight to your inbox!