Slow-Cooked Salt-Crust Salmon with Endive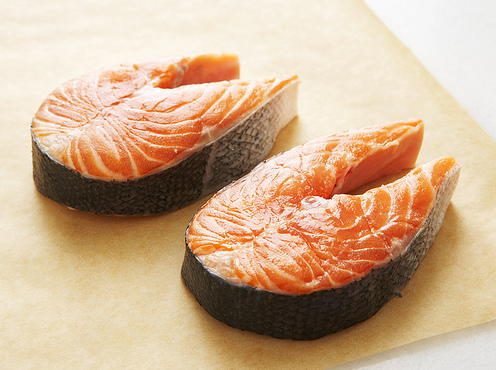 This image courtesy of Joseph DeLeo
From steadying oyster shells to breaking in new cast-iron pans, salt has an almost endless number of uses in the kitchen. Baking foods in salt is an old, old tradition. By hermetically sealing a protein like salmon in salt, the fish keeps all its juices, and the collagen in the fish becomes luxuriously gelatinous. Use a thick center cut of salmon for this dish, with skin on both sides: the skin will prevent the fish from becoming salty. By the way, the same dough can be shaped with cookie cutters and baked in the oven to make ornaments!
4 Portions
OccasionCooking for a date, Formal Dinner Party
Dietary Considerationkosher, lactose-free, peanut free, soy free, tree nut free
Taste and Texturejuicy, savory, sharp, tart
Ingredients
4 heads Belgian endive
3 tablespoons corn oil
Salt and ground pepper to taste
3 tablespoons plus 1 teaspoon sugar
3 tablespoons plus 2 teaspoons fresh lemon juice (from about 2 lemons), plus more if desired
½ cup white wine
1 cup kosher salt
4 cups all purpose flour
3 egg whites
1 thick, 2-pound salmon cross section, with skin on both sides
6 fresh tarragon leaves
1 teaspoon extra virgin olive oil
Instructions
Coarsely chop 2 heads of the Belgian endive. Heat a sauté pan over high heat with 2 tablespoons of the corn oil until very hot but not smoking. Add chopped endive, season with salt and pepper, and sauté until the endive is dark brown all over but not burnt, 7 to 10 minutes. Lower the heat to medium and sprinkle endive with 1 teaspoon of the sugar and 2 teaspoons of the lemon juice. Continue to cook until endive is completely soft, then transfer to a blender and purée. Check seasoning and add salt and pepper to taste. Pass purée through a fine mesh sieve, using a rubber spatula to push it through. (This endive purée can be used as the basis of a quick sauce.)

Heat remaining tablespoon of corn oil in a large ovenproof sauté pan over medium-high heat. Cut remaining 2 heads of endive in half lengthwise, and sprinkle with salt, pepper, and 1 tablespoon of the sugar. Place endive halves in pan cut side down and cook until nicely caramelized on flat side, about 2 minutes, then flip and lightly brown rounded side, about 2 minutes more. Reduce heat to medium and transfer endive to a plate. To the same pan, add remaining 2 tablespoons sugar, stirring to incorporate pan juices. When sugar granules have browned slightly, add white wine and remaining 3 tablespoons lemon juice. Stir to dissolve sugar. Return endive halves to the pan cut side down, and add water to come a third of the way up the sides of the endive. Bring to a simmer, then cover pan and place in oven. Let endive simmer in the oven for 25 to 30 minutes, monitoring level of liquid in the pan and adding water a tablespoon at a time if necessary. Endive is done when completely tender throughout when pierced with a skewer. Transfer endive halves to a cutting board, cut in half again lengthwise, and keep warm in a covered baking dish. Strain pan liquids into a small saucepan; you should have about 2/3 cup of dark, flavorful braising liquid. Reduce oven temperature to 325°F.

While the endive is in the oven, make the salt dough: in a large bowl, mix together kosher salt and flour. In a separate bowl, beat together egg whites and 1 cup water. Gradually add the liquid ingredients to the dry. Mix by hand, using a pinching motion to incorporate. Sprinkle with 1 tablespoon of water and mix. Continue adding water 1 tablespoon at a time just until a cohesive, kneadable dough has developed: the salt dough should be rather dry. Shape dough into a disk, wrap with plastic wrap, and refrigerate for at least 10 minutes.

Line a baking sheet with aluminum foil. Divide the dough into 2 equal-sized lumps. On a lightly floured surface, roll out first dough lump into a rectangle about ¼-inch thick and 10 inches by 20 inches. Carefully transfer it to the baking sheet. Lay the salmon in the center of the dough and season with ground black pepper. Now roll out the second lump of dough into a to-inch by 10-inch rectangle and drape over the bottom layer of dough to cover the fish. Seal by firmly pressing together all edges of the dough. Place baking sheet in oven and bake at 325°F for 20 minutes, flipping after 10 minutes. Remove pan from oven, flip fish once more, and let rest for 5 minutes.

While the fish is cooking, finish the sauce: whisk the endive purée into the braising liquid. Thinly slice the tarragon and add it to the sauce. Heat to warm through. Taste, and season with salt, pepper, and more lemon juice if desired.

Peel away the salt crust, using a knife to get started. (This dish makes a striking presentation. Why not carry it to the table on a platter and remove the crust in front of your diners?) Scrape off all whitish traces of crust from the exposed salmon flesh. Remove skin from salmon and discard. Carve salmon into 4 portions.

Just before serving, float olive oil on the surface of the sauce. Lay 2 endive quarters on either side of the plate, and perch the salmon on the endive. Ring the plate with sauce. Serve immediately.
2003 Spirit Media, LLC
YOUR RECENTLY VIEWED RECIPES
Free recipes, giveaways, exclusive partner offers, and more straight to your inbox!