Cookbook
Published by Workman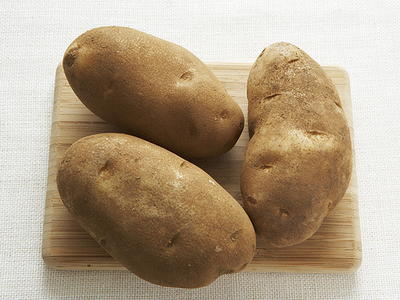 This image courtesy of Joseph DeLeo
We are sitting around a table at an outdoor taverna in the Plaka district of Athens. It is midnight. There's not a free chair to be found, and the streets are humming with people. Georgios tells me his mother makes it with crustless, oiled white bread pounded in a mortar. Kostas's grandmother starts with boiled potato. Ellie says, no, skordalia is made like her mother's version, from epiros, sweet with almonds. Koula uses white vinegar—that's her family's secret. No, no, says Dimitri, the vinegar must be red. The responses chime from table to table in every part of Greece and wherever Greeks roam. Who makes the best skordalia? How is it done? The versions are many, though only subtly different. The answer to who makes the best is "my mother," or sometimes "my grandmother." Skordalia holds the heart of Greece. It is loved like mashed potatoes, remembered like warm cookies, dreamed of like a good steak—it is everyone's comfort food, although it bites. In any café you can order it by the plateful. In every household it welcomes children home from school. Nippy with the tang of crushed garlic, more a paste than a sauce, it is lavished over fried fish, poured on vegetables, spread on bread. I serve skordalia as a side dish with poultry, spread it over the skin of turkey, chicken, and duck before I roast them, rub it over a whole leg of pork as it grills, or put it out as a surprising appetizer dip. Potato and bread are the two basic versions, covering almost every mother's rendition. My favorite is with potato and almond, but then Georgios, Koula, and Dimitri would beg to differ. Both recipes make enough to serve 6 as a sauce or topping crust for lamb, pork, fish, chicken, or duck, or a large turkey.
You don't need a food processor to make skordalia—most Greeks make the beloved paste by hand. To do so, pulverize the nuts with a mortar and pestle, and transfer them to a bowl. In another bowl, mash the potato or bread with a fork or potato masher; add to the nuts. Press or mince the garlic and add it; then pour in the oil, vinegar, and salt. Blend well.

How long have Greeks loved garlic? It couldn't get much longer. The oldest villages yet discovered in Europe lie on the plains of northern and central Greece. There, in sites now called Nea Nikomedia, Soufli Magoula, and Sesklo, dating back to 6000 B.C.E., people erected permanent homes and evolved from wanderers into farmers. They turned the wild grasses into crops, and they also enjoyed certain green shoots with bulbous roots that were sharp and tasty: garlic. The early settlers had placed themselves right on one of garlic's two home sites, the eastern Mediterranean (the other is central Asia).

It's clear they quickly began to cultivate the vegetable. By the time recorded Greek appears, the pungent bulb, called skorodon then, receives frequent mention, mostly for its flavor, but also for its value as a medicine. The physicians of early Greece claimed—as many people still maintain—that garlic Greeks and Garlic is both a digestive and a potent disease preventive. Several kinds were grown, and part of the Athens market was devoted solely to ta skoroda, "the garlics."

In ancient times, garlic had already gathered a touch of the reputation it holds today: It was considered malodorous, and people who ate it were not allowed in the temple of Cybele. They had to eat their cloves outside.

Did the first people in Nea Nikomedia eat skordalia? They left no record. But in the queenly city of Athens, people of classical Greece concocted a favorite sauce of bread, oil, garlic, and a dash of vinegar that they called skorothalmi.

Greeks today, while acknowledging garlic's longtime odiferous reputation, give voice to a contrary opinion. They say that if you have eaten garlic and someone notices your breath, clearly they have not eaten properly. Had they had their share of garlic, they would never have noticed.

Total Timeunder 15 minutes
OccasionCocktail Party, game day
Recipe Courseantipasto/mezze, side dish, snack
Dietary Considerationegg-free, lactose-free, peanut free, soy free, vegan, vegetarian
Five Ingredients or LessYes
Taste and Texturecreamy, garlicky, savory, tangy
Ingredients
1 large russet potato, peeled and cut into 1-inch pieces
1/3 cup blanched almonds
15 cloves garlic
1 cup olive oil
1 tablespoon red wine vinegar
½ teaspoon salt
About 6 slices day-old bread, crusts removed, cut into ½-inch cubes (2 cups cubes)
1½ cups water
½ cup blanched almonds
15 cloves garlic
1 cup olive oil
1 tablespoon red wine vinegar
½ teaspoon salt
Instructions
Place the potato in a small saucepan and add water to cover. Bring to a boil over high heat and cook until soft all the way through, about 10 minutes. Drain.

Transfer the potato to a food processor. Add the remaining ingredients and blend until smooth. Use right away, or cover and store in the refrigerator for as long as overnight.

Place the bread cubes in a large bowl, add the water, and soak until saturated, about 2 minutes.

Drain the bread, and squeeze all the liquid from it. Place the bread in a food processor, add the remaining ingredients, and blend until smooth. Use right away, or cover and store in the refrigerator for as long as overnight.

Instead of almonds, use pine nuts.

Soak the bread in olive oil instead of water.

Instead of potato or bread, use half of each—another traditional formula.

Instead of potato or bread, use chickpeas, lima beans, broad (fava) beans, or another mealy legume that approximates the texture of potato when cooked.

Add a pinch of cayenne pepper.

Add 8 to 10 pitted black olives, 1 tablespoon capers, or 1 to 2 tablespoons Olive and Caper Tapenade.
2004 Susanna Hoffman
YOUR RECENTLY VIEWED RECIPES