Sizzling Clams with Garlic-Herb Butter
Cookbook
Published by Broadway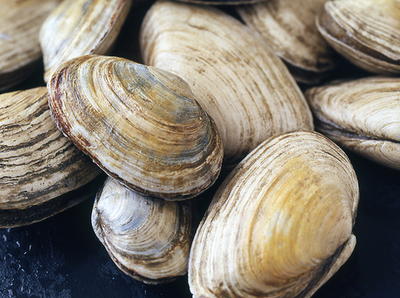 This is one of my favorite ways to prepare clams. You can vary the flavorings as you wish, but this classic version is well worth the first try. You can shuck the clams and spread the butter on a couple of hours before you plan to serve them. Put the clams right on the baking sheet and refrigerate them until you are ready to cook them.
To shuck a clam, insert a clam knife at its "top," opposite the hinge. Turn the knife to pry open the clam. Scrape the knife along the top and bottom shells to remove the clam, being careful not to cut the meat itself.
4 servings
Recipe Coursehot appetizer, tapas/small plates
Equipmentmortar and pestle
Taste and Texturebuttery, chewy, garlicky, herby
Ingredients
3 garlic cloves
Pinch of kosher salt
4 tablespoons unsalted butter, softened at room temperature
Pinch of cayenne pepper
1 teaspoon fresh lemon juice
1 teaspoon chopped fresh rosemary
1 teaspoon chopped fresh thyme
¼ cup plus 2½ tablespoons chopped fresh parsley
20 littleneck clams, washed well in cold water
Lemon wedges
Slices of crusty bread
Instructions
Chop the garlic finely. Sprinkle the salt over the garlic and continue to chop it, occasionally smashing and smearing the garlic with the flat side of your blade, until the garlic becomes pastelike. (Alternatively, smash the garlic and salt together in a mortar and pestle.) Place the garlic paste in a small bowl and add the butter, cayenne, lemon juice, rosemary, thyme, and the 2½ tablespoons parsley. Mash together with a fork. Refrigerate and reserve.

Shuck the clams (see Note) and place each clam on the deeper half shell. Press about 1 teaspoon of the flavored butter onto the clam. Refrigerate until ready to cook.

Heat the broiler. Place the clams on a sided baking sheet and broil until the butter is melted and sizzling and the clam is cooked through, 3 to 5 minutes. (The cooking time will vary depending on the kind of broiler you use.) Sprinkle with the remaining chopped parsley and serve immediately with lemon wedges and crusty bread to soak up the extra butter.
2003 Gordon Hamersley
YOUR RECENTLY VIEWED RECIPES