Updated February 23, 2016
Cookbook
Published by Knopf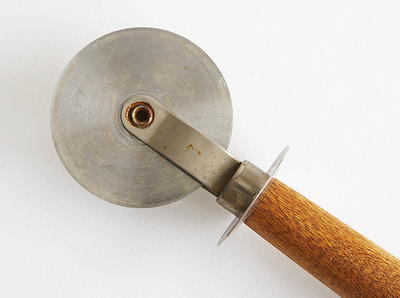 OccasionFamily Get-together
Dietary Considerationpeanut free, soy free, tree nut free, vegetarian
Taste and Texturecheesy, chewy, crisp, herby, savory
Instructions
Preheat the oven to 425 degrees at least 10 minutes before preparing the pizza.

Punch the dough down and flatten or roll it into one large pizza or two to four individual pizzas. Make whatever size or shape you want to—round, rectangle, oval, oblong, or square. Though we have never seen one, you could even make a triangular pizza, which would be symbolic of triangular-shaped Sicily. Anyway, the shape doesn't matter, although at Gangivecchio we normally make traditional round pizzas and prefer individual ones to sharing one big pizza.

Place the shaped dough on a lightly oiled baking sheet.

Top the flattened dough with any of the suggested toppings below. There are countless pizza possibilities: all sorts of vegetables and herbs, olives, anchovies, capers, meats, fish and seafood, tomato sauce, tomatoes, and a huge array of cheeses. We like the basic Margherita pizza, which is made by putting thin slices of mozzarella over the dough and covering it with thin tomato slices and a drizzle of olive oil. After the pizza is baked, it is sprinkled with small, fresh basil leaves. We also sprinkle this simple tomato and cheese pizza with young arugula leaves if we have some from the garden. Try it, it's delicious. The five variations we give below are only a handful of the many we like.

The amounts of ingredients for the toppings given are for 1 large round pizza, about sixteen to eighteen inches in diameter, or two to four smaller pizzas. However, if you love cheese, add a little more. If you want more vegetables than cheese, increase the amount of vegetables and reduce the amount of cheese. There are no strict rules. The one thing we do suggest is not to overpower the pizza with too much topping. After all, the crust is important. Use a small amount of tomato or tomato sauce—no more than 1½ cups for a large sixteen-inch pizza; the sauce should just lightly carpet the dough—and use no more than 1 to 1½ pounds of cheese. Resist adding large amounts of topping ingredients, or the pizza will turn into a casserole. It is like shopping in a market when you are hungry: you buy too much, and you regret it later.

The cooking time for pizza is about 20 to 25 minutes, depending on the size of the pizza and the amount of ingredients, so keep your eye on it.

Here are five more pizza topping suggestions.

Patate, Salsiccia, e Rosmarino (Potatoes, Sausage, and Rosemary) Boil 4 small new potatoes until tender. Cool the potatoes completely. Peel and cut the potatoes into thin slices. Meanwhile, cook ¾ pound of crumbled sweet or hot sausage in a frying pan until no longer pink. Drain and let cool. Spread 1 cup of tomato sauce over the shaped dough to within an inch of the edge. Top with a single layer of the potatoes. Sprinkle the sausage and 2 teaspoons of fresh rosemary over the top. Drizzle the pizza lightly with olive oil. Bake until the crust is golden brown. Season lightly with salt and pepper.

Quattro Formaggio (Four Cheeses)

Top ¼ of the shaped dough to within an inch of its edge with about 1/3 pound each of thinly sliced mozzarella, Swiss, provolone, and crumbled gorgonzola cheese. Drizzle the cheeses lightly with olive oil. Bake until cheeses have melted and the crust is golden. Season with freshly ground pepper.

Pizza con Pomodori, Caciocavallo, e Cipolla Rossa (Tomato Sauce, Caciocavallo, and Red Onion)

Spread 1 to 1½ cups of tomato sauce over the shaped dough to within an inch of the edge. Sprinkle with ¾ pound of diced caciocavallo (or provolone) cheese and 3 medium-sized red onions cut in half crosswise and then into thin slivers. Drizzle the top lightly with olive oil. Bake until the crust is golden.

Melanzane e Basilico (Eggplant and Basil)

Top the shaped dough to within an inch of the edge with 2 peeled, seeded, and cubed medium tomatoes, ¾ pound diced mozzarella, 2 thinly sliced and grilled small eggplants, or 3 cups fried cubed eggplant. (To fry cubed eggplant, heat 1½ cups olive oil in a large frying pan. Fry until golden, stirring often. Drain.) Drizzle lightly with olive oil. Bake until the crust is golden. After it comes out of the oven, sprinkle with salt and pepper and a handful of small fresh basil leaves.

Zucchine e Timo (Zucchini and Thyme)

Heat ¼ cup olive oil in a saucepan. Dice 4 small zucchini and put them in the saucepan with 2 minced garlic cloves. Season to taste with salt and pepper and stir. Cook over high heat for 3 minutes, then transfer the mixture into a shallow bowl to cool.

Stir 1 tablespoon of chopped fresh thyme into the mixture.

Spread the mixture on top of the shaped pizza dough. Top with ½ pound of shredded provolone or Swiss cheese. Bake until the crust is golden brown.
2001 Giovanne Tornabene and Gilda Di Paola Tornabene
YOUR RECENTLY VIEWED RECIPES