Sindhi-Style Stuffed Potato Shells
Cookbook
Published by Workman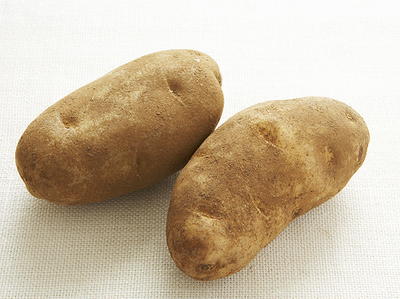 This image courtesy of Joseph DeLeo
My childhood neighbor in Mumbai (Bombay), Mrs. Chandwani, whose ancestral roots were embedded in Sindh (now Pakistan), purchased her aloo tikkis from the same woman, also a Sindhi, every week for fifteen years. It was her way of showing support for the hardworking widowed mother of two. It was also her opportunity to complain, in Sindhi, about the growing cost of vegetables, and about not being able to see her children and grandchildren often enough. Years later those patties made it into my American kitchen, with the traditional filling that so appealed to Mrs. Chandwani. These are very substantial and can easily be the centerpiece for an evening dinner. The night I made them it was only my six-year-old son Robert and I at the table, and he queried, "That's all you are giving me, Papa?" Once I assured him that he could have as many as he wanted, he gobbled down four more, full-bodied sauces and all.
If you wish to simplify this appetizer, make just two of the sauces: the Mint-Yogurt and the Tamarind-Date.
The secret to making this a quick deal is to have all the sauces prepared a few days ahead of time. Each sauce takes no more than 5 minutes to assemble, and some barely 2 minutes.

It takes 3 to 4 days to sprout the cowpeas or lentils, so you'll want to start them ahead of time—or simply substitute store-bought bean sprouts. If the sprouts are long, I would recommend coarsely chopping them so they don't poke out of the patties when they are stuffed with the filling.

It's very easy to sprout peas, beans, and even lentils. Chickpeas, mung beans, and cowpeas are easy to sprout. Even fenugreek seeds yield great, if slightly bitter-tasting, sprouts.

Place the legumes in a strainer and rinse them thoroughly under running water. Then transfer them to a large bowl (the bowl should be large enough to accommodate the legumes' growth in volume during soaking) and fill the bowl more than halfway with warm water. Cover the bowl with plastic wrap and set it aside at room temperature; let the legumes soak until they are tender, 4 to 6 hours or even overnight.

Drain the legumes and transfer them to a glass jar that is large enough to accommodate a six-fold increase in volume. Place a piece of cheesecloth over the mouth of the jar and secure it with the jar's ring (for a Mason-type jar) or with a sturdy rubber band. Place the jar in a dark, humid spot (I keep mine in the cupboard under the kitchen sink). Two or three times a day (if you remember), rinse the legumes by filling the jar with water (pour it through the cheesecloth) and then draining it; return the legumes to their solitary confinement. Within 24 hours, you will notice tiny sprouts emerging from the grains. Two or 3 days of this rinse-drain-store cycle will yield sprouts that are about 2 inches long.

Thoroughly rinse the sprouted legumes, transfer them to a self-seal plastic bag, and store them in the refrigerator for up to 5 days.


Serves6
OccasionCasual Dinner Party
Recipe Coursehot appetizer, main course
Dietary Considerationegg-free, low cholesterol, low saturated fat, vegetarian
Taste and Texturecrisp, herby, hot & spicy, savory
Ingredients
1 pound russet or Yukon Gold potatoes, peeled, boiled until tender, and mashed
1 teaspoon coarse kosher or sea salt
4 to 6 slices firm white bread
1 tablespoon canola oil
2 tablespoons canola oil
½ cup finely chopped red onion
1 cup red cowpeas or whole green lentils (sabud moong), partially sprouted (see Tip below), or store-bought bean sprouts
2 tablespoons finely chopped fresh cilantro leaves and tender stems
½ teaspoon Toasted Cumin-Coriander Blend
½ teaspoon cayenne (ground red pepper)
½ teaspoon coarse kosher or sea salt
About 6 tablespoons canola oil for frying
Chaat Masala for dusting
Instructions
Prepare the sauces before you begin making the patties (see Tip).

To make the shells, place the mashed potatoes and salt in a large bowl. Hold the bread slices under running water to drench them, and then squeeze out as much water as possible. You should end up with a rolled-up wad of moist but firm bread. Work the bread into the potatoes by squeezing handfuls of potato and bread together to blend them and then kneading the mixture, creating a slightly sticky dough; the softer the bread, the more slices you will need to get the right consistency. (This technique of creating instant dough with moist bread slices works well as a binder to hold the patties together while pan-frying.) Rub the oil over the dough and allow it to rest, covered with plastic wrap or with a clean, moistened paper towel, for 15 to 20 minutes.

Meanwhile, make the filling: Heat the oil in a medium-size skillet over medium-high heat. Add the onion and stir-fry until it is light brown around the edges, 3 to 4 minutes.

Add the sprouted peas, cilantro, spice blend, cayenne, and salt. Cook, stirring frequently, to warm up the sprouts and cook the spices, about 2 minutes. Set the filling aside.

To assemble the shells, use your hands to shape the dough into a 12-inch-long log. Cut it, crosswise, into twelve 1-inch-thick pieces, and shape each piece into a ball. Working with one piece at a time, flatten it between the palms of your hands and shape it with your fingers into a dumpling-like wrapper roughly 3 inches in diameter and ¼ inch thick. Spoon about 2 teaspoons of the filling in the center of the wrapper. Gather the edges and bring them together to the center, pinching the seam to seal it tightly, forming a mound that looks like a Hershey's Kiss. Gently flatten the top, making sure the filling stays completely covered. Press and shape it into a patty roughly 3 inches in diameter and ½ inch thick. Set it aside on a plate, and repeat with the remaining rounds.

Line a large plate or a cookie sheet with several layers of paper towels.

Heat about 3 tablespoons canola oil in a large nonstick skillet or a well-seasoned cast-iron skillet over medium heat. Arrange 6 patties in a single layer in the skillet (do not crowd them), and cook until they are golden brown and crisp on the underside, about 5 minutes. Flip them over to cook the other side until golden brown and crisp, about 5 minutes. Transfer the cooked patties to the paper-towel-lined plate, and repeat with the remaining patties, adding more oil as needed.

Place 2 patties on each individual serving plate. Atop each patty, spoon 1 teaspoon of the Mint-Yogurt Sauce, followed by 1 teaspoon Red Chile Sauce, 1 tablespoon Tamarind-Date Sauce, and finally 1 tablespoon Yogurt Sauce. A little cilantro and a light dusting of the chaat masala complete the layered creation. Instruct everyone to fork right through to get the complete package in each addictive mouthful.
2008 Raghavan Iyer
YOUR RECENTLY VIEWED RECIPES