Shrimp-Ball Soup with Roasted Pepper and Tomato
Cookbook
Published by William Morrow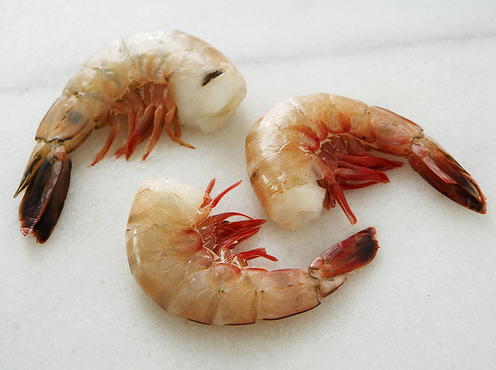 This image courtesy of Joseph DeLeo
The simple Mexican flavors of this west-coast specialty are clean and invitingly uncomplicated. The soup is substantial—just the kind of thing to serve before some Enchiladas Suizas.
Along Mexico's upper west coast, near Topolobampo in the Sea of Cortes, shrimp are so plentiful that the cooks use them to fill up soups, to shred for taco fillings and to grind for shrimp balls or cakes. This is a recipe for the latter, which re-creates a delicious version I had in Mazatlán; it is a combination of recipes I found in several Spanish-language publications.
Notes
To Boil Tomatoes:
Simply place them in water to cover, bring to a boil and simmer over medium heat until tender, about 12 minutes, depending on size and ripeness. Remove with a slotted spoon, cool, gingerly peel off the skin, then cut out the core.
To Roast Tomatoes:
Roasting tomatoes directly on the griddle can make a mess (the skins stick and burn), so I usually place a sheet of foil on the griddle first, then lay on the tomatoes and turn them occasionally for about 15 minutes, depending on size and ripeness, until the flesh is soft and the skin blistered and blackened. Cool, peel away the skin and cut out the core. For a very easy, successful alternative, we owe thanks to Diana Kennedy: Lay the tomatoes on a foil-lined baking sheet, place as close to a preheated broiler as possible, and let them roast, turning once, until soft and blackened, 12 to 15 minutes, depending on size. Peel and core (and always use the tasty juice they exude during roasting). When possible, I always roast fresh tomatoes. This concentrates and enriches their flavor, while boiling just leaches it out.
Techniques
Chopping Shrimp: Warm shrimp will turn to mush, so be sure that they are well chilled. I prefer to chop the shrimp with a sharp knife, simply because I like the even, coarse texture that the knife cuts give.
Ingredients
The Right Ones: All the ingredients need to be the best quality—especially the fish broth. The soup is a combination of simple flavors and every one must shine.
Shrimp: Here is a good place to use the small shrimp, if you have the patience to peel and devein them. If shrimp are unavailable or prohibitively expensive, you might want to substitute scallops or a gelatinous fish like monk fish.
Chile Poblano: Though a poblano is the best flavor for the soup, 2 large, long green chiles would be my second choice.
Timing and Advance Preparation
If the fish broth is ready, you'll need 45 minutes to prepare the soup. The brothy soup base (Step 2) can be prepared a day or two ahead, covered and refrigerated; prepare and cook the shrimp balls just before serving.
OccasionCasual Dinner Party
Recipe Coursehot appetizer
Dietary Considerationlactose-free, low carb, low-fat, peanut free, soy free, tree nut free
Type of Dishfish soup, hot soup
Ingredients
8 ounces shrimp, well chilled
¼ small onion, very finely chopped
14 ripe, medium-large tomatoes, cored, seeded and finely chopped
1 large egg yolk
2 tablespoons flour
½ teaspoon dried oregano
A generous ½ teaspoon salt
1 tablespoon vegetable oil
1 small onion, thinly sliced
1 medium fresh chile poblano, roasted and peeled, seeded and sliced into thin strips 1 inch long
1 ripe, medium-small tomato, roasted or boiled (see Notes), cored, peeled and roughly chopped OR ½ 15-ounce can tomatoes, well drained and roughly chopped
About 4½ cups (½ recipe) fish broth
Salt, about ¾ teaspoon
¼ cup loosely packed, roughly chopped fresh coriander (cilantro)
1 to 2 limes, quartered
Instructions
The shrimp mixture: Peel the shrimp and devein them by running a knife down the back to expose the dark intestinal track and scraping it out. Chop them finely: To chop by hand, use a large, sharp knife to cut the shrimp in small bits, then rock and chop, working the knife back and forth for several minutes, until the shrimp forms a coarse-textured paste. For machine chopping, either run the shrimp through the meat grinder fitted with the fine plate or use a food processor to chop the shrimp into a coarse puree (do it in two lots, pulsing 4 to 5 times for each lot). Place the shrimp in a mixing bowl.

Add the onion, tomato, egg yolk, flour, oregano and salt, and mix thoroughly. Cover and refrigerate until you're ready to finish the soup.

The broth: In a large saucepan, heat the oil over medium. Add the onion and fry until just browning, about 7 minutes. Add the chile strips and tomato and fry for 3 or 4 minutes longer to reduce the liquid a little.

Stir in the broth, bring to a boil, cover and simmer 15 minutes over medium-low heat to blend the flavors. Season with salt.

Finishing the soup. Fifteen minutes before serving, poach the shrimp in the gently simmering broth: Drop in rounded tablespoons of the shrimp mixture, simmer gently for 8 to 10 minutes, then remove from the fire.

Ladle the soup into bowls and sprinkle with the chopped coriander. Serve with the lime wedges on the side.
1987, 2007 Rick Bayless and Deann Groen Bayless
YOUR RECENTLY VIEWED RECIPES
Free recipes, giveaways, exclusive partner offers, and more straight to your inbox!