Sesame-Crusted Seared Tuna
Cookbook
Published by Harvard Common Press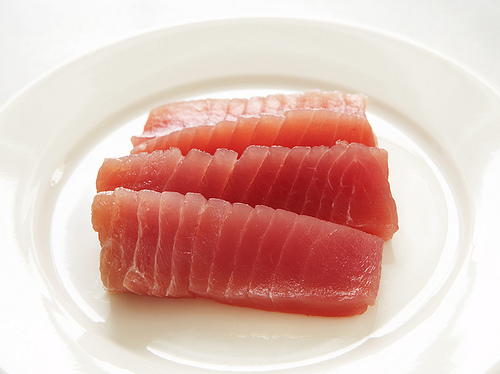 This image courtesy of Joseph DeLeo
Archaeological remains indicate that maguro, tuna, has been eaten in Japan since ancient times. But it was relatively recently, toward the end of the Edo Era (1600 to 1868), that tuna gained its present popularity. Thoroughly cooking tuna firms and dries its flesh. In Japan, therefore, tuna is eaten mainly as sashimi or in sushi, although there are some traditional recipes in which tuna is cooked. Recently tuna has become a popular fish at restaurants outside Japan, both Japanese and non-Japanese. The most popular new style of preparation is searing. I suppose this method was born out of a Japanese chef's search for a good way to serve sashimi-quality-fish to clients who might resist ordering raw fish. To sear fish is to cook the surface quickly, with intense heat while barely cooking the interior. Searing can be done with any heat source, wet or dry. In this preparation I marinate tuna, coat it with sesame seeds, and then sear it in oil. Cutting the cooked tuna requires a little practice, since the outside of the cooked fish easily falls apart. Let the cooked fish stand for 10 minutes, and then cut it with a very sharp knife, such as a meat slicer. Serve the sliced tuna on a bed of salad greens.
Notes
Sashimi-quality tuna
Sashimi is thin-sliced, very fresh raw fish. Fish is also often used raw in sushi. Any fish that is to be eaten raw should be very fresh. Freshness depends only partially on when the fish was caught. Suppose you go to the fishmonger around ten in the morning, and the fishmonger tells you that a fish was caught early on the same morning, so it is very fresh. Does this mean the fish is fresh enough to use in sashimi? The answer is maybe, depending on how the fish was handled after being caught and while it was being transported to the store. The most important thing is whether the fish was kept in an insulated case with plenty of ice from the time it left the ocean until the time you purchase it. Here are tips on determining whether a fish is fresh enough for use in sashimi, or any fish preparation.
Sesame Seeds:
The simplest way to enjoy sesame seeds, either black or white, is to toast them briefly, then grind them roughly. To toast sesame seeds, heat a skillet over low to medium heat. When it is hot, add the seeds and cook them, shaking the skillet occasionally, until the seeds are heated through and plump-looking, about 1 to 2 minutes. Roughly grind the seeds in a suribachi or smooth-walled ceramic or marble mortar, but you will have to work much harder to crush the seeds. Then sprinkle the seeds over plain cooked rice, or mix them with miso and spread the mixture over slices of hot toast. I believe that consuming a small portion of sesame seeds every day, whether with rice or with bread, contributes greatly to my health.
4 servings
Recipe Courseappetizer, main course
Dietary Considerationegg-free, healthy, kosher, lactose-free, low carb, peanut free, tree nut free
Equipmentmortar and pestle
Taste and Texturecrisp, juicy, light, salty, savory, spiced, umami
Type of Dishfirst course salad, main course salad
Ingredients
1 pound sashimi-quality tuna (see Notes)
2 tablespoons black sesame seeds, toasted (see Notes)
½ cup plus 1 teaspoon shoyu (soy sauce)
½ cup mirin (sweet cooking wine)
1 teaspoon smooth French-style mustard
1 tablespoon komezu (rice vinegar)
¼ teaspoon peeled, grated ginger
½ teaspoon sugar
1 teaspoon sesame oil
1 to 2 tablespoons virgin olive oil
½ cup all-purpose flour
Vegetable oil, for frying
A mixture of salad greens and
Sliced cherry tomatoes
Instructions
Cut away any deep red part of the tuna, and cut the rest of the meat into four 1-inch-thick steaks. In a suribachi or other mortar, grind the sesame seeds until they are just broken.

In a pan large enough to hold the steaks in one layer, combine ½ cup of the shoyu, the mirin, and sesame seeds. Place the tuna in the pan, and marinate it for 15 minutes.

In a large bowl, combine the mustard, the remaining 1 teaspoon shoyu, the komezu, grated ginger, sugar, sesame oil, and olive oil, and whisk until smooth. This is the dressing for the salad greens.

In a large, deep skillet, heat 1 inch vegetable oil over medium heat to 360 degrees F. While the oil heats, drain the tuna, discarding the marinade but reserving the sesame seeds. Coat the tuna with the sesame seeds, and then the flour.

Add the tuna to the skillet, and cook the tuna, turning it with tongs and a spatula, until both sides are golden. The center of the fish should be rare and pink, but cook it longer if you prefer.

Remove the fish from the oil, and drain it on a rack for 10 minutes. With a very sharp knife, cut the tuna diagonally to produce broad slices ¼-inch thick.

Toss the salad greens with the dressing, and serve the tuna on a bed of greens, garnished with tomatoes.
2000 Hiroko Shimbo
YOUR RECENTLY VIEWED RECIPES
Free recipes, giveaways, exclusive partner offers, and more straight to your inbox!