Scallops with Beets and Mache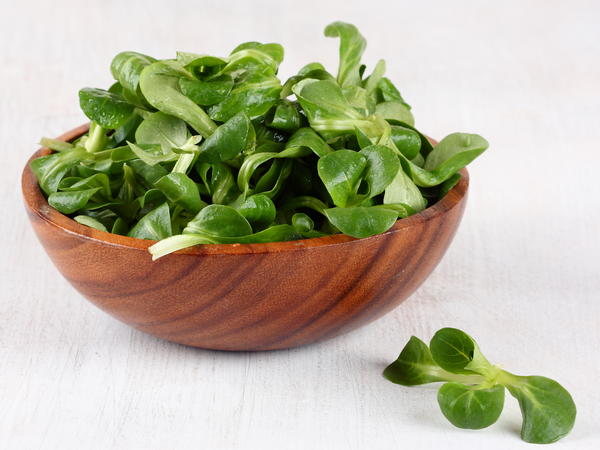 This image courtesy of Shutterstock
Make this dish if only to pick up a new technique. It's a good one. Here's the technique: brown a little butter, then roll the scallops around in the butter until they're fully cooked and encased in a golden, caramelized crackle that comes from the scallops' natural sugars. Pushing the taste of an ingredient as far as it will go is one of the cornerstones of my cooking style.
NotesThere are four classifications of scallops that  you should know: bay, sea, dry, and wet. Bay scallops are from (surprise!) bays in the North Atlantic and are small, sweet, and expensive. Sea scallops range in size from medium to colossal. Calico scallops, which have a tough texture, are tiny sea scallops often passed off as bays (don't be swindled!). The ultimate treat is scallops sold live in their shells. But if you can't get live, the first thing to know about shucked scallops is that they deteriorate rapidly. For this reason, most of the scallops marketed as "fresh" are soaked in chemical preservatives. Rinse these "wet" scallops thoroughly before cooking. When shopping for scallops to eat raw, stay away from "wet" scallops. Though the preservatives won't harm you, you'll definitely notice its flavor. Better fishmongers carry just-shucked, sashimi-grade "dry scallops.
4 Portions
Cooking Methodpan-frying, roasting
OccasionCooking for a date
Taste and Textureherby, savory, tangy
Type of Dishmain course salad
Ingredients
3 large beets (about 1 ½ pounds), stems and roots trimmed
3 tablespoons olive oil, or enough to just coat beets
Salt and ground pepper to taste
1 pound small scallops, preferably "dry" bay scallops (see Note)
3 tablespoons unsalted butter
Finely grated zest and juice of 1 lemon
1 quart mache or other delicate-flavored greens
Small piece Parmigiano-Reggiano cheese
Instructions
Coat beets with a thin film of olive oil and sprinkle with salt and pepper. Wrap beets individually in aluminum foil and place on sheet tray. Roast in oven until beets give no resistance when pierced with a skewer, about 1 hour. Remove from oven and let cool. When cool enough to handle, peel beets and slice into ¼-inch-thick rounds.

Dry scallops thoroughly with paper towels. Heat a cast-iron sauté pan until smoking hot. (If you don't own a cast-iron pan, any material that isn't nonstick will work.) Add butter. When butter foams, sprinkle scallops on both sides with salt and pepper and, once seasoned, transfer immediately to hot pan. For first 30 seconds, do not disturb scallops. After 30 seconds, loosen scallops with a spatula and gently swirl pan in a circular motion to roll scallops, encouraging all surface areas of scallops to come in contact with bottom of pan. Cook until golden brown all over, about 3 minutes. Remove to a plate and cover to keep hot.

Add lemon juice to same pan and stir vigorously with a wooden spoon to release browned bits. Season to taste. Return scallops to pan and gently swirl pan to coat scallops with lemony sauce.

Fan beet slices on plates. Arrange scallops with their sauce over beets. Pile mâche on scallops, and garnish salad with lemon zest. Sprinkle with salt and pepper and grate a bit of Parmigiano-Reggiano over each plate. Serve while scallops are warm.
2003 Spirit Media, LLC
YOUR RECENTLY VIEWED RECIPES
Free recipes, giveaways, exclusive partner offers, and more straight to your inbox!