Savory Anise-Seed Rings
Cookbook
Published by Ecco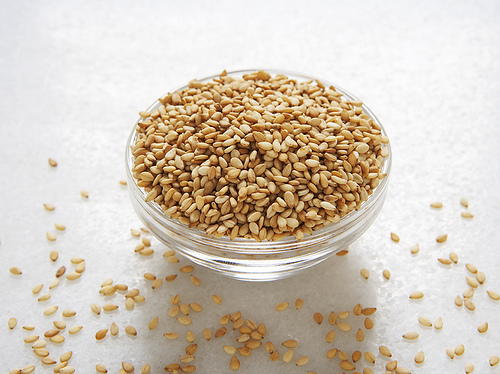 This image courtesy of Joseph DeLeo
Ka'ak has the texture and crunch of a breadstick, but it is ring-shaped and has a crimped edge. A staple of the Aleppian pantry, ka'ak is usually offered to guests when Aleppian Jews serve coffee or tea. Ka'ak is no boring teatime biscuit, however. It has a great deal of flavor and tang, thanks to the addition of ground sour cherry pit (mahlab), anise seed (yansoon), coriander seed (kizebrah), and cumin (kamoon). Mahlab, a spice native to Syria that lends a nutty, slightly flinty flavor to ka'ak, is not commonly available in American markets, though if you have a Middle Eastern grocer nearby, you may be in luck. Online spice merchants also tend to stock it. Once you get your hands on a supply of mahlab, make sure it is finely crushed before you use it for this recipe. A mortar and pestle or electric spice grinder will do the trick. In the old country, ka'ak was a bakery item that most Aleppian Jews purchased from their local baker and stored in a tight-lidded tin box called a tenekey, which helped preserve ka'ak's crispness. Today, ka'ak is made by commercial bakers and is available in Middle Eastern grocers. However, in the Aleppian Jewish community, many women bake ka'ak at home, and more and more small, independent bakers make their own. Needless to say, most discriminating ka'ak aficionados (meaning, virtually all Aleppian Jews) prefer the homemade product. While ka'ak is a relatively straightforward baked good, it's the baker's light touch that makes or breaks a batch of ka'ak. If you want to try your hand at baking ka'ak, beware of one major pitfall: failing to introduce enough air into the dough, which will make the ka'ak too dense and cookie like and thus lacking a pleasing crunch. This problem is usually the result of over kneading, In any case, it takes a lot of practice to bake anything approaching perfect ka'ak.
NotesThe Communal Ovens of Aleppo

In Bahsita, the Jewish enclave of old Aleppo, and in the Aleppian suburb of Jamaliya, a good housewife prepared dough at home and sent her raised loaves to the communal oven for baking. The communal oven, called a furn, was able to achieve the high heat needed to bake bread properly.

Because houses were made of wood, most people had their dough baked in a communal oven to avoid the risk of fire. Wealthier families with enough space to maintain a detached oven in a separate building could bake at home.

The furn was also used to warm up the Sabbath meal. Family members brought pots of food to the furn, where trey were cooked overnight and picked up the next day. Each family would adorn its pot with a colored thread or special omameot so that the pot could be easily identified by any family member retrieving it from the furn.


8 dozen
OccasionFamily Get-together
Dietary Considerationhalal, kosher, peanut free, soy free, vegetarian
Taste and Texturecrisp, crunchy, light, nutty, savory, spiced
Type of Dishbread, yeast bread
Ingredients
3 tablespoons fresh yeast or 4 packages active dry yeast
3 tablespoons plus 2 teaspoons kosher salt
2½ pounds (8 cups) all-purpose flour
1/3 cup and 1 tablespoon anise seed, washed and drained
1 teaspoon finely crushed mahfab (sour cherry pit), optional
1 heaping teaspoon ground coriander seed
1 heaping teaspoon ground cumin
2 teaspoons nigella seeds
2 tablespoons vegetable oil
1 teaspoon sugar
½ pound (1 cup) vegetable shortening
1 egg
¼ cup sesame seeds
Instructions
Position one rack at the top of the oven, another in the middle, and a third in the bottom. In a medium mixing bowl, sprinkle yeast and salt over 2½ cups lukewarm water. Let the mixture stand for about 5 minutes, or until the yeast has been dissolved and bubbles appear on the surface of the mixture. Stir.

Put the flour in a large mixing bowl and form a well in the center. Add the anise seed, mahlab, coriander seed, cumin, vegetable oil, sugar, and vegetable shortening. Stir until well combined. Then slowly incorporate the yeast mixture into the well, absorbing flour. Mix thoroughly.

Knead the dough for about 15 minutes. It should be soft, yet smooth and elastic, and it should no longer stick to the sides of the bowl. Adding a sprinkle of flour to the dough may help if the dough is too sticky.

Cover the mixing bowl with a dry towel. Let the dough rise for 1½ hours in a place warmer than room temperature.

On a lightly floured work surface, punch down the dough and divide it in half. Roll half of the dough into a 2-inch-diameter log. Cut the log into ½-inch rounds and roll each of the rounds to a length of about 4 inches. If you feel like crimping the edges of the ka'ak to give them a fancy appearance, with a sharp knife, make 1/8-inch notches along one long edge of each dough strip at intervals ¼ inch.

Shape each strip into a ring, crimped edges facing outward. Brush each ring of dough lightly with the egg beaten with 2 tablespoons water. Then dip each dough ring in sesame seeds. Place the ka'ak on a lightly greased or parchment-lined baking tray in even rows.

Bake for 10 minutes, utilizing all oven racks and rotating the trays. When all the ka'ak are completely baked, reduce the oven temperature to 250°F and bake for an additional 20 minutes. Then crisp by reducing oven temperature to 200°F for 20 minutes. The crisping stage is essential to produce the crunch and texture desired. The ka'ak should appear very light gold and crisp. Let cool and store in an airtight container.
2007 Poopa Dweck
YOUR RECENTLY VIEWED RECIPES
Free recipes, giveaways, exclusive partner offers, and more straight to your inbox!