Sausage and Pepper Calzone
Cookbook
Published by Harvard Common Press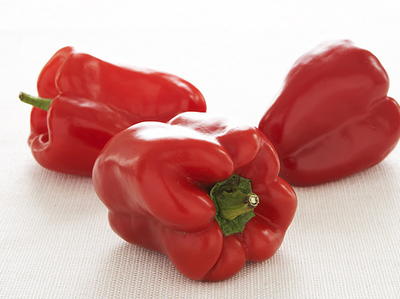 This image courtesy of Joseph DeLeo
Calzone means "trouser leg" in Italian, probably a reference to the calzone's earliest shape, which was elongated like a tube. Calzones, which are now recognizable in their half-moon shapes, can be filled with any combination of items that might constitute pizza topping. Calzones stand in the company of a number of other little stuffed breads, all of which play roles similar to our American sandwich: Cornish pasties, Russian pirogi, and the South American empanada, you can shape this dough into calzones of any size.

Dietary Considerationegg-free, peanut free, soy free, tree nut free
Taste and Texturechewy, garlicky, savory
Ingredients
1 1/8 cups water
3 tablespoons olive oil
2½ cups unbleached all-purpose flour
½ cup semolina pasta flour (durum flour) or whole wheat flour
1½ teaspoons salt
2¼ teaspoons SAF yeast or 2¾ teaspoons bread machine yeast
¾ pound sweet or hot Italian sausage
3 to 4 tablespoons olive oil
2 to 3 red bell peppers (1 pound) cut in half and sliced
1 medium yellow onion, thinly sliced
Salt and fresh-ground black pepper
1/3 cup grated parmesan or Asiago cheese
1½- or 2-pound-loaf machines
Instructions
To make the dough, place all the dough ingredients in the pan according to the order in the manufacturer's instructions. Program for the Dough cycle and press Start.

While the Dough cycle is running, prepare the filling. Prick the sausages With a fork and place in a medium skillet. Add ½ inch of water, cover, and simmer until the water evaporates, about 15 minutes. Uncover and continue to cook and brown the sausages on all sides. Remove from the heat and cool. Cut into ¼-inch slices. Refrigerate until needed.

Combine the oil, peppers, and onions in another skillet. Cook over medium-high heat until soft and gently browned. Remove from the heat, season with salt and pepper to taste, and let cool at room temperature.

Twenty to thirty minutes before baking, preheat the oven to 425°F. Oil or line a large baking sheet with parchment paper.

When the machine beeps at the end of the cycle, press Stop and unplug the machine. Immediately remove the bread pan from the machine, and turn the dough out onto a lightly floured work surface: Divide the dough into 3 equal portions. Flatten each portion With your hand and, using a rolling pin, roll out each one into a 9-inch round. Dust the work surface lightly with flour as needed to prevent sticking

Place a third of the filling and sausage slices over half of one round of dough, leaving a 1-inch border. Sprinkle with 2 tablespoons of the cheese. Brush the edge of the dough with water and fold over to form a half-moon-shaped turnover. Press the edges together to seal then fold over the entire border in 1-inch sections to make a braided edge Transfer the calzone to the baking sheet. Cut a few slits in the top to allow for steam to escape. Repeat With the remaining two pieces of dough.

Bake for 25 to 30 minutes, until golden brown and crisp. Slide the calzones from the baking pan onto a rack. Let cool for 10 minutes before slicing or eating out of hand.

In Step 5, divide each portion of dough into quarters. Roll out each into a 4- to 5-inch round and fill as directed. Seal, slit, and hake for 12 to 15 minutes. These can be frozen on a baking sheet, then stored in a plastic freezer bag, and reheated. These are good for two-bite snacks.
2000 Beth Hensperger
YOUR RECENTLY VIEWED RECIPES