Cookbook
Published by Workman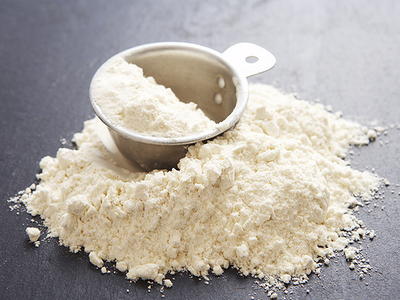 This image courtesy of Joseph DeLeo
Since their earliest days, Greeks used the flour they ground from wheat to make a simple thickened white sauce. The elementary, useful innovation spread across Europe and beyond. In recent times it returned to Greece—although it never left completely—using butter and milk rather than oil as its emollient and liquid and called by its French name in Greek, besamel. It is also sometimes called saltsa aspra, or "white sauce." In Greek cooking the sauce is essential for blanketing the top of moussaka and pastitsio, for enfolding many vegetables, and for adding soft hints of such flavors as nutmeg and lemon to many preparations. Without added enhancements, the recipe here is Saltsa Besamel at its most basic. Two cups of white sauce is enough to cover 6 servings of a simple vegetable dish. Two to 4 cups (1 or 2 batches) is enough to cover 1 recipe of moussaka or pastitsio, depending on how thick you want the white-sauce topping.
An Ancient Sweet Besamel and Its Curious Cousins

Fancy sauces were considered rather immoral by upright ancient Greeks, but such sauces were part of the cuisine from early on. Two in particular entered the cuisine from Lydia, early Greece's rich and more intemperate neighbor. Both were called "lascivious comestibles" by Menander.

Karyke, it seems, was a sweet besamel. It was made of flour or bread crumbs, eggs, and honey. One could similarly sweeten and enrich today's besamel by adding honey or Mavrodaphne wine.

The second sauce, kandaulos, was so popular that it appeared in An Ancient Sweet Besamel and Its Curious Cousins eighteen cookbooks in Athenaeus's time. Some considered it an aphrodisiac. Kandaulos was made up of fried or boiled meat, grated bread, cheese, dill, and broth. A few sources also included salted fish.

A third Lydian sauce, myttotos, was served on tuna. It consisted of garlic, leeks, cheese, honey, olive oil, and sometimes eggs.

As for immorality, or at least decline, it was thought by some that the power of bellicose Sparta began to ebb when the previously austere Spartans became enchanted with karyke and kandaulos.



Total Timeunder 30 minutes
Five Ingredients or LessYes
Taste and Texturebuttery, creamy, rich, savory
Ingredients
3 tablespoons butter
3 tablespoons unbleached all-purpose flour
1½ cups milk
¼ teaspoon salt
Generous pinch of nutmeg, preferably freshly grated
Instructions
Melt the butter in a medium-size saucepan over medium-high heat until foaming. Add the flour, whisk until the mixture is smooth, and reduce the heat to medium. Cook, stirring, until the mixture begins to turn golden, 2 minutes.

Whisk in the milk and salt and cook over medium heat, whisking frequently, until thickened and creamy, 12 to 15 minutes. Whisk in the nutmeg.

Use right away, or allow to cool and refrigerate for as long as 10 days. Reheat before using, thinning the sauce with a little milk if it is too thick.

Saltsa Besamel is also a great way to add flavor notes to food. The beauty of annexing the flavor to the sauce rather than to the dish itself is that the extra topnote lingers like the finish of a wine.

For more richness: When the sauce is done and has cooled for a minute or two, stir in 2 lightly beaten egg yolks. This is the classic version for moussaka.

For more tang: Add 2 tablespoons fresh lemon juice with the milk and salt.

For creamier tang: Make a yogurt white sauce, as an awakening finish to such dishes as moussaka and pastitsio or any lamb dish. Follow the recipe above, substituting ¾ cup milk and ¾ cup plain yogurt for the 1½ cups milk.

For more color and mystery: Add ¼ teaspoon saffron threads while you whisk the thickening sauce.

For more bite: Add ¼ teaspoon dry mustard or ½ teaspoon prepared Dijon mustard while you whisk the thickening sauce.

Cooking white sauce in a microwave cuts the time from about 15 minutes to 5. Place the butter in a large bowl and microwave, uncovered, on high until melted and foaming, 1 to 2 minutes. Remove the bowl and add the flour; whisk until smooth. Return the bowl to the microwave and continue microwaving, uncovered, on high until bubbling, to 2 minutes.

Remove the bowl again, whisk in the milk, and microwave for 2 minutes. Remove the bowl and whisk until smooth. Return to the microwave and cook until thickened, 1 minute.
2004 Susanna Hoffman
YOUR RECENTLY VIEWED RECIPES
Free recipes, giveaways, exclusive partner offers, and more straight to your inbox!