Roasted Halibut with Braised Artichokes and Potatoes
Cookbook
Published by Chronicle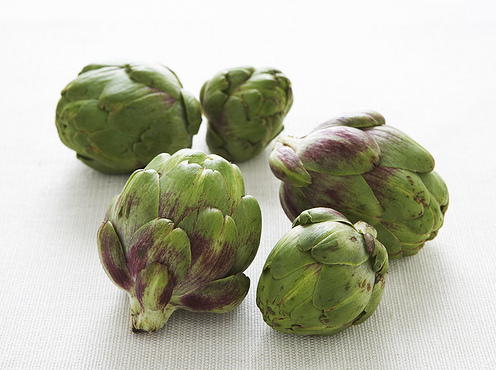 This image courtesy of Joseph DeLeo
Here's a delightful one-dish meal. The earthiness of the artichokes and potatoes riffs off the saltiness of the olives and the mild, sweet flavors of the fish. You don't need to pit the tiny olives, but remind your guests about the pits when you serve the dish. You can use sea bass, salmon, or rock cod in the absence of halibut. Roasting the fish at a high temperature simulates cooking in a wood-burning oven-the fish is done quickly, before it has a chance to dry out. Halibut has almost no fat and cooks very quickly.
NotesArtichokes:

Edible thistles of the sunflower family, artichokes are native to the Mediterranean and were carried to California in the 1880s by Italian immigrants. They flourish in coastal climates, where a layer of marine fog, cool summers, and mild winters provide ideal weather conditions. Virtually 100 percent of the U.S. crop is grown in California, thriving in loamy and sandy or clay soil with good drainage.

Mariquita Farm, near Gilroy, sells large globe artichokes at the market. "We pick them when they are young," says Julia Wiley, who operates Mariquita with her husband, Andy Griffin. "They are best when green and unopened, with a turgid stem that shows no signs of browning." Annabelle Lenderink of Star Route Farms, in Bolinas, harvests Imperial Star globe artichokes, which are lighter colored than traditional globe varieties. "The first artichoke to appear at the top of the plant is the largest," explains Lenderink, "and those picked thereafter are all smaller." The "babies:" which grow at the junction of a stem and leaf, are hidden by large, silvery leaves and may not grow bigger than a walnut. Their chokes have barely formed, so they are delicious eaten raw.

An artichoke plant takes up a lot of room in the garden, but when it flowers, it is truly stunning. Some nutritionists claim that these thistly vegetables are good for you, too, lowering blood cholesterol and blood sugar and helping to keep your liver healthy.

Season:

March through May with a secondary, smaller crop in the fall.

Choosing:

Look for artichokes that feel heavy for their size. The stalk should correspond to the size of the artichoke, and never be spindly. Look for leaves that are dark to acid green without any browning or dryness. Annabelle Lenderink says that fresh artichokes should squeak when firmly rubbed and they should be tightly closed at the tip. The purple, pointed-leaved, thorny-tipped artichokes from Tuscany are becoming more widely available here. Because of their sharp thorns, Warren Weber, also of Star Route Farms, describes them as "a strain that seems to be reverting back to a thistle." They are grown from seed rather than being cloned or picked from the mother plant, so they are random in size and shape. The smaller ones have less of a choke than the bigger ones.

Storing:

Artichokes lose moisture quickly after harvesting. Eat them as soon as you can after buying. If you must store them, slip them into a plastic bag and keep in the vegetable bin of the refrigerator for no more than a few days.

Preparing:

If artichokes come into contact with air, iron, or aluminum, they will discolor. To avoid this, always use a stainless-steel or carbon-stainless steel alloy knife and cookware of stainless steel, enameled cast iron, tempered glass, or other nonreactive material. To prevent trimmed artichokes from darkening, drop them into a bowl of water mixed with a splash of white vinegar or a few squeezes of lemon juice. Alternatively, rub the trimmed area with the cut side of a lemon half.

To prepare a large artichoke for boiling or steaming: Pull off and discard the tough outer leaves. With a small, sharp knife, trim off the base of the stem, then peel the stem (a peeled stem tastes as good as an artichoke heart). If you want to remove the thorny tips of the artichoke, slice off the top 1 to 2 inches of the leaves, using a large knife. Rub the cut surfaces with a lemon half. If you will be slipping stuffing into the center of the artichoke (and sometimes between the leaves as well), gently pull apart the leaves at the top. Then, with a sharp, pointed spoon or a small, sharp knife, carefully dig out and discard the choke. Press the leaves gently back into the globe shape.

To slice a large artichoke for grilling, sautéing, or roasting: Trim as directed for boiling or steaming, but pull off the outer leaves until you reach the pale or acid green leaves. Cut the artichoke in half lengthwise. Scoop out the choke with a sharp, pointed spoon or a small, sharp knife. Lay each artichoke half, cut side down, on a work surface and, using a large knife, cut lengthwise into slices, including the stem. You can also leave the artichoke in halves, or cut each half in half again. Drop into lemon water until ready to use.

To prepare baby artichokes for eating raw or for cooking: Cut off the stem flush with the bottom. Pull off and discard a few layers of outer leaves until tender, pale green leaves are visible. Using a large knife, slice off the top 1 inch of the leaves. You can boil, steam, or braise the artichokes whole. To slice the artichokes, cut in half lengthwise. You do not need to remove the choke, as it is not yet prickly. Lay each artichoke half, cut side down, on a work surface and cut lengthwise into slices. You can also leave the artichokes in halves, or cut each half in half again. Drop into lemon water until ready to use.

To prepare an artichoke heart or bottom: Using a large, sharp knife, cut off the leaves where they meet the base. With a sharp, pointed spoon or small, sharp knife, scrape or cut out the fuzzy choke, and neatly trim the exposed area and the bottom. A traditional San Francisco recipe calls for steaming the whole bottom and then filling it with crab or shrimp salad.
Serves4
OccasionCasual Dinner Party, Family Get-together
Dietary Considerationegg-free, gluten-free, halal, kosher, lactose-free, peanut free, soy free, tree nut free
Taste and Texturegarlicky, herby, salty, savory
Ingredients
1 pound yellow finn potatoes, peeled and cut into ½-inch-thick slices
Salt
2 pounds skin-on halibut fillet, a single fillet or pieces
Freshly ground black pepper
12 baby artichokes, about 2 ounces each, or 3 globe aritchokes, trimmed and very thinly sliced (see Notes)
¼ cup extra virgin olive oil, plus extra for drizzling
2 cloves garlic, crushed
1 fresh rosemary spring
¾ cup dry white wine
About 36 Nicoise olives
1 lemon, quartered
Instructions
Preheat the oven to 500°F.

In a saucepan, combine the potatoes with water to cover, add some salt, and bring to a boil. Cook until nearly tender, 8 to 10 minutes. Drain well.

Season the fish generously on both sides with salt and pepper. In a bowl, combine the potatoes, artichokes, ¼ cup olive oil, garlic, rosemary, and wine and toss to mix evenly. Turn into an oval gratin dish or other baking dish just large enough to hold the mixture and the fish.

Measure the fish fillet at its thickest point. Nestle the fish, skin side up, in the vegetable mixture, and drizzle with a little olive oil. Roast until the fish is opaque when tested with a fork and the skin is browned, about 7 to 9 minutes per inch of thickness.

Remove from the oven and liftoff and discard the skin from the fish. Pick out and discard the rosemary. Scatter the olives around the fish and serve directly from the dish, or transfer the fish and vegetables to a warmed platter and scatter the olives around the fish. Serve with lemon wedges on the side and olive oil for drizzling.
2006 Christopher Hirsheimer and Peggy Knickerbocker
YOUR RECENTLY VIEWED RECIPES
Free recipes, giveaways, exclusive partner offers, and more straight to your inbox!