Roasted Fresh Ham with a Maple-Spice Glaze
Cookbook
Published by Stewart, Tabori & Chang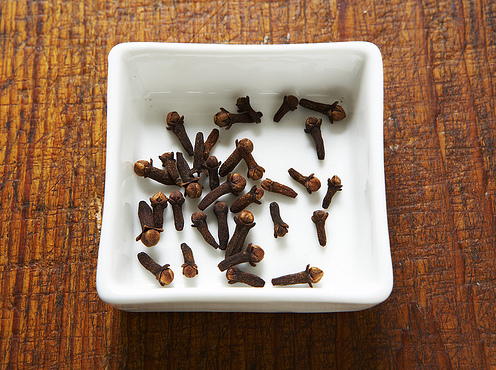 This image courtesy of Joseph DeLeo
Bruce wanted to develop a recipe that honored the first taste of the meat by using the simplest preparation: roasted, not fussed up. So here's his basic recipe for a fresh ham. Yes, it requires several hours of slow cooking. Open another bottle of Pinot Noir and relax.
NotesEight pounds ain't a whole ham by a long shot. These things can weigh up to 24 pounds, maybe a tad more from those linebacker hogs. Because of their sheer size, most hams in the United States are halved for sale-or even cut into smaller sections. We've tried this roast with several cuts and prefer the shank end.

In North America, maple syrup is sold in various state-sanctioned grades: A and B are the usual divisions, with A parsed into several finer demarcations. Basically, the lower the grade, the more intense the taste. Grade A Light Amber or Grade A Fancy would be fine for pancakes but bad for a long spell in the incinerator that is your oven. Better then to go with the lower, cheaper grades, like Grade A Dark Amber (our preference for pancakes, too, by the way) or even Grade B, usually reserved for baking. No matter what, don't swap a corn syrup-laced imitator for real maple syrup.

Testers' Notes
Such a paltry little bit of spice rub? Indeed. We tried more, but it just got in the way. Frankly, the best roasted fresh ham has a thin crust and then lots of juicy meat, not a big glob of spices glued to the fat.
We've roasted hams in the broiler pan from our oven, in a flimsy aluminum roaster from the supermarket, and in a wallet-busting, heavy roasting pan from a fancy kitchenware store. You can just guess which did best. The 401(k)-emptier, of course. It gave the best crust, the best caramelization, and the best overall performance.
Round out the meal
Now that you've roasted that big joint, you may want to have some other things on the table, lest your guests fall into a meat coma.
First, some roasted root vegetables. While the ham roasts, peel a few parsnips, a couple carrots, and a turnip or two; chop them into 1-inch pieces. Also peel, halve, seed, and chop a small butternut squash. Place everything in a large roasting pan, drizzle with a generous amount of olive oil. Sprinkle with salt, and roast in a preheated 325°F oven for 45 minutes, stirring occasionally. Then add some small Brussels sprouts. Stir well and continue roasting for another 30 to 40 minutes.
Also a brown rice dish. Cook 2 cups long-grain brown rice with a little walnut or almond oil over medium heat for 1 minute, just until sizzling; then stir in 5 cups vegetable broth and 1 teaspoon dried sage. Bring to a simmer, then cover, reduce the heat to low, and simmer until the rice is tender and the liquid is absorbed, about 45 minutes. At the last, stir in some chopped dried cranberries and chopped pecan pieces, as well as a splash of balsamic vinegar, a little salt, and a few grinds of black pepper.
For dessert: In a large bowl, stir some pitted and halved plums in a little vodka, a couple teaspoons of sugar, and some finely grated lemon zest. Refrigerate for a couple hours to marinate. Serve the fruit and its sauce over scoops of purchased lemon sorbet.
Feeds6 Teenage Boys, 16 Adults, Or 26 Twenty-something Models
OccasionBuffet, Casual Dinner Party, Family Get-together, game day
Dietary Considerationegg-free, gluten-free, lactose-free, low carb, peanut free, soy free
Taste and Texturejuicy, meaty, savory, spiced, sweet
Ingredients
One 8-to 10-pound bone-in fresh ham (see Notes), preferably from the shank end, any rind removed
1 teaspoon sugar
1 teaspoon ground cinnamon
½ teaspoon ground allspice
½ teaspoon ground cloves
½ teaspoon grated nutmeg
½ teaspoon salt
½ cup maple syrup (see Notes)
Instructions
Put the Dickensian joint in a large roasting pan, preferably one that's shiny enough to reflect lots of ambient heat and not so flimsy that it tips willy-nilly when you pick it up. Set the oven rack as high as it can go and still afford the ham at least 2 inches of head space, Leave the roast in its pan out on the counter and fire the oven up to 325°F.

Mix the sugar, cinnamon, allspice, cloves, nutmeg, and salt in a small bowl. Wash and dry your hands, then smooth the spice mixture all over the ham's external surface. Work it down into some of the crevices, but be careful to avoid any deep-tissue massage. A ham is a complex structure of muscle groups-too much massage and they can come apart like Goldie Hawn in Death Becomes Her.

Cover the whole kit and caboodle with aluminum foil, shove it in the oven, and leave it alone for 3½ hours, while you go do whatever it is you do when a big, sweating hunk of meat is roasting in your oven.

Peel off the aluminum foil. Baste the ham with about half the maple syrup, preferably using a basting brush. Take it easy so you don't knock off the spice coating. Use small strokes-think Impressionism, not Abstract Expressionism. (Or just dribble the syrup off a spoon.)

Continue roasting the ham, uncovered this time, basting every 15 minutes or so with more maple syrup as well as any pan drippings, until an instant-read meat thermometer inserted into the thickest part of the meat without touching bone registers 170°F, about 1¼ hours. If it starts to singe or turn too dark, tent it loosely with foil, uncovering it just at the last to get it back to crunchy-crisp.

Transfer the ham to a cutting or carving board and let it rest at room temperature for 15 minutes before carving into slices.
2010 Bruce Weinstein and Mark Scarbrough
YOUR RECENTLY VIEWED RECIPES
Free recipes, giveaways, exclusive partner offers, and more straight to your inbox!