Cookbook
Published by Chronicle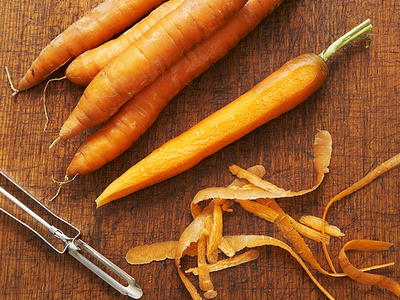 This image courtesy of Joseph DeLeo
Roasting the chicken bones before you make a stock gives it a heartier flavor and rich color. This is the single recipe I use most often; I always, always have pints of this stacked neatly in my freezer.

Dietary Considerationegg-free, gluten-free, halal, kosher, lactose-free, peanut free, soy free, tree nut free
Ingredients
5 pounds chicken bones, preferably backs
Extra virgin olive oil, if needed
1 large yellow onion, cut into 1-inch pieces
2 large carrots, cut into 1-inch pieces
2 celery stalks, cut into 1-inch pieces
10 to 12 cup cold water
2 bay leaves
12 peppercorns
1 cup dry red wine
Instructions
Preheat the oven to 450°F.

Rinse the chicken bones to remove excess blood. Place the chicken bones in a flameproof roasting pan large enough to hold the bones in one layer without overcrowding them. If the bones are very lean, toss them with a light coating of olive oil to help them brown. Place in the oven and brown, stirring occasionally. The finished bones should be richly caramelized and brown. This could take 45 minutes or as long as 1 hour.

Remove the bones from the pan and place them in a stockpot. Add the vegetables to the roasting pan. If there is fat from the chicken bones, toss the vegetables in it to coat them lightly. If not, toss the vegetables with a light coating of olive oil. Return the pan to the oven to brown the vegetables, about 20 to 30 minutes.

Meanwhile, pour enough of the cold water over the bones to cover them completely. Bring to a boil over high heat, skimming any foam that rises to the top. Reduce the heat to low and simmer gently for about 30 minutes.

Add the browned vegetables to the stockpot along with the bay leaves and peppercorns. Place the roasting pan over a burner, add the wine to the pan, and bring to a simmer. Scrape the bottom of the pan with a spoon or spatula to deglaze, loosening any browned bits. Cook to reduce to about ½ cup. Add to the stockpot.

Simmer the stock for 6 hours, skimming off any fat or impurities that rise to the surface. If the level of liquid reduces below the top of the bones, add more water to the pot. Drain the finished stock through a fine-mesh strainer and discard the bones and vegetables.

You should have about 2 quarts of liquid. If you have more, reheat the stock in a pot and simmer until it has reduced to 2 quarts. Cool the stock to room temperature, then pour into one or several locktop plastic containers. Once the stock has chilled, the fat will rise to the top and solidify. Lift it off and discard. The stock can be refrigerated for up to 2 weeks or frozen for longer storage.
2004 Catherine Cora
YOUR RECENTLY VIEWED RECIPES