Roast Prime Rib with Gratin Potato
Cookbook
Published by Knopf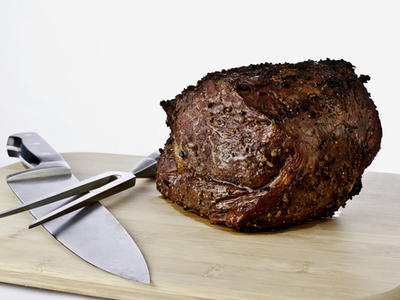 This image courtesy of Shutterstock
This is a true classic. A standing rib roast used to be the Sunday dinner, often with roasted vegetables and Yorkshire pudding, but it is rarely served anymore. This is partly because families don't gather for a big weekend meal the way that they did when I was a child, partly because we don't eat red meat the way we once did and partly because there are no corner butchers showcasing prime meats in their windows. If you have never cooked this traditional meal, this is the time to give it a try.
6 servings
Cooking Methodbaking, roasting
OccasionBuffet, Casual Dinner Party, Family Get-together
Equipmentbaking/gratin dish, mandoline
Taste and Texturecheesy, creamy, garlicky, herby, meaty, savory
Ingredients
5 stalks celery
3 large onions, cut crosswise into 1-inch-thick rings
3 large carrots, cut into ¼-inch-thick sticks
6 cloves peeled garlic
1 bay leaf
¼ cup olive oil
5-pound prime beef rib roast, trimmed of excess fat
Coarse salt and coarse black pepper
Gratin Potato (recipe follows)
2 tablespoons softened butter
2 tablespoons minced fresh chervil
1 tablespoon minced fresh chives
4 cups heavy cream
2 tablespoons Roasted Garlic Purée
1 tablespoon minced fresh thyme
1 tablespoon minced fresh tarragon
Coarse salt and freshly ground black pepper
6 large Idaho potatoes
4 cups grated Gruyère cheese
½ cup freshly grated Parmesan cheese
Instructions
Preheat the oven to 500 degrees.

Place the celery, onions, and carrots in the bottom of a roasting pan. Stir in the garlic, bay leaf, and olive oil, stirring until the vegetables are nicely coated.

Generously season the roast with salt and pepper and place it on top of the seasoned vegetables. Place in the preheated oven and roast for 15 minutes, or just until the meat is beginning to brown.

Lower the heat to 425 degrees and continue roasting for 30 minutes (or perhaps a bit longer), or until an instant-read thermometer inserted into the center reads 120 degrees for rare.

Remove from the oven and allow the meat to rest for 15 minutes. Remove and discard the bay leaf.

Carve the meat at the table and serve with a wedge of Gratin Potato and the roasted vegetables.

Preheat the oven to 375 degrees.

Lightly coat a 10-inch-oval casserole dish with the softened butter. Set aside.

Combine the chervil, thyme, tarragon, and chives in a small bowl. Set aside.

Combine the cream and garlic purée with salt and pepper to taste in a medium saucepan over medium heat. Bring the mixture to a boil and immediately remove from the heat. Keep warm.

Peel the potatoes and cut them lengthwise into ¼-inch-thick slices on a mandoline or Japanese vegetable slicer. Ladle ½ cup of the warm cream mixture into the bottom of the prepared casserole.

Working quickly, make a ring of slightly overlapping potato slices around the perimeter of the prepared casserole. Continue making slightly overlapping potato rings until the bottom of the dish is entirely covered with potatoes. Lightly season the top with salt and pepper.

Sprinkle 1 tablespoon of the reserved herb mixture over the seasoning.

Using 1 cup of the grated Gruyère, make a thin layer of cheese over the potatoes. Ladle 1 cup of cream over all of it.

Continue making layers of potatoes, seasoning, herbs, cheese, and the cream mixture until you have made 3 additional layers. Finish with a layer of Parmesan.

Cover the entire casserole with aluminum foil and place in the preheated oven. Bake, covered, for 1 hour, or until a toothpick is easily inserted into the center.

Remove the foil and bake for an additional 10 minutes, or until the top is golden brown.

Remove the gratin from the oven and allow to rest for 15 minutes to firm up before cutting into serving pieces.
2006 Dilcon, Ltd.
YOUR RECENTLY VIEWED RECIPES