Red-Cooked Fresh Ham And Chestnuts
Cookbook
Published by Stewart, Tabori & Chang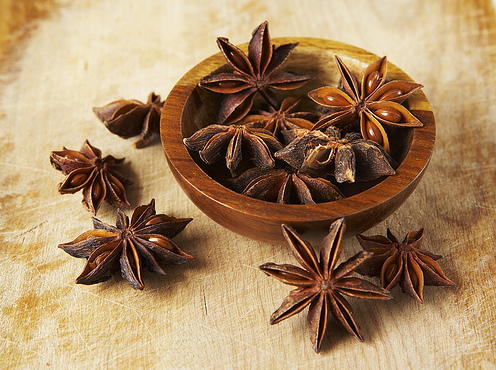 This image courtesy of Joseph DeLeo
"Red cooking" is a Chinese braising technique using a mixture of soy sauce, rice wine, broth, and spices, particularly star anise. Good-quality soy sauce, when long braised, will take on a deep red cast-thus the name. Trim some of the ham's exterior fat for a leaner dish.
Notes
The Ingredient Scoop
Shaoxing wine  (shahow-shing jiu, sometimes Romanized as "shaoshing" or even "hua tia") is a mass produced Chinese rice wine, one of many huangjiu, or "yellow wines," from China. It's available at most high-end grocery stores, in all Asian markets, and from online suppliers. Some bottlings are red, not from aging but because of the red yeast used to ferment the rice. Time was, Shaoxing wine was served as a beverage, but few bottlings of this quality ever make it to North America. In a pinch, substitute dry sherry.
Testers' Notes
The simmer in steps 3 and 4 should be quite low, with just enough bubbles at any moment that you can count them as they form. Too many and you'll start to lose the sauce through evaporation.
Try the dish in a slow cooker. Dump everything in step: 1 into the cooker, stir until the honey dissolves, then add the remaining ingredients all at once. Cover and cook on low for 8 to 10 hours, until the ham is tender and an instant-read meat thermometer inserted into the thickest part of the meat without touching the bone registers 170°F.
Prepping the Ginger
When you buy fresh ginger at the supermarket, choose chunks that smell sweet (no sour or acidic aroma), are firm to the touch (no mushy parts), and have a delicate, papery skin (no desiccated bits.)
In Chinese cooking, there are basically two ways fresh ginger is prepared: minced or julienned..
In either case, you must first peel said ginger. Use a vegetable peeler and go cautiously; tastiest bits are found just under that papery skin.
To mince the ginger, cut the peeled piece into thin coins, then cut these into little strips. Gather them together on a cutting board and rock a heavy chef's knife through them, never lifting the blade off the cutting board but continually seesawing it through the pieces while turning it in a half-moon arc. Gather the bits together and do it again, until the ginger is about like coarse sand.
If that's too much trouble, buy preminced ginger in the produce section of the supermarket. It should be pale beige-never brown-and certainly not water-logged, signs of having sat on the shelf too long. And read the ingredient list. The bottle should only contain ginger, no sugar. Store it in the refrigerator for several months-but beware: it can ferment. Always check before using:
To julienne ginger(that is, to cut it into Lilliputian strips), cut that peeled piece into two-inch segments, then slice these into thin strips the long way. Stack a few together and again slice them the long way, into thin matchsticks about as thick as sturdy sewing needles.
Makes6 to 8 servings
OccasionCasual Dinner Party, Family Get-together
Dietary Considerationegg-free, gluten-free, lactose-free, peanut free
Taste and Texturemeaty, nutty, salty, savory, spiced, sweet, umami, winey
Ingredients
2 cups reduced-sodium, fat-free chicken broth
3/4 cup soy sauce (regular or reduced sodium)
3/4 cup Shaoxing wine or dry sherry
2/3 cup julienned peeled fresh ginger (see Notes)
1½ tablespoons honey
12 medium scallions, cut into 2-inch pieces
4 medium garlic cloves, sliced into thin slivers
Four 4-inch cinnamon sticks
2 or 3 star anise pods
One 4½-to 5-pound bone-in fresh ham, rind removed
4 cups jarred roasted chestnuts
Instructions
Stir the broth, soy sauce, Shaoxing wine, ginger, honey, scallions, garlic, cinnamon sticks, and star anise pods in a large saucepan-large enough to accommodate the ham and still be covered tightly, but not so large that the ham sits too far out of the liquid, which should come about a third of the way up the meat.

Set the ham into the broth mixture, then bring it all to a low simmer over medium-high heat.

Cover, reduce the heat to low, and simmer slowly for 2½ hours, turning the ham in the liquid about every 30 minutes. During the first hour, skim off any foam or impurities that might scum the broth's surface.

Skim the sauce one more time; then toss in the chestnuts, cover, and continue simmering slowly until the ham is meltingly tender, 1 to 1½ hours more, turning the ham every so often so the meat stays moist. An instant-read meat thermometer inserted into the thickest part of the ham without touching bone should register 170°F.

Transfer the ham to a cutting board and let it stand at room temperature for 15 minutes. Discard the cinnamon sticks and the star anise pods. (Some pods may have broken apart, so you'll have to go fishing.) Cut the ham into thin slices, then serve in bowls with the broth and vegetables spooned over the slices, about like a soup with ham slices in it.
2010 Bruce Weinstein and Mark Scarbrough
YOUR RECENTLY VIEWED RECIPES
Free recipes, giveaways, exclusive partner offers, and more straight to your inbox!