Pop Culture Popcorn
Cookbook
Published by Chronicle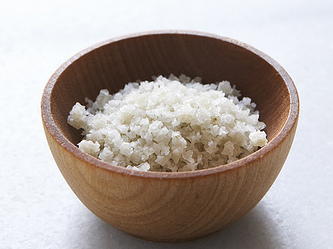 This image courtesy of Joseph DeLeo
Is there anything worse than when a food you have loved for years suddenly turns up on the if-you eat-too-much-it-will-kill-you list? Or, perhaps just as bad, what do you do when the flavors of the world have evolved, but a classic food has not. Don't fret. I have just reinvented popcorn so that it is both better for you and tastes amazing.
Notes
Brown Butter: Making brown butter is an important technique to master. Always add the butter to a cold pan and then place it over the heat. As the butter melts, do not move the pan for about 2 minutes, or the butter may brown prematurely. Keep a close eye on it, too. The butter will foam and then the foam will subside. When that happens, the butter will be nicely browned and have a nutty aroma. Remove the pan from the heat before adding the other ingredients.
"Infused" Basil Oil—This aromatic oil is good for drizzling on dishes-steamed vegetables, sliced tomatoes, grilled meats, poached fish-just before serving. Never use it for sautéing or other cooking, as heat will destroy its fragrance. You also need to start with a bland pure olive oil, or the flavor of the oil will compete with the flavor of the herb.
4 cups tightly packed fresh basil leaves
2 cups olive oil
In a blender, combine the basil and olive oil and process until a completely smooth puree forms. (Don't be tempted to use a food processor; the basil won't be finely ground enough.) Pour the mixture into a saucepan and bring to a simmer over medium heat. Simmer for 45 seconds, then pour through a fine-mesh sieve into a heatproof bowl. Don't press on the mixture in the sieve. You can, however, tap the sieve against your hand to encourage the oil to flow faster.
Immediately strain the oil again, this time through a flat-bottomed paper coffee filter. The filter will clog partway through, in which case you'll need to change it. It's okay to pick the filter up and squeeze it gently to force the oil out faster, but' be careful not to break the filter. Sometimes a little dark liquid comes through the filter first. Don't worry; it's only water. It will settle to the bottom because it is heavier than the oil. Let the filtered oil settle for a few hours, then pour off the clear oil into a clean jar or bottle, leaving the dark liquid behind. Cap tightly and store in a cool, dark place. The oil will stay lively for at least 1 month. Put it in the refrigerator for longer storage.
Makes About 1½ Cups
To flavor the popcorn with basil olive oil and Parmesan: Add the oil to the hot popcorn, toss well, and then add the cheese and again toss well. Finally, add 1 teaspoon each salt and pepper and mix well.
Toasted Spice Rub
Toasted Spice Rub—I like to use this spice mix on chicken, lamb, fish, and shrimp. It's also delicious stirred into beans or a pot of rice and mixed into scrambled eggs. Don't be put off the amount of chili powder. California chili powder is almost sweet, not hot. It is not a blend of chilies and other seasonings, like the powder you use in Texas-style chili. Instead, it is pure ground chilies.
Cooking Notes: Toasting spices releases their aromatic oils, resulting in more complex flavors. Taste your chili powder, and if hot, use less than the recipe indicates.
¼ cup fennel seeds
1 tablespoon coriander seeds
1 tablespoon black peppercorns
1½ teaspoons red pepper flakes
¼ cup California chili powder
2 tablespoons finely ground sea salt, preferably gray salt
2 tablespoons ground cinnamon
In a small, heavy skillet, combine the fennel seeds, coriander seeds, and peppercorns over medium heat. Watching carefully, toss the seeds frequently so that they toast evenly. When the fennel seeds turn light brown, work quickly. Turn on the exhaust fan, add the red pepper flakes, and toss, toss, toss, always under the fan. Immediately turn the spice mixture out onto a plate to cool. (They must be cool before grinding, or they will gum up the blender blades.)
Pour the cooled spices into a blender and add the chili powder, salt, and cinnamon. Process until the spices are finely and evenly ground. If you have a small spice mill or a coffee grinder dedicated to grinding spices, grind only the fennel, coriander, pepper, and red pepper flakes, then pour the ground spices into a bowl and toss with the remaining ingredients. Store in an airtight container away from light and heat for up to 4 months, or freeze for up to 1 year.
Makes About 1 Cup
Roasted Garlic Spice
You can use this quick and easy spice mixture to season potato chips, popcorn, or even chops or steaks for grilling. Double or triple the recipe when you need a larger amount, such as when Backyard Lobster Bake  is on the menu.
Cooking Notes: I use a good-quality compound chili powder here, typically a mixture of ground dried chilies, garlic, cumin, coriander, oregano, and sometimes other spices.
8 cloves garlic, sliced paper-thin
2 teaspoons finely ground sea salt, preferably gray salt
4 black peppercorns
½ teaspoon dry mustard
Pinch of chili powder
Preheat the oven to 350°F. Line a baking sheet with parchment paper, and arrange the garlic slices in a single layer on top. Cover with a second sheet of parchment. Bake until the garlic is dry and crisp, about 15 minutes. Remove from the oven and let cool completely. In a spice mill or a coffee grinder dedicated to grinding spices, combine the garlic slices, salt, peppercorns, dry mustard, and chili powder and grind to a powder. Store in an airtight container away from light and heat for up to 2 months.
Makes About ¼ Cup
Entertaining Notes: You can pop the popcorn an hour in advance and then rewarm it in an ovenproof bowl in a 300°F oven for 5 minutes before tossing it with the flavoring. The toasted spice popcorn also makes a great garnish. Pass the popcorn for guests to float on top of butternut squash soup, just like croutons.
Wine Notes: Serve Chianti with the basil oil and Parmesan popcorn, Guinness with the sage and toasted spice popcorn, Cabernet Sauvignon with the rosemary and lemon popcorn, a good pilsner beer with the roasted garlic popcorn, and some port or sparkling wine with the chocolate and orange zest popcorn. Or, Blood Orange White Sangria  goes well with all of the flavored popcorns.

Total Timeunder 15 minutes
OccasionCocktail Party, Family Get-together, game day
Dietary Considerationegg-free, gluten-free, lactose-free, peanut free, soy free, tree nut free, vegetarian
Five Ingredients or LessYes
Taste and Texturebuttery, crunchy, spiced
Ingredients
½ cup unpopped popcorn
1½ tablespoons extra virgin olive oil or canola or other bland vegetable oil
3 tablespoons "Infused" Basil Oil (see Notes)
½ cup freshly grated Parmesan cheese
Finely ground sea salt, preferably gray salt
Freshly ground coarse black pepper
3 tablespoons unsalted butter
1 tablespoon finely chopped fresh sage
Finely ground sea salt, preferably gray salt
2 teaspoons Toasted Spice Rub (see Notes)
3 tablespoons unsalted butter
1 tablespoon finely chopped fresh rosemary
1 tablespoon grated lemon zest
Finely ground sea salt, preferably gray salt
3 tablespoons extra-virgin olive oil
2 teaspoons Roasted-Garlic Spice (see Notes)
Finely ground sea salt, preferably gray salt
3 tablespoons unsalted butter
¼ cup grated semisweet chocolate
1 tablespoon grated orange zest
Finely ground sea salt, preferably gray salt
Instructions
Select one of the flavoring mixtures and have all the ingredients for it assembled before you begin to pop the corn.

Then, to pop the corn, combine the unpopped kernels and the oil in a heavy 4-quart saucepan. If you will be using a savory flavoring, use olive oil, and if you will be using the chocolate and orange zest flavoring, use vegetable oil.

Place the pan over medium-high heat and when the kernels start to pop, cover tightly and continue to cook, shaking the pan occasionally, until all the kernels pop, 2 to 3 minutes. Pour the popcorn into a large bowl, and then make the flavoring.
2005 NapaStyle, Inc.
YOUR RECENTLY VIEWED RECIPES
Free recipes, giveaways, exclusive partner offers, and more straight to your inbox!