Poached Skate with Brown Butter
Cookbook
Published by Broadway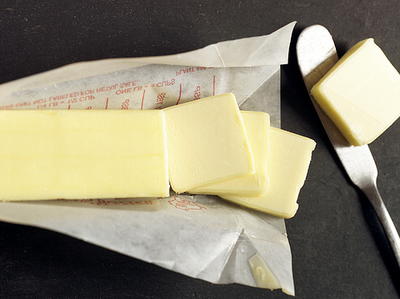 Eric: If you can make this recipe with French salted butter—it has a higher ratio of fat to water than American butter—your life will be easier and your sauce more stable. If you have to use American butter, be careful to add it very slowly, otherwise your sauce will separate. Maguy: This is a traditional French recipe for skate and a real artery killer. Of course, it's no worse than peanut butter. To each his own indulgence.
If your sauce breaks, bring ¼ cup water to a boil. Pull the pan of water off the heat, but keep it near the hot burner. Whisking constantly, very slowly drip the sauce into the water. Put the pan back on the heat from time to time as you work, to keep the sauce just below a simmer. It should emulsify into a smooth sauce.
Makes4 servings
OccasionFormal Dinner Party
Dietary Considerationlow carb
Taste and Texturebuttery, nutty, tangy, tart
Ingredients
½ cup Fish Fumet
10 tablespoons salted butter
5 tablespoons red wine vinegar
½ cup drained capers
Freshly ground white pepper, to taste
3 cups Court Bouillon
4 (7-ounce) cleaned skate wings
Fine sea salt, to taste
4 teaspoons thinly sliced fresh chives
One 14-by-10-inch roasting pan
Long, wide spatula
Instructions
1 Preheat the oven to 550 degrees. Put the fumet in a medium saucepan over high heat. Bring to a boil, lower the heat, and simmer until reduced to ¼ cup, about 3 minutes.

2 Put 8 tablespoons of butter in a medium saucepan over high heat. Cook, gently shaking the pan, until the butter turns dark brown, but not black, about 2 minutes. Pour the vinegar into the center of the pan and whisk it in. Remove the pan from the heat and continue whisking for about 20 seconds.

3 Bring the fish fumet to a boil and, whisking constantly, begin very slowly dripping in the brown butter. After about 15 seconds, pull the pan off the heat but keep it near the hot burner. Continue slowly adding the butter until the sauce is emulsified and all the brown butter is incorporated. Add the remaining 2 tablespoons of butter and whisk slowly until it is absorbed into the sauce. Stir in the capers and season with pepper. Cover and keep warm, near but off of the heat.

4 In a pot, bring the court bouillon to a boil. Season the skate on both sides with salt and pepper and place it in the roasting pan (the pieces may over—lap slightly). Pour the court bouillon over the skate, place in the oven, and cook until a knife can be easily inserted between the creases in the fish, about 3 minutes.

5 Use a long, wide spatula to transfer the skate to 4 dinner plates. Spoon the sauce over and around the skate, to completely cover the plate; make sure the capers are evenly distributed over the fish. Sprinkle the chives over the skate and sauce and serve immediately.
1998 Eric Ripert and Maguy Le Coze
YOUR RECENTLY VIEWED RECIPES