Pizza Provencal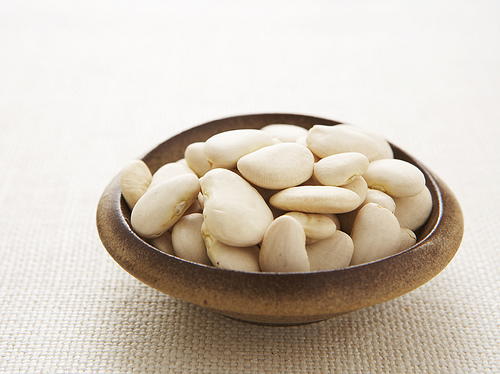 This image courtesy of Joseph DeLeo
White bean pizza? You bet. Topped with pesto and fresh tomatoes, this unusually delicious pie makes a hearty meal.
NotesDry Beans:

One pound makes about 6 cups cooked

Soaking:

All dry beans need to be soaked to rehydrate them before cooking-dry lentils and peas do not. We tested all the methods of soaking that we knew and found that we preferred a slow salt soak. The beans rehydrated more evenly, needed less salt in final preparation, and had better skin retention when cooked. The only consideration with this method is that it takes time--preferably 6 to 8 hours or overnight. We recommend refrigerating beans for both of the slow methods because they begin to ferment if held in a warm place for a long time.

First, pick through beans and discard any discolored or shriveled beans and foreign matter. Rinse the beans well and place them in a 5-quart bowl or saucepan. Then select one of these soaking methods:

Slow Salt Soak: Add 10 cups water and 2 teaspoons salt to 1 pound of beans. Set aside to cool to room temperature. Cover tightly and refrigerate 6 to 8 hours or overnight.

Traditional Slow Soak: Add 10 cups water to 1 pound of beans. Set aside to cool to room temperature. Cover tightly and refrigerate 6 to 8 hours or overnight.

Hot Soak: In a 5-quart saucepan, heat 10 cups water to boiling. Add 1 pound of beans. Bring to a boil over high heat; remove from heat; cover tightly and set aside at room temperature 2 to 3 hours.

Quick Soak: In a 5-quart saucepan, heat 10 cups water to boiling. Add 1 pound of beans. Bring to a boil over high heat; let boil 2 to 3 minutes. Cover tightly and set aside at room temperature 1 hour.

Cooking:

1. Discard soaking water and rinse beans well in a colander. Place beans in a 5-quart saucepan or Dutch oven. If using dry lentils or peas, pick through and rinse before placing them in the saucepan. Add 8 cups water, 1 tablespoon olive or other vegetable oil, and 1 teaspoon salt (see note).

2. Bring the bean mixture to a boil over high heat; reduce heat, cover partially with a tilted lid, and cook until desired tenderness. The cooking time will vary with the variety of bean, length of time beans have been stored, temperature of storage area, and the soaking method you have selected.

3. When beans, lentils, or peas are done, drain and use in the recipes that follow or immerse completely in cold water until cool; drain well and freeze in 1- to 2-cup packages for later use.

Beans will cook faster if salt is not added, but will need addition of more salt in the final recipe. For more savory beans, you can add 1 small onion, quartered, 2 garlic cloves, ¼ teaspoon ground black pepper, and ½ to 1 teaspoon of herbs such as thyme, basil, oregano, or dill at this point.

Oven Method: Heat oven to 350°F. Follow directions above, combine beans, hot water, oil, and salt in a 5-quart, ovenproof casserole with lid, or Dutch oven. Bring to a boil, place on a rimmed baking sheet, and bake until desired tenderness.

Pressure Cooker Method: Using one of the above methods, soak ½ pound beans, or sort and rinse ½ pound peas or lentils. In a 4-quart pressure cooker, combine the prepared beans, peas, or lentils, 4 cups water, 1 teaspoon oil, and salt to taste, if desired. Cook at 15 pounds pressure following manufacturer's directions for the type of legume you are cooking. Cooking times will vary from 3 to 4 minutes for lentils and peas to 10 to 12 minutes for soybeans. Always reduce the pressure rapidly under cool running water when cooking beans, peas, and lentils to prevent overcooking.

Quick-cooking beans will take 10 to 12 minutes, medium cooking beans will take 15 to 18 minutes, and long cooking beans, about 25 minutes.

Because dry beans need long, slow cooking to rehydrate, microwaving is not a practical and time-saving method for cooking them. It can be done, but unless there is a reason why it is necessary to cook them in the microwave, other methods are just as fast and energy efficient.

You can substitute canned beans for cooked beans in our recipes. Just rinse and drain before using. Be sure to reduce the amount of salt you use when substituting canned beans.

Rehydrated beans are now available in the produce section of your supermarket. They have been salt soaked and are ready to be cooked. Be sure to follow package directions for cooking time.


1 12-inch pizza to serve 4
OccasionCasual Dinner Party, Cocktail Party, Family Get-together, game day
Recipe Courseappetizer, main course
Dietary Considerationegg-free, halal, kosher, peanut free, soy free, tree nut free, vegetarian
Taste and Texturecheesy, herby, savory
Ingredients
¾ cup warm water (105° to 115° F)
1 package active dry yeast
1 teaspoon sugar (optional)
2 to 2¼ cups all-purpose flour
2 teaspoons dried basil
1 teaspoon salt
1 tablespoon olive oil
1 teaspoon oil
1 small onion, minced (about ½ cup)
2 cups cooked white beans, drained
Salt and freshly ground black pepper to taste
Cornmeal
2 ripe tomatoes, sliced paper thin
¾ cup homemade or store-bought pesto
3 tablespoons freshly grated Parmesan cheese
Instructions
Combine the water, yeast, and sugar, if desired, in a small bowl. Let stand 10 minutes to proof the yeast.

By hand: Combine the flour, basil, and salt in a large bowl. Add the yeast mixture and the oil, stirring until a soft smooth dough forms. In a food processor fitted with the steel blade: Combine the flour, basil, and salt by pulsing twice. Blend in half the yeast mixture with a few quick pulses. Add the rest of the yeast and the oil through the feed tube while the machine is on and operate until the mixture forms a ball of dough, about 30 to 45 seconds.

Turn the dough out onto a lightly floured board and knead 5 minutes, adding a bit more flour as necessary to make the dough manageable. Shape the dough into a ball and place the dough in an oiled bowl, turning to coat the dough's surface. Let rise until double in bulk, about 45 minutes to 1 hour.

Meanwhile, make the filling. Heat the oil in a small skillet over medium heat. Add the onion and sauté until golden, about 5 minutes. Add the beans, mash with a fork, and season to taste with salt and pepper. Remove from heat.

Heat the oven to 450 F. Lightly oil a 12-inch round pan, then dust with cornmeal. Punch the dough down, remove from the bowl, and knead for 1 minute. Stretch or roll the dough into a 12-inch circle. Spread the beans over the dough, then top with the tomato slices and the pesto. Sprinkle with Parmesan.

Bake until the crust is browned, about 20 to 25 minutes.

Variation: Use a prebaked pizza crust. Sprinkle the basil over the fresh tomato slices and bake until pesto is bubbly and cheese melts, about 10 minutes.
1994 Bonnie Tandy Leblang and Joanne Lamb Hayes
YOUR RECENTLY VIEWED RECIPES
Free recipes, giveaways, exclusive partner offers, and more straight to your inbox!