Cookbook
Published by Workman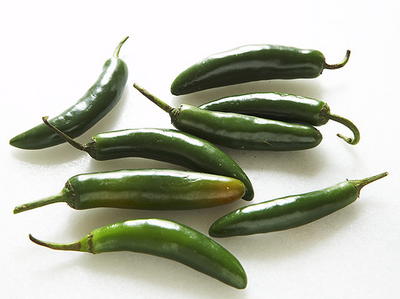 This image courtesy of Joseph DeLeo
Pickling is an age-old way of storing seasonally available ingredients; it's also a way of lengthening the time you can keep any fresh ingredient successfully. Pickled chiles are a staple in many places beyond the Great Wall, as well as in parts of central China. They are, we've discovered, very handy and easy to have on hand. Over time, the heat of the chiles becomes a little muted, and the balance of flavors shifts toward slightly sweet, but the chiles keep their bright color and some texture too. We now rely on them as a staple. You can use them in place of fresh chiles when stir-frying (for example, in Pork with Napa Cabbage and Chiles) or put them out as a table condiment (especially when serving Hui-style lamb dishes, or any grilled meat).
You can buy jars of bright red "made-in-Thailand" pickled chiles in many Asian groceries, but they are sweeter and hotter than the pickled chiles we've come across in the outlying mountain and desert areas of China, from Yunnan and Guizhou to Qinghai and Xinjiang. And it's very easy to make your own. These Yunnanese-style pickled chiles are less hot than the Thai version and have no added sweetness. They're spiked with a little Sichuan pepper. Make up a batch when you come across very red ripe cayenne chiles. You can increase the yield by scaling the recipe up in proportion.
Note On Chile Alternatives: If you can't find cayennes, you can use serranos, which are smaller than cayennes and have more chile heat. To balance that, we suggest that you strip out their seeds before slicing them: cut off the stem ends, then cut a slit lengthwise in each chile, strip out the seeds, and discard.

Note On Pickling Method: The method here and for Tenzin's Quick-Pickled Radish Threads calls for the vinegared and brined raw ingredients to be set out in the sun. It's a traditional method we have seen in Tibet, Guizhou, and Yunnan. Perhaps the warmth or the sunlight encourages fermentation, but we don't know the why, only that it's the usual way. The pickled chiles need more time to soak and soften than the radish threads, and we call for refrigeration for that process, though they could also be stored in a cool cupboard.
Quick Pickled Chiles: To make up a last-minute version, say for use in a recipe, or to put out as an improvised condiment, start with fresh red cayennes. Strip out the seeds, then slice as above and place in a bowl. Bring the hot vinegar, salt, and spice mixture to a boil, then pour over the sliced chiles. Put a small plate or lid on top to weight the chiles down so they stay immersed. Let stand for half an hour or more before draining and serving.
Makes1 cup
Cooking Methodpickling, preserving

Dietary Considerationdiabetic, egg-free, gluten-free, halal, healthy, kosher, lactose-free, low calorie, low carb, low cholesterol, low saturated fat, low-fat, peanut free, soy free, tree nut free, vegan, vegetarian
Five Ingredients or LessYes
Taste and Texturehot & spicy, sharp, tangy, tart
Ingredients
About ¼ pound red cayenne chiles (about eight 6-inch-long chiles) (see Note on Chile Alternatives, below)
1 cup rice vinegar
1 tablespoon kosher salt
¼ teaspoon Sichuan peppercorns
1 star anise, whole or in pieces (optional)
Instructions
Wash the chiles, and cut off the stems. Cut into approximately ½-inch slices. Measure out 1 cup and set aside.

Heat the vinegar in a nonreactive pan. Add the salt and stir until it dissolves. Add the peppercorns and star anise, if using. Bring to a boil, then lower the heat and simmer for 30 seconds or so. Remove from the heat and let cool to lukewarm.

Meanwhile, sterilize a 1-cup canning jar, lid, and ring.

Stuff the sliced chiles into the jar, pressing down to compact them a little. Transfer the vinegar and spices to a cup with a spout and then slowly pour the liquid and spices into the jar, filling it right to the top. (You may have several tablespoons of vinegar left.) Put on the lid and then screw the ring on tightly.

Set the jar in a sunny spot for 2 days, then refrigerate. The pickles will be ready in 2 weeks and will keep well for 3 months.
2008 Jeffrey Alford and Naomi Dugid
Tags / Related Topics
YOUR RECENTLY VIEWED RECIPES