Pickled Ramps
Cookbook
Published by Stewart, Tabori & Chang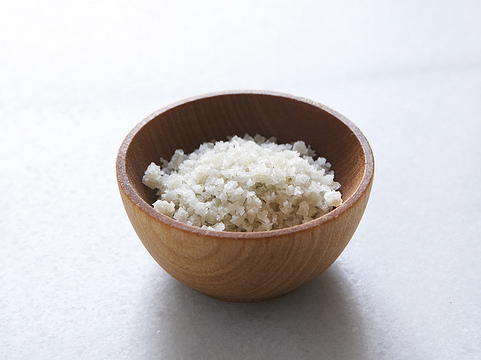 This image courtesy of Joseph DeLeo
The first time we encountered wild ramps was on a woodland trek with a party of friends. We had paused for a spell beneath a shady maple when the fragrance of freshest onion tickled our nostrils. Naturally, our initial inclination was to suspect the lunch pail of an allium-loving companion. But after some surreptitious rooting for the source, we came upon a cluster of long, lilylike leaves that led to roots of pale, slender bulbs. Now, each spring when ramps proliferate, we crave their delicate flavor, which hovers between leek and garlic. We especially enjoy pickling them for the cocktail tray, but sliced bulbs and greens are put to good use in stews, sautés, and omelettes.
NotesThe Successful Cannery:

We fancy ourselves capable of being excellent homesteaders, the sorts who might maintain a chicken coop alongside our wine cellar. But when it comes to canning, we are unapologetically lazy. The likelihood of us filling a hand trolley with crates of tomatoes for furious sauce making is slim. We are far more apt to create on a whim-to, say, simmer up a single jar of Strawberry-Champagne jam as a means of using up the dregs of last night's cru and this morning's basket of market-fresh berries. Our canning is often the result of inspiration, or even the result of whatever odds and ends our icebox tells us must come to a fitting conclusion; it is meant to last us as only as long as the meal at which we intend to serve it. Our kitchens tend toward an infinite, motley rotation of brined, potted, and jellied flavors.

All this is to say that when one is canning in such small batches, preparing a cleanish jar and storing the results for a day or two or even, really, a full week, is often more than sufficient. However, should one aspire to more-to a winter larder crammed with summer's bounty or a gift of bespoke pickles for every acquaintance-then matters are quite different, and precautions must be taken to avoid poisoning oneself or one's friends. It would be grand if the old skull and crossbones magically appeared upon a jar the moment a canned food had gone off, but unfortunately, one cannot always determine these things with a glance or whiff or taste.

We direct those endeavoring to become industrious and versatile canning practitioners to a canning and preserving manual, which will be filled with reams of advice. For those just wishing to avoid a spell of botulism, follow our tips for jar sterilization and sealing, which are suitable for very small batches of high-acid goods (including jams, marmalades, chutneys, tomato sauces, pickles, and relishes):

How to Sterilize one's Canning Jars

Method Number One:

Fill a large pot with water. Place clean jars into the water and bring them to a boil; let the water bubble for 10 minutes, remove the jars with tongs, and place them on a clean towel to dry and await filling. Since canning jars are made with glass, and we oppose having shards of glass in cookware, we recommend purchasing wire canning racks to hold the jars in place during boiling. One might use the contraption as a modern-looking fruit bowl during one's canning off-season. Alternatively, one can sterilize jars individually, though this will require some extra time. Simmer the lids separately in hot water, as boiling them might destroy the seal. Leave the bands at room temperature. The jars should still be warm when filled so that the hot preserved item does not shock the glass and break the jar, so time the sterilization process accordingly.

Method Number Two:

This technique is quick and simple, but is limited to those fortunate few who own the newfangled electric device known as a dishwasher. Place the jars and lids in the dishwasher, with or without detergent, and run the machine until it enters the drying cycle. At this point, transfer the jars and lids (which will be surprisingly hot, so don oven mitts or use tongs) to a clean towel, where they can wait to be filled. They should still be warm when filled so that the hot preserved item does not shock the glass and break the jar, so time their removal from the dish-washer accordingly.

How to Seal One's Canning Jars

To seal a jar, fill it with one's hot preserved item (be it jam, pickle, marmalade, or chutney), making certain to leave a headspace of about half an inch at the top of the jar. Wipe away any food residue from the top and screw the lid on tightly. Now one must seal the jar. To do so, either (1) process the jars in a canner (a special pot used in preserving) according to the manufacturer's instructions or (2) create a vacuum seal by turning the jar upside down for an hour or so until the center of the metal lid puffs ever so slightly; it should flex when pressed. Once sealed, store the item in a cool, dry, dark pantry or cellar for up to a year.


Provides1 scant quart pickled ramps
Cooking Methodpickling, preserving

Dietary Considerationegg-free, halal, kosher, lactose-free, peanut free, soy free, tree nut free, vegan, vegetarian
Taste and Texturesavory, tangy, tart
Ingredients
2 pounds ramps
1 cup cider or red wine vinegar
2 tablespoons plus 2 teaspoons kosher salt
½ cup sugar
1 teaspoon mustard seeds
1 teaspoon fennel seeds
½ teaspoon black peppercorns
3 sprigs fresh thyme
2 bay leaves
4 whole cloves
One 1-quart canning jar, sterilized (see Notes)
Instructions
Trim the leaves from the tops of the ramps. (Rather than discard these greens, we suggest one reserve them for future use in omelettes, salads, or any other dish where chopped herbs might do.) Trim and discard the hairy bottoms from the ramps-these are suited only for the compost bin. Rinse the ramps well to remove any grit left behind.

Bring a pot of water to a boil over high heat. Tip in the ramps and cook until crisp-tender, 30 seconds to 1 minute, depending on the size of the ramps. Drain and rinse under a cold running tap to halt the cooking.

Stir together the remaining ingredients in the jar and add 1 cup water. Stir in the ramps. Screw the lid tightly upon the jar and chill for at least 2 hours or up to 3 months. The longer they stand, the more pickled the results.
2011 Sarah Huck and Jaimee Young
YOUR RECENTLY VIEWED RECIPES
Free recipes, giveaways, exclusive partner offers, and more straight to your inbox!