Cookbook
Published by HarperCollins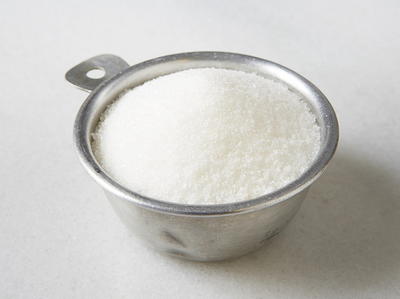 This image courtesy of Joseph DeLeo
Christmas in the United States would hardly seem complete without red-and-white-striped peppermint candy canes. They are popular, too, throughout Northern Europe, most especially in Sweden, where they are called Polkagrisar. Having struggled to make these several times, I must say that I now consider candy canes the biggest bargain on the market.
Do not attempt them unless you are experienced at candy-making or are willing to practice two or three times to perfect the technique. A candy thermometer and patience are essential; do not start unless you have both. And do not try to make more than the amount given here at one time.
OccasionFamily Get-together
Taste and Texturecrunchy, sweet
Ingredients
3 cups sugar
1 cup water
1 tablespoon light corn syrup
2 teaspoons vinegar
Mineral oil
3 drops essence of-peppermint
3 or 4 drops red food coloring
Confectioners sugar
Cornstarch
Instructions
Combine sugar, water, corn syrup and vinegar in a small heavy-bottomed saucepan. Place over low heat, stirring gently until sugar dissolves. Bring to a boil, cover pan and cook 2 to 4 minutes, or until all sugar crystals have melted down from the sides of the pan. Unmelted sugar will keep the canes-from hardening.

Uncover and continue at a low boil, without stirring, until mixture forms a hard ball when a little is dropped into ice water, or until it reaches 270° on a candy thermometer.

Grease a marble slab, a large baking pan or cookie sheet or a large platter with plenty of mineral oil. Carefully pour about two thirds of the mixture onto the oiled surface, leaving the remaining syrup in the pan on the warm stove (but not over a flame). Sprinkle peppermint onto the surface of the poured candy mixture, and with an oiled spatula, begin folding the mixture into the center from all sides, turning and folding until it becomes glassy and is cool enough to pick up.

Oil your hands with mineral oil and stretch the cooled taffy, pulling it out slowly to about 14 inches in length and then folding it back on itself. Continue until candy is opaque, creamy and holds a shape at the ends.

Do this in a fairly warm corner of the kitchen—near the stove or a radiator and away from open windows. Pull into long strips about ½ inch in diameter, and cut into desired lengths with a pair of oiled scissors.

Add red coloring to remaining candy syrup, stir well and pour thin streams of red mixture on each side of each pulled candy strip.

Twist together rope-fashion and form canes. Roll in a mixture of confectioners' sugar and cornstarch and let dry overnight.

Shake off' excess sugar and starch in the morning.
1968, 1981 Mimi Sheraton
YOUR RECENTLY VIEWED RECIPES