Pappardelle with Spring Vegetables
Cookbook
Published by Robert Rose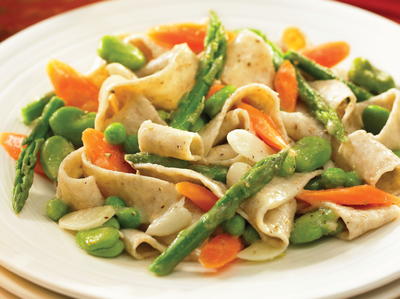 This image courtesy of Colin Ericcson
The vegetables in this recipe have only one thing in common: they are all available in the spring. Feel free to substitute an equal quantity of any fresh vegetables, with the exception of beets, which turn everything red, and Swiss chard, which has a slightly bitter taste that is not compatible with the other flavors. Just keep the vegetables close in size or thickness so they cook evenly.
NotesTips

To blanch the vegetables for use in this recipe, cook in lightly salted boiling water for 3 minutes. Drain and rinse under cold running water.

Never rinse pasta after draining it. The surface starch helps the sauce to cling and is important to producing the best-quality dish.Variations

Substitute fresh lima beans for the fava beans.

Substitute fettuccine for the pappardelle.

Cutting Fresh Pasta

Part of the pleasure of fresh pasta, like its dried counterpart, lies in its shapes. There are hundreds of traditional fresh pasta shapes, many of which, like my mother's cavatelli, are made by hand and require considerable skill. Here I have selected seven shapes that are easy to make by simply cutting flat pasta sheets by hand or using a pasta-cutting wheel or machine.

To cut long strands of pasta dough by hand, snugly roll up the pasta sheet, starting from the short side. Be careful not to roll so tightly that it sticks together. Using a sharp knife, cut across the roll to the desired width. You may also be able to use a pasta-cutting wheel or an attachment that comes with your pasta-rolling machine. See specific instructions for types of cut pasta below.

Once pasta is cut, shake it gently to separate the strands and lay on lightly floured sheets of parchment, each 16 by 12 inches (40 by 30 cm). If not using immediately, cover with a lint-free towel.

Making Strands

When cutting pasta for strands, I don't recommend using a ruler to mark out the width. I think it makes much more sense to just eyeball the dough. The beauty of hand-cut pasta is its slight irregularity. Also, the more you make, the quicker and more precise you'll become.

Fettuccine: Fettuccine are slightly wider than tagliolini and tagliatelle. To make fettuccine, using a straight-edged pasta wheel or a sharp knife, cut rolled pasta sheet crosswise into strips, each ¼ inch (0.5 cm) wide. As you cut, shake gently to separate strands and transfer to lightly floured parchment. If you prefer, fettuccine may be cut using the second, thicker cutter on the standard attachment of a pasta-oiling/ cutting machine.

Pappardelle: Pappardelle are long pasta ribbons. They can be cut from 12- by 4-inch (30 by 10 cm) sheets of pasta using a fluted or straight-edged pasta-cutting wheel. Place pasta sheet on a lightly floured board and cut lengthwise into strips approximately ¾ inch (1.5 cm) wide. Using a pasta wheel on the sheets is quicker and more accurate than a knife. If you prefer to use a knife, make sure it's sharp. Using a sharp knife, roll up each sheet of pasta dough from the short end and cut horizontally into ¾-inch (1.5 cm) strips. As you cut, shake gently to separate strands and transfer to lightly floured parchment.

Cutting Attachments

Pasta machines have cutting attachments. The standard attachment has two settings, one thin (approximately 1/8 inch/0.25 cm) and one thicker (approximately ¼ inch/0.5 cm). You can also purchase additional cutting attachments for larger and smaller strand pastas. However, if you want to cut the pasta for the recipes that follow by machine, using the two standard settings, you can treat tagliolini as tagliatelle (see page 226) and use the wider attachment for fettuccine. The other shapes - papparadelle, stracci. quadrati, maltagliati, quadrati - must be cut by hand.

No Size Fits Everyone

Perhaps not surprisingly, there is wide disagreement among Italian food writers and cooks about the dimensions of pasta. For example, many say (as I do) that tagliatelle is thinner than fettuccine, but others say just the reverse. Some even say that the two pastas are interchangeable. Controversy surrounds almost all fresh, dried and filled pasta shapes. If nothing else, this proves only one thing: Italians are obsessed with ingredients, and most consider themselves not only the highest authority but the best judge of what is right and good when it comes to food.
Serves4 to 6
OccasionCasual Dinner Party, Formal Dinner Party
Dietary ConsiderationPeanut Free, Soy Free, Tree Nut Free, Vegetarian
Taste and TextureLight, Savory
Type of DishFresh Pasta, Pasta
Ingredients
3 tbsp extra-virgin olive oil 45 mL
1 tsp thinly sliced garlic 5 mL
½ cup sliced (2 inches/5 cm) pencil-thin asparagus, blanched (see Notes) 125 mL
½ cup green peas, blanched if fresh, thawed if frozen 125 mL
½ cup shelled fresh fava beans, blanched and skinned 125 mL
½ cup diagonally sliced baby carrots 125 mL
Salt and freshly ground white pepper
½ cup dry white Italian wine 125 mL
1 tbsp salt 15 mL
1 lb fresh pappardelle (see Notes) 500 g
½ cup unsalted butter 125 mL
¾ cup grated Parmigiano-Reggiano, divided 175 mL
Instructions
In a covered pasta pot over high heat, bring water to a rapid boil.

Meanwhile, in a large sauté pan, heat oil over medium heat. Add garlic, asparagus, peas, fava beans and carrots and sauté, stirring, until vegetables are tender but not browned, about 7 minutes. Season to taste with salt and pepper and cook, stirring, for 2 minutes to meld flavors. Add wine and cook until reduced by half. Remove from heat and set aside.

Add salt and pappardelle to the boiling water and cook until pasta is almost al dente. Scoop out about 1 cup (250 mL) of the pasta water and set aside. Drain pasta.

Return sauté pan to medium heat. Add 2 tbsp (25 mL) of the reserved pasta water and heat through. Add butter and season to taste with salt and pepper. Add pappardelle and, using a wooden spoon, toss to coat evenly, adding more pasta water if necessary. Add half of the Parmigiano- Reggiano and toss well.

Transfer to a large serving bowl and sprinkle with remaining cheese. Serve immediately.
2009 John Coletta
YOUR RECENTLY VIEWED RECIPES
Free recipes, giveaways, exclusive partner offers, and more straight to your inbox!