Pad Thai-Classic Stir-Fried Noodles
Cookbook
Published by Workman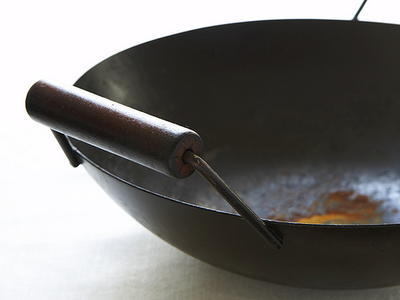 This image courtesy of Joseph DeLeo
Pad thai literally means "Thai fry," and it is the dish many foreigners think of first when they think about Thai food. It's a satisfying one-dish noodle stir-fry, dry rather than sauced, and full of different isolated flavors that come together in a balance of salty, sour, and sweet. There are salty dried shrimp, soft pieces of cooked egg with a little succulent pork, and seared pressed tofu, all scattered throughout pan-seared thin rice noodles. Once you have your ingredients prepared, cooking time is less than 6 minutes. You need a large wok to prepare this amount (the noodles take up a lot of room and you need to be able to push ingredients up the sides of the wok while you cook others). If your wok is small, make the recipe in two batches.
 If not using salted radish, add a pinch of salt to the soy sauce mixture. You can omit the pork, or use chicken or beef, cut into slices instead. If not using pork, add the sugar to the soy sauce mixture.

If you have a very large wok, you can, instead of removing the egg and meat mixture, use the traditional method and just push it up the sides of the wok while you stir-fry the noodles and bean sprouts. Then just push everything back down when you wish to incorporate it with the noodles.

Dry-Roasted Peanuts

1 cup whole skinless peanutsStart with whole skinless peanuts from an Asian grocery. They're white and fat. Sometimes they've been boiled, sometimes they're raw. If you can find only peanuts with the skins on, you'll need to rub the skins off after dry-roasting.

Place a heavy large skillet over medium heat. Add about 1 cup peanuts and use a wooden spoon to move them around the pan frequently to prevent sticking and burned spots as they roast.

They will start to develop golden patches and become aromatic; if you notice any black patches on the nuts before they have turned light brown, remove the pan from the heat for a moment and lower the heat, then return the pan to the heat and continue.

Once the peanuts are golden brown in large patches all over, transfer them to a large cutting board and coarsely chop.

Or, let them cool, then transfer to a food processor and pulse briefly to coarsely chop; be careful not to overprocess—you do not want a paste.

Store, once completely cooled, in a well-sealed container in a cool place.

In Vietnam and Cambodia, chopped dry-roasted peanuts are often mixed with sugar to make a sweetened topping for desserts or sticky rice.


Serves3 to 4 as a one-dish meal
Cooking Methodstir-frying
Total Timeunder 30 minutes
OccasionCasual Dinner Party
Taste and Texturegarlicky, nutty, salty, savory, sweet, tart
Ingredients
1 cup Chile-Vinegar Sauce
Cayenne pepper
Sugar (optional)
½ to 1 European cucumber, thinly sliced
1 small head leaf lettuce, washed, dried, and separated into leaves (optional)
1 lime, cut into small wedges
2 ounces boneless pork thinly sliced, and cut into narrow strips about 1½ inches long
1 teaspoon sugar
1 heaping tablespoon tamarind pulp, dissolved in 2 to 3 tablespoons warm water, and pressed through a sieve, or substitute 1 tablespoon rice vinegar plus 1 tablespoon water
1 tablespoon soy sauce
1 tablespoon Thai fish sauce
3 large eggs
Pinch of salt
3 tablespoons peanut or vegetable oil
2 to 3 cloves garlic, minced
1 cube (2 to 3 ounces) pressed tofu, cut into narrow 1½-inch-long strips
½ pound narrow dried rice noodles, soaked in warm water for 20 minutes and drained
½ pound (scant 4 cups) bean sprouts, rinsed and drained
3 scallions, trimmed, smashed flat with the side of a cleaver, and cut into 1½-inch lengths
1 tablespoon dried shrimp
1 tablespoon salted radish (optional)
1 cup Dry-Roasted Peanuts (see Notes) , coarsely chopped
2 to 4 tablespoons coriander leaves (optional)
Instructions
Before you begin cooking, place the chile-vinegar sauce in a bowl on the table as a condiment, along with a small condiment plate of cayenne and another small bowl of sugar if you wish. Arrange the cucumber slices around the edge of your serving platter or individual plates, together with the lettuce leaves, if using, and lime wedges. (If you wish, arrange extras of all three on a serving plate.)

Place the pork in a small bowl, add the sugar, and toss to mix. In a medium bowl, mix together the tamarind water (or rice vinegar and water), soy sauce, and fish sauce. In a small bowl, lightly beat the eggs with the salt. Place all the ingredients by your stovetop.

Place a large wok over high heat. Add about 1½ tablespoons of the oil and, when it is hot, add the garlic and stir-fry briefly until it begins to change color, about 15 seconds. Toss in the pork and stirfry until it has all changed color, 1 minute or less. Add the tofu and press it against the hot sides of the wok to scorch it a little, 10 to 20 seconds. Pour in the egg mixture and let cook until it starts to set around the pork and tofu slices, less than a minute.

Use your spatula to cut it into large pieces, then transfer all onto a plate and set aside.

Place the wok back over high heat, add remaining 1½ tablespoons or so oil, and swirl to coat. Toss in the drained noodles and stir-fry vigorously, pressing them against the hot wok to sear and heat them, then turn and press them again. They will seem dry and unwieldy, but don't worry, just keep folding them over and pressing them onto the wok—after about 1 minute, they will all have softened more and be warm.

Move the noodles up the sides of the wok and toss in 2 to 2½ cups of the bean sprouts and the scallions. Stir-fry vigorously for about 20 seconds, pressing and turning to wilt them against the hot wok.

Add the dried shrimp and salted radish and toss briefly with your spatula, then add the soy sauce mixture. Stir-fry for about another 30 seconds, gradually incorporating noodles into the bean sprout mixture. Add the reserved egg-meat mixture and toss gently to mix everything together.

Turn out onto the platter or onto individual plates. Place the remaining bean sprouts on a plate on the table. Sprinkle some of the chopped peanuts onto the noodles, and place the rest in a bowl as a condiment so guests can add extra as they wish.

Sprinkle on the coriander leaves, if using, and serve. If serving from a central platter, serve guests (chopsticks or tongs are easiest for the job) or invite everyone to use their chopsticks to serve themselves. As they eat, guests can flavor their portions as they wish, with a sprinkling of cayenne, a squeeze of lime juice, a sprinkling of sugar (traditional in Thailand, but usually not loved by foreigners), a little more chopped peanuts, some bean sprouts, and a drizzle of chile-vinegar sauce.
2000 Jeffrey Alford and Naomi Dugid
YOUR RECENTLY VIEWED RECIPES