Oyster and Cracked-Pepper Corn Bread Stuffing
Updated February 23, 2016
Cookbook
Published by Chronicle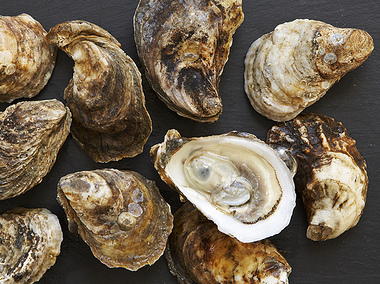 Not everyone grew up eating corn bread and oyster stuffing. I certainly didn't—but I love it now. Near Chesapeake Bay and in the coastal South, oysters go into everything from stews to savory pies to stuffing. The tradition dates from the nineteenth century, when oysters were cheap and plentiful; they were consumed with beer like peanuts are today. Now, they are neither cheap nor plentiful, but they are a delicious addition to corn bread stuffing. This is another stuffing that pairs beautifully with Barbecued Turkey.
BREAD CUBES: Making your own bread cubes is a small, easy task with delicious results. There is just no comparison between homemade bread cubes and the cello-packaged ones available in supermarkets. I usually prepare mine a day or two before Thanksgiving. Buy a loaf of artisan or peasant-style bread, trim the crusts,cut the bread into 1/2-inch cubes, and spread them out on baking sheets. Toast the cubes in a 400 F oven until just beginning to brown, about 10 minutes. Cool completely and store in a covered container until ready to use. Artisan bakeries are springing up in every city and town around the country. Check out their breads, and use them for these bread stuffing recipes. However, if you are short on time, the bakeries often sell toasted bread cubes made from their day-old loaves, especially at Thanksgiving time.

TOASTED PECANS: Toasting nuts brings out their full, rich flavor. Place the nuts in a single layer on a rimmed baking sheet and bake in a preheated 350 F oven until lightly browned, about 10 minutes. Alternatively, the nuts can be browned in a microwave. Place in a single layer on a microwave-safe plate, and microwave on high power for 2 to 3 minutes, or until lightly browned. Watch carefully that they don't burn.

 COARSELY CRACKED PEPPERCORNS: If your pepper mill can be adjusted to produce fine to coarse granules, then set it on the coarsest grind. Otherwise, crush the peppercorns using a mortar and pestle or a spice grinder. If you do not have either of these kitchen tools, then place the peppercorns in a heavy lock-top plastic bag, seal the bag, pressing out all the air, and crush the peppercorns with the bottom of a small, heavy saucepan.


Serves12
OccasionCasual Dinner Party
Five Ingredients or LessYes
Taste and Texturesavory, spiced
Ingredients
Vegetable-oil cooking spray
1 recipe Cracked-Pepper Corn Bread (recipe follows)
2 cups unseasoned dry bread cubes (see Note)
1 cup pecans, toasted and coarsely chopped (see Note)
4 tablespoons unsalted butter
1 large onion (about 12 ounces), chopped
4 large ribs celery, chopped
1 tablespoon fresh thyme leaves
2 tablespoons minced fresh sage
1/8 teaspoon cayenne
2/3 cup minced fresh parsley
2 large eggs, lightly beaten
½ cup Chicken Stock or canned low-sodium chicken broth
1 pint shucked small oysters, with their liquor
Vegetable-oil cooking spray
1 cup all-purpose flour
1 cup yellow cornmeal
1½ teaspoons salt
1 tablespoon sugar
1½ teaspoons baking soda
2 teaspoons coarsely cracked black peppercorns (see Note)
2 large eggs
1 cup buttermilk
3 tablespoons rendered bacon fat or butter, melted
Instructions
Preheat the oven to 350°F. Coat a deep, 9-by-13-inch baking pan with the cooking spray. Cut the corn bread into ¾-inch cubes, and spread them out on baking sheets. Toast in the oven until lightly browned, about 10 minutes. Set aside to cool.

In a large mixing bowl, combine the corn bread cubes, dry bread cubes, and pecans. In a 10-inch sauté pan, melt the butter over medium-high heat. Swirl to coat the pan; then add the onion and celery. Sauté until soft and lightly browned, about 5 minutes. Add the thyme, sage, and cayenne, and cook 1 minute longer. Add to the bread in the bowl. Mix in the parsley, eggs, and stock.

Gently mix the oysters and their liquor into the corn bread mixture, being careful not to break up the oysters. Place the stuffing in the prepared pan and bake, uncovered, until the top is lightly browned and crusty, about 45 to 50 minutes.

If you have room in your oven, bake the stuffing while the turkey is roasting. Otherwise, bake it beforehand and reheat it once the turkey is out.

CRACKED-PEPPER CORN BREAD

MAKES 1 PAN OF CORN BREAD, ENOUGH FOR 8 CUPS OF CUBES

Preheat the oven to 425°F. Coat a 10-inch cast-iron skillet or an 8-inch square baking pan with the cooking spray.

In a large bowl, combine the flour, cornmeal, salt, sugar, baking soda, and cracked peppercorns. In a small bowl, whisk the eggs and buttermilk together until blended; then add to the dry ingredients. Stir in the bacon fat or butter. Pour the batter into the prepared pan, and smooth the top with a rubber spatula.

Bake until the corn bread is golden brown and a toothpick inserted in the center comes out clean, about 25 minutes. Let cool in the pan for to minutes; then turn out onto a wire rack to cool completely.
2001 Diane Morgan
YOUR RECENTLY VIEWED RECIPES