Old-Fashioned Mashed Potatoes 101
Cookbook
Published by Broadway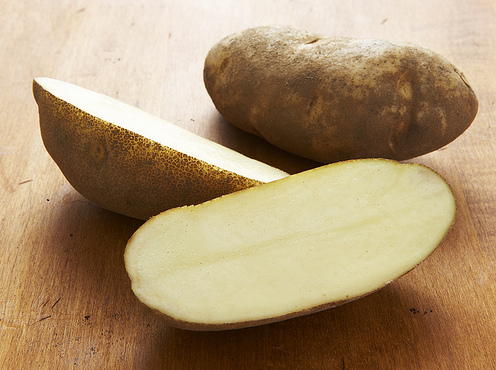 Mashed potatoes are as American as Thanksgiving itself. Variations range from wasabi to lobster chunks. But at Thanksgiving, nothing beats a well-made bowl of classic mashed potatoes. As with many other deceptively simple dishes, there are reasons why sometimes you have good mashed potatoes, and other times you have great mashed potatoes. Here are my secrets to make those great ones, served piping hot, ready for that big ladle of gravy! Potatoes with a high starch content (the kind used for baking) provide the traditional flavor and texture. The same starch that gives a baked potato its fluffy interior also contributes to perfect mashed potatoes. Yellow-fleshed varieties like Yukon golds or yellow Finns are excellent as well, but they turn out the same color as mashed turnips, which can be disconcerting to potato purists. If you live near a farmers' market, take the potato farmers' advice on local favorites—they may suggest an interesting heirloom variety that will become your favorite, too. If possible, buy your potatoes about a week ahead of time and age them in a cool, dark place (not the refrigerator)—mature potatoes are drier and mash up lighter. Don't let them sprout eyes, though. Always make mashed potatoes just before serving. Warmed-over mashed potatoes leave me cold, although the Make-Ahead Mashed Potato Casserole, on page 101, can be made well ahead and is delicious. Don't overcook the potatoes—they should just yield to a sharp knife when pierced. If the drained potatoes seem soggy, return them to the pot and cook over low heat, stirring constantly, until they begin to stick to the bottom of the pot, about 2 minutes. This step forces the excess steam out of the potatoes and dries them out. Mash the drained potatoes in the still-warm cooking pot with hot milk—a cold bowl and cold milk make for lumpy, lukewarm potatoes. The exact amount of milk is a matter of taste, so use more or less to reach your desired consistency. Use an efficient mashing utensil. Some cooks swear by a potato ricer, which does make the smoothest potatoes, as long as you enlist another pair of hands to make the job go quickly. I use an electric hand mixer. If you want to use a low-tech, old-fashioned hand potato masher, go to a restaurant supply store and get a large one, or the chore will take forever, with the potatoes cooling off by the second. Never mash potatoes in a food processor, which will give you gummy mashed potatoes. Season the mashed potatoes well with salt and pepper. I have suggested amounts, but use your taste. White pepper (which is actually spicier than black) will give you pristine mashed potatoes, but certainly use black if you wish.
NotesMake Ahead: The potatoes can be peeled and cut ahead, placed in the cooking pot, covered with cold water, and stored in a cool place for up to 4 hours.


8 to 12 servings

OccasionCasual Dinner Party, Family Get-together
Five Ingredients or LessYes
Ingredients
5 pounds baking potatoes (such as russet, Idaho, Burbank, or Eastern)
Salt
4 tablespoons (½ stick) unsalted butter
¾ cup milk, heated, as needed
½ teaspoon freshly ground white pepper
Instructions
Fill a large (5 quarts or larger) pot halfway with cold water. Peel the potatoes and cut into chunks about 1½ inch square, and drop them into the pot. Add more cold water to completely cover the potatoes by 1 to 2 inches. (The potatoes can be prepared up to this point for 4 hours, stored at cool room temperature.)

Stir in enough salt so that the water tastes mildly salted. Cover tightly and bring to a full boil over high heat, which should take at least 20 minutes, so allow sufficient time.

Reduce the heat to medium-low and set the lid askew. Cook at a moderate boil until the potatoes are tender when pierced with the tip of a small, sharp knife, about 25 minutes. Add more boiling water, if needed, to keep the potatoes covered.

Drain the potatoes well and return to the warm cooking pot. Add the butter. Using an electric hand mixer, mash the potatoes, gradually adding enough milk to reach your desired consistency. Season with 1 teaspoon salt and the pepper. Transfer to a warmed serving dish and serve immediately.
1998, 2007 Rick Rodgers
YOUR RECENTLY VIEWED RECIPES
Free recipes, giveaways, exclusive partner offers, and more straight to your inbox!