Oatmeal Cookies with Golden Raisins and Milk Chocolate Chips
Cookbook
Published by Bulfinch Press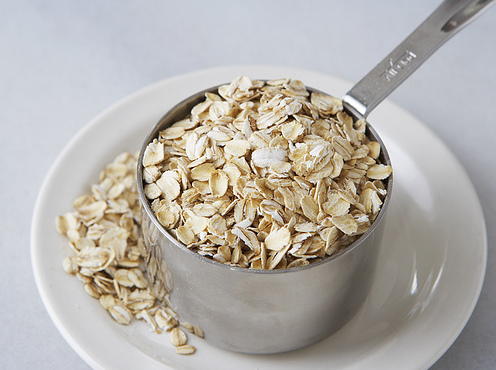 This image courtesy of Joseph DeLeo
Chewy, caramelized, crispy, and packed with oats, these cookies draw oohs and aahs whenever I make them for my family or for the staff at Chanterelle. They are quite large and flat with a crisp outer edge and a chewy, buttery center. Make sure you do not use quick-cooking oats--they have a high water content and less flavor. Since the dough can be made in advance, I always bring some with me when I take my kids to visit friends out at the beach or upstate. If I show up without it, I get pouts of disappointment.
NotesStorage: These cookies are best served the day they are baked but will keep, sealed and at room temperature, for 4 days.

Black steel baking pans:

During an internship in France about nine years ago, I discovered black steel baking pans. In the pastry kitchen where I worked we used only these heavy, relatively thin black steel pans. We never lined the pans with parchment paper and, as with cast iron, never washed the pans with soap and water. After each use, we simply wiped the pan down with a rag and allowed it to cool.

Beyond the obvious benefits-less need for materials (parchment, water, and soap) and less labor (no scrubbing, washing, and drying)-these pans seemed to give baked goods a quick jolt of heat, imparting a crisp, golden exterior while maintaining a chewy moist interior.

I find that these pans improve the texture and color of many of my cookies, especially oatmeal cookies, chocolate chip cookies, and the gingersnaps.

Steel is a tough alloy of iron and carbon. Black steel or blue steel pans are a special form of carbonized steel that undergoes an annealing process, which causes them to be more durable and less reactive to acidic food and oxygen.

Like cast iron pans, these black steel pans have high heat capacity and relatively low thermal conductivity. But because of the black steel manufacturing process, these cookie sheets are significantly thinner than cast iron, so you get the benefits of cast iron without its limitations, specifically its thickness, weight, reactivity, and slowness to heat up.

In the oven, heat is transmitted to the food in two different ways: heat is transferred from the pan to the food by conduction and from the heating element to the food by radiation. Darker materials absorb and transmit more radiative heat than do lighter materials; therefore, a dark pan will transmit more heat to the food than a light-colored one, even if the dark and light pans are made of the same material. This makes black steel pans particularly appropriate for the hot, quick cooking required for cookie baking.


40 large round cookies

OccasionFamily Get-together, game day
Dietary Considerationhalal, kosher, peanut free, soy free, tree nut free, vegetarian
Taste and Texturechewy, chocolatey, fruity, sweet
Type of Dishcookie, dessert
Ingredients
1¼ cups flour
1 teaspoon baking soda
½ teaspoon salt
16 tablespoons (8 ounces) butter, at room temperature
1 cup sugar
1 cup dark brown sugar
2 eggs plus 1 egg white, at room temperature
3 cups raw oatmeal
8 ounces milk chocolate, chopped into 1/4-inch pieces
1 cup (5 1/2 ounces) golden raisins
Stand mixer
Cookie sheets
Instructions
Preheat the oven to 350°F. Spray cookie sheets with oil and line with aluminum foil, parchment, or silicone pads, or use nonstick pans.

Prepare the dry ingredients:

In a dry bowl, whisk together the flour, baking soda, and salt. Set aside.

Cream the butter and incorporate the eggs (see the Notes on creaming butter and room-temperature eggs):

Place the butter in the bowl of the stand mixer with the paddle attachment and beat on medium speed for 1 minute. Add the sugar, and beat on medium-high speed until the mixture becomes fluffy and lighter in color, approximately 5 minutes. Add the dark brown sugar and continue creaming for 3 to 4 minutes, stopping the mixer occasionally to scrape down the sides of the bowl. Turn the mixer down to slow speed. Add the eggs and egg white, one at a time, and continue to beat until they are fully incorporated and the batter looks smooth and glossy, 1 to 2 minutes.

Add the dry mixture, all at once, to the butter mixture. Using a rubber spatula, fold together for a few turns. With the mixer on slow speed, mix the dough until thoroughly combined, 1 minute. Add the chopped milk chocolate and the golden raisins. Scrape down the sides of the bowl with a rubber spatula and mix for another 30 seconds. The dough can be made up to this point and refrigerated, well wrapped, for up to 3 days.

Using 2 teaspoons, scoop the dough into mounds and place 2 inches apart on your prepared cookie sheets. Flatten each mound with the back of a spoon or two fingertips.

Bake the cookies until they spread, rise, and turn a light golden brown, 12 to 15 minutes. For even browning, rotate your cookie sheets from front to back and between each of the baking racks at least once while the cookies are baking. Remove from the oven and let coolon the sheets. Once cooled they will be crispy on the outside and chewy, moist, and buttery in the middle. If you continue to bake the cookies they will color more and your result will be a crunchy, caramelized, and intensely flavorful cookie.

These cookies are delicious all on their own.

Dried Cherry or Dried Pear and Chocolate Chip Oatmeal Cookies: Substitute dried cherries or diced dried pears for the raisins and dark chocolate for the milk chocolate.
2006 Kate Zuckerman
YOUR RECENTLY VIEWED RECIPES
Free recipes, giveaways, exclusive partner offers, and more straight to your inbox!