Not Exactly Aunt Lil's Matzo Ball Soup 
Cookbook
Published by St. Martins Press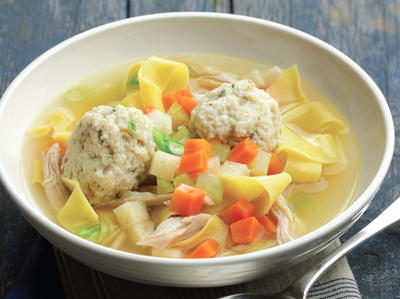 This image courtesy of Renee Comet
TODD: Aunt Lil's matzo ball soup got quite a build-up in the Kassoff family long before I ever tasted it, and it certainly lived up to the hype. It was rustic, homey, and satisfying, but needed some refining around the edges to bring it into the world of fine dining. Aunt Lil, for instance, didn't add noodles to her soup and cooked her matzo balls directly in the broth. At Equinox, we make the matzo balls separately to keep the broth pristine, then add noodles and a garnish of scallions and finely diced vegetables to give the dish a polished look. ELLEN: Yes, your version is very pretty, and the broth is definitely bolder, but there's still nothing like Aunt Lil's as far as I'm concerned. What can I say? Blood is thicker than soup. TODD: I remember the first time Ellen made her Aunt Lil's matzo ball soup. It was in the nineties on a day I was out from work with a nasty cold. She called the soup Jewish penicillin and made it the way her Aunt Lil taught her to when she was a child, or at least that's what she told me back then. Maybe it was just that I was sick and liked the attention I was getting, but to me that was one of the greatest chicken broths I had ever had, full of poached chicken, chunky vegetables, and fluffy matzo balls, which I had never eaten before in my life. I started to make my own version of it, using matzo ball mix and jacking it up with some chopped parsley and sage. On the Passover menu at Equinox, I serve it with wide pappardelle noodles and a garnish of finely diced vegetables, just to add a touch of elegance to the dish. ELLEN: Aunt Lil (Lillian Malitsky) was actually my great aunt because she was my father's mother's sister. She kept kosher in her little Bronx apartment, where I would sit on a stool in the kitchen and watch her make soup during family visits. Chicken soup and matzo ball soup were her signature dishes. What made them so special were the depth of the flavor and the silkiness of the stock. Maybe I'm just romanticizing the memory, but there was always some indefinable something extra in Aunt Lil's soup. 
NotesMAKE IT MEAT. Substitute margarine for the butter.


Serves6
OccasionCasual Dinner Party, Family Get-together, Formal Dinner Party
Recipe CourseAppetizer, Main Course
Dietary ConsiderationKosher, Peanut Free, Soy Free, Tree Nut Free
Five Ingredients or LessYes
Type of DishChicken Soup, Soup
Ingredients
3 large eggs
2 tablespoons unsalted butter, melted (see Notes)
1/4 cup club soda
1 cup matzo meal
1/2 cup chopped Caramelized Onions (recipe below)
1 teaspoon salt
1/8 teaspoon freshly ground black pepper
One 3-pound whole chicken
1 large yellow onion, quartered
2 celery ribs, chopped
2 small carrots, chopped
1 medium turnip, chopped
6 garlic cloves, crushed
1 bunch parsley, washed and blotted dry
2 bay leaves
4 sprigs fresh thyme
12 black peppercorns
2 tablespoons salt 
2 cups finely diced carrots
2 cups finely diced celery
1 cup finely diced turnips
3 cups fresh egg noodles or packaged dry noodles
1/2 cup thinly sliced scallions, including some of the green
3 cups yellow onions, thinly sliced 
1/4 cup of canola oil
1/4 teaspoon of salt
Instructions
Make the caramelized onions. Thinly slice enough yellow onions to equal 3 cups (2 medium onions). Heat canola oil in a medium sauté pan over medium heat. Stir in the onions and salt and cook for 4 minutes. Lower the heat to low and continue to cook the onions, stirring often, until they turn amber in color--20 to 30 minutes. Drain in a colander and store in the refrigerator until ready to use, for up to 4 days.

Mix the matzo balls. Whisk together the eggs and melted butter in a large bowl. Whisk in the club soda and then whisk in the matzo meal, Caramelized Onions, salt, and pepper. As the mixture thickens, tap off excess batter from the whisk and switch to a wooden spoon or rubber spatula to finish mixing into a dough. Cover the bowl and refrigerate for 1 hour.

Make the soup. Meanwhile, remove the gizzard and liver from the chicken and reserve for another use. Wash the chicken under cold water and cut into eight pieces. Place the chicken in a stockpot large enough to comfortably hold it; add the onion, celery, carrots, turnips, garlic, parsley, bay leaves, thyme, peppercorns, and salt. Pour in water to cover the chicken. Bring to a simmer over high heat, lower the heat to medium-low, and simmer the soup for 1 1/2 hours.

Cook the matzo balls. About an hour before serving the soup, bring a large pot of lightly salted water to boiling. Spoon two or three ladles of soup into the pot of water for added flavor. Shape the matzo dough into balls about 1 1/2 inches in diameter, rolling them between your palms (moisten your hands with a touch of water first). Add the matzo balls to the boiling water, cover the pot, and simmer until cooked, about 30 to 40 minutes. Use a slotted spoon to transfer the matzo balls to a paper towel-lined plate to drain; keep warm.

Finish the soup. Transfer the chicken to a cutting board and allow to cool. Pour the broth through a sieve into a bowl and discard the vegetables; pour the broth back into the pot and keep warm. Pull or cut the chicken from the bones and pull the meat into bite-size pieces, shredding with your hands; set aside.

Garnish the soup. Preheat the oven to 250°F. Add the diced carrots, celery, and turnips to the pot with the broth and simmer 10 minutes. Place six large soup bowls in the oven to warm. Add the noodles and chicken meat to the pot and simmer until the noodles are tender—about 7 minutes more. Remove the bowls from the oven and spoon 3 matzo balls into each, add a generous spoonful of vegetables, noodles, and meat, and then ladle in broth to fill the bowls. Sprinkle the sliced scallions over the top of each bowl, dividing equally.
2014 Todd & Ellen Gray
YOUR RECENTLY VIEWED RECIPES
Free recipes, giveaways, exclusive partner offers, and more straight to your inbox!