Neighborhood Negroni
Cookbook
Published by Agate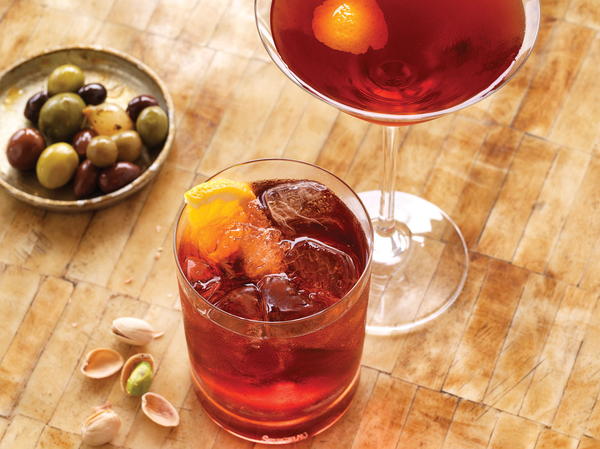 This image courtesy of Tim Turner
I like to say that we are in the 't' business... Integrity, Loyalty, Creativity, Credibility. --Fritz Maytag, Anchor Brewery & Distillery The Negroni is one of the most sophisticated of classic cocktails, and it may prove to be an acquired taste for many cocktail novices. It was created in the early 1920s by Count Camillo Negroni, who along with a bartender named Fosco Scarselli, was said to have developed the recipe at Casoni, a cafe on Florence's famous Via Tomabouni. The Count ordered it with such frequency that eventually the drink and the Count became synonymous. What then makes a Neighborhood Negroni? It is blessed with the presence of the exquisite Junipero gin, produced by the Anchor Distilling Company located in the Potrero Hill neighborhood of San Francisco. According to Fritz Maytag, Junipero is bottled at 98.6 proof and flavored with more than a dozen botanicals, including orange and lemon peel, juniper berries, caraway, coriander, anise, fennel, and ginger, to name a few. This is one of the classics that can be built over ice as a short drink-as it would be served when ordered in Italy-although I prefer mine served up, as a cocktail. Of course you can make a Negroni with any premium gin, and your choice will bring its own unique flavor to the cocktail. But to make the Neighborhood Negroni remember Fritz's Junipero gin. And don't forget the burnt orange garnish.
Notes"You will want to stir any drink that is made up of spirit only-for example, a Negroni or Manhattan. Stirring a cocktail requires the use of the mixing glass portion of a Boston shaker set and a long-handled barspoon.... How long is best to stir? I stand by Helen David's advice: 'Stir 20 times to the right and 20 times to the left.'"

Burnt Orange and Lemon Twists:

These are a real crowd-pleaser and are not as difficult to master as you might think. Simply cut about a 1.5 inch (3.8 cm) by 1 inch (2.5 cm) disk of peel off a large, firm, thick-skinned (to assure a higher oil content) navel orange. Be sure to get just the skin and as little of the pith (the meaty white part of the orange-between the skin and the fruit) as possible. Holding, the orange peel between your thumb and first two fingers with its skin facing out, hold a lit match several inches above the glass. With the orange peel about an inch away from the flame, squeeze the peel quickly and firmly. When done correctly, a burst of flame will come from the oils being released out of the orange peel, leaving a wonderful aroma and adding just a note of orange essence to your cocktail. After flaming, simply place the twist in the drink. You may also want just the essence added to your drink, so feel free to leave the garnish aside, as you wish.

For lemon twists, look for a lemon with a thick, firm, yet smooth skin. Use larger lemons for flaming, as they will have a higher oil content and yield better results.



Total Timeunder 30 minutes
Type of Dishalcoholic beverage, beverage, cocktails
Ingredients
1 oz (30 ml) Junipero gin
1 oz (30 ml) Campari
1 oz (30 ml) Martini and Rossi sweet vermouth
Instructions
In an ice-filled mixing glass, add gin, Campari, and sweet vermouth; stir (see Notes) until well chilled. Strain into a chilled cocktail glass. Garnish with a burnt orange twist (see Notes).

For the Italian version, build the drink in an ice-filled Old Fashioned glass by adding gin, Campari, and sweet vermouth. Stir and garnish with an orange slice.
2010 Tony Abou-Ganim
YOUR RECENTLY VIEWED RECIPES
Free recipes, giveaways, exclusive partner offers, and more straight to your inbox!