Mushroom-Tofu-Pecan Stuffed Vegetables
Cookbook
Published by St. Martins Press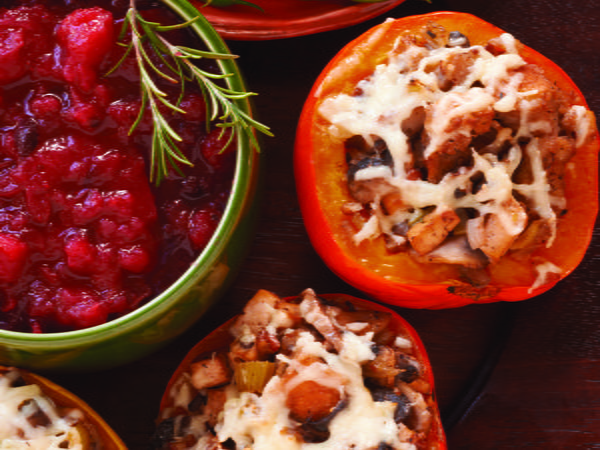 This image courtesy of Jim Scherer
We are often asked to recommend a holiday dish, especially for Thanksgiving, that will please vegans and vegetarians. This is a great one; it will make everyone happy. For a beautiful presentation, try stuffing the colorful combination of orange winter squash and red bell peppers. If you have a smaller group, just halve the recipe's ingredients.
Notes
How to Press Tofu
Whether or not you need to press tofu depends on both how it's used in the recipe and the quality of the tofu. Soft and silken tofus are never pressed. Firm, and even extra-firm, tofu may contain a lot of moisture, and that can affect the outcome. It may not matter too much in some recipes, for instance baked tofu-you may just have to bake it longer. But the extra liquid that some tofu holds may make something like a filling or burger mix too wet. Pressing tofu expresses some of that water, making the tofu denser and more firm. It's surprising how much liquid pools around some tofu during pressing.
At the restaurant, we almost exclusively use firm fresh tofu, and we usually press it for an hour or so before using it to make it even firmer. We put the blocks of tofu in a flat-bottomed baking pan and put another flat pan on top of it. Then we put weight in the top pan, usually a stack of plates. In our home kitchens, depending on the recipe and if we have firm fresh tofu, we often don't press it at all. Some-times we simply press it gently between our hands, held over the sink, and that's fine for many uses. If the tofu you have isn't a firm fresh tofu, we suggest that you always press it, Whatever tofu you have, if you're going to grate it, we recommend that you press it.
Place the block of tofu in a broad, flat bowl or casserole dish, put a plate on top of the tofu, and balance a heavy can or book on the plate. After the tofu has pressed for about 30 minutes, drain the liquid that has accumulated in the bowl. If you're not yet ready to use the tofu or if you want to press it more, refrigerate it.
How long the tofu should be pressed depends on the tofu you have. To be safe, if a recipe needs dense, firm tofu, press it until no more liquid has accumulated ten minutes after you poured the water off. In our recipes that call for firm tofu, we tell you when pressing is probably not necessary, and when you need quite firm tofu, in which case, you should press it well.
We can't think of an instance in which tofu would be pressed too long, even if it were all day or overnight. On the other hand, if you're pressed for time, just press it until you're ready for it and it will probably be ok. If you use the same kind of tofu regularly, you'll come to know how firm or wet it is.
8 stuffed acorn squash or bell pepper halves
Preparation Time - Text1 hour and 15 minutes
Cooking Methodbaking, sauteeing
OccasionCasual Dinner Party, Family Get-together, Formal Dinner Party
Dietary Considerationegg-free, kosher, lactose-free, peanut free, vegetarian
Ingredients
One 14- to 16-ounce block firm tofu
4 medium acorn, delicata, or buttercup squash, or 4 large bell peppers (any color) (or a combination of the two)
2 tablespoons vegetable or olive oil
1/2 teaspoon ground fennel seeds
3 tablespoons soy sauce
3 tablespoons dry sherry or white wine (optional)
4 cups 1/2-inch bread cubes
2 tablespoons vegetable oil
3 cups chopped onions or leeks
2 cups chopped celery
4 cups sliced mushrooms (16 ounces whole)
1 teaspoon ground dried sage
1 teaspoon dried thyme
1 teaspoon dried marjoram
1 teaspoon salt
1/4 teaspoon ground black pepper
1 1/2 cup water
1 cup toasted and chopped pecans
2 cups shredded cheddar, smoked cheddar, or Fontina cheese (optional)
Instructions
If the tofu is firm and fresh, there is probably no need to press it. Otherwise, press it for at least 15 minutes (see Notes).

Preheat the oven to 400°F. Lightly oil a rimmed baking sheet sheet.

Cut the squash or peppers in half from stem end blossom end. Leave the stems on the pepper halves to help them hold their shape. Remove the seeds. If using squash, arrange it cut side down in the prepared baking sheet, add about 1-inch of water, and cover with aluminum foil. Bake just until tender, about 40 minutes for most acorn squash, but the time will vary depending on size and type. If using bell peppers, brush the halves with oil inside and out and bake cut side down (no water, no cover) for 15 to 20 minutes until tender but still holding their shape. Remove from the oven and set aside. Reduce the oven temperature to 350°P.

While the squash or peppers bake, in a bowl, whisk together the oil, ground fennel, soy sauce, and sherry, if using. Cut the tofu into 1/2-inch cubes and gently toss with the marinade. Set aside for 15 minutes. Toast the bread cubes on a rimmed baking sheet in the oven for about 5 minutes. Set the bread cubes aside. Spread the tofu cubes on the baking sheet and bake for 30 minutes, stirring once or twice, until slightly browned and chewy.

In a large covered pot on medium heat, warm the oil. Add the onions and celery and cook, stirring often, until the onions are soft, about 8 minutes. Add more sherry, if you like. Add the mushrooms, sage, thyme, marjoram, salt, black pepper, and water, cover, and cook for about 10 minutes.

Add the baked tofu and toasted bread cubes to the cooked vegetables and toss. Stir in the pecans. Removed form the heat and set aside for a few minutes to allow the bread cubes to sfoten and the flavors to meld. Add more salt and black pepper to taste.

Turn the baked squash or peppers over on their baking sheet and mound about 1 cup of the stuffing in each half. Sprinkle with shredded cheese, you like, cover, and bake at

350°F for about 20 minutes.
2013 Moosewood, Inc.
YOUR RECENTLY VIEWED RECIPES
Free recipes, giveaways, exclusive partner offers, and more straight to your inbox!