Mr. Lai's Glutinous Rice Balls with Sesame Stuffing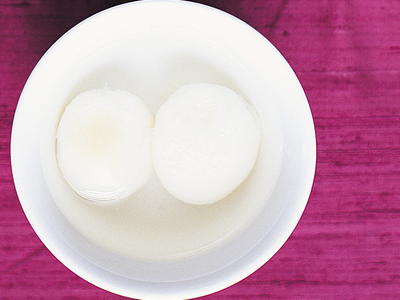 This image courtesy of Tara Fisher
In 1894, a young man named Lai Yuanxin traveled from his native town to Chengdu, where he took up a place as an apprentice in a restaurant. Sadly, it wasn't long before he fell out with his boss and lost his job. Stuck with no means to support himself, he borrowed money from a cousin, bought a bamboo shoulder pole and a few cooking utensils, and started selling glutinous rice dumplings on the streets. After making a living this way for many years, he was able to open a shop on Zongfu Street in the center of Chengdu. Mr. Lai's unusually good tang yuan are now celebrated all over China. The descendant of his original dumpling shop, which now serves a whole selection of Sichuanese snacks, has so far survived nationalization under the communists and ruthless competition with a new generation of restaurants (including Kentucky Fried Chicken, which has opened a branch on the floor directly above). Tang yuan are a traditional snack all over China and are eaten in great quantities as part of the Lunar New Year festivities. Like many festive foods, their name is treated as a luck-giving pun, in this case because it sounds like tuan yuan, which means "reunion"—a fitting symbol for the annual family get-together. In rural Sichuan, many households still make their dumplings according to the time-honored traditional method, which involves soaking glutinous and long-grained rices for several days (changing the water at regular intervals), then stone-grinding them to a paste and squeezing this in a piece of cheesecloth to make the dough. This "damp flour" is regarded as far superior to the dried flour used as a convenience in the cities. Before the communists came to power and clamped down on "capitalist" street vendors, tang yuan sellers were a common sight in Chengdu. They carried their stoves, ingredients, and serving bowls around the city on bamboo shoulder poles and set up flickering oil lamps to light their work as the nights drew in.
The stuffing is much easier to handle if it is made a few hours in advance (in Sichuan it is usually made in large batches and used as needed—it will keep in a refrigerator for months). Black sesame seeds are commonly available in Chinese supermarkets.


Makes40 glutinous rice balls, enough for about 6
OccasionCasual Dinner Party, Family Get-together
Recipe Courseappetizer, snack
Dietary Considerationegg-free, gluten-free, halal, kosher, lactose-free, peanut free, soy free, tree nut free, vegan, vegetarian
Equipmentfood processor, mortar and pestle
Taste and Texturechewy, nutty, savory, sweet
Ingredients
2 tablespoons black sesame seeds
2 tablespoons superfine sugar
2 tablespoons fresh pork lard or coconut oil
1½ cups glutinous rice flour
3 tablespoons ordinary white rice flour
1 cup tepid water
4 tablespoons sesame paste
4 teaspoons superfine sugar
Sesame oil
Instructions
Toast the sesame seeds in a dry wok or frying pan over a gentle flame for 5-10 minutes, stirring constantly, until they smell and taste delicious. Because they are black, you won't notice a change in color, so do take care not to burn them—they will taste bitter if overdone. Trust your nose and tongue to tell you when they're ready—the roasted aroma and taste are unmistakable.

When the seeds are done, use a mortar and pestle to grind them coarsely (this can be done in a food processor, but take care not to reduce the seeds to a powder—they taste better with a little crunch). Add the sugar to the crushed seeds and mix well.

Heat the lard or coconut oil over a gentle flame until melted, and then stir into the seed mixture. Press the stuffing firmly into a baking sheet making a layer about ¾ inch thick, and refrigerate until set. When you are ready to stuff the tang yuan, use a table knife to cut the stuffing into ¾-inch cubes.

Mix the two flours together. Add the water and stir to make a soft, squishy dough (you can add a little more glutinous rice flour or water if you need to adjust the consistency).

Divide the dough into 2 or 3 parts. Working on a surface dusted with rice flour or glutinous rice flour, roll each part into a sausage about 1½ inches thick and break off pieces the size of small walnuts.

Take one piece of dough, flatten it slightly and use your thumb to make an indentation in its center. Place a cube of stuffing in this indentation and then draw the sides of the dough up around it to enclose it completely. Roll it gently between your palms to make a round ball. (Make sure there is no stuffing peeking out or the dumpling will disintegrate when you cook it.) Lay the finished tang yuan on a tray or bamboo platter dusted with flour until you are ready to cook them (they can be made in advance and frozen or refrigerated).

Combine the sesame paste and sugar in a tiny serving bowl, adding enough toasted sesame oil or oil from the sesame paste jar to give a good dipping consistency if you like. (In snack restaurants each helping of 2-4 dumplings is served in a small rice bowl with an accompanying tiny saucer of sesame paste and sugar.)

Fill a large pot with water and bring it to a boil. Add the tang yuan, one at a time, and simmer them for about 15 minutes. Do not allow the water to bubble vigorously or it will rupture the dumplings—keep an eye on the pot and throw in half a coffee-cupful of cold water as necessary to calm the water down.

Serve the tang yuan in small bowls filled with some of the hot cooking water to keep them warm. Your guests should lift them out of the water with chopsticks and dip them in the sesame paste to eat.

Several tang yuan fillings are used in Sichuan, most based on a simple mixture of white sugar and lard. For rose-flavored stuffing, add to the sugar-lard base a small amount of candied rose petals; for tangerine stuffing, add finely minced candied tangerine and crushed rock sugar; for cherry stuffing use glace cherries; for three-nut stuffing add walnuts, melon seeds, and peanuts that you have roasted and crushed to a coarse meal.

Mr. Lai used to make tang yuan stuffings out of sweet-scented osmanthus blossoms and jujube (Chinese date) paste, and then serve one of each of four different types of tang yuan in the same bowl (this is known as si wei tang yuan, four-flavor tang yuan). Four-flavor tang yuan can be given an extra flourish by molding each type of dumpling into a slightly different shape, so there are egg-shaped and pointed tang yuan as well as the ordinary round ones.
2001 Fuchsia Dunlop
YOUR RECENTLY VIEWED RECIPES